Steemit where have you been all my life...
Oh Steemit you mean more to me than you should...
Oh Steemittt its you Ive been looking for....
And here is why?
I've always wanted to have my own blog, a blog where I could write about whatever I wanted and not care about who would read it and feel complete and utter freedom to voice my ideas, memories, insights, dreams and the occasional rambling rubbish that can spill out of my brain and mouth.
Until now I haven't had a place to do this (other than my poor hunny's ear). A place where I can still be me out in the world that's still my picture, that's my real world self right there. I'm like hiding in plain site, free to write to my hearts delight. You can call me a coward I can accept that because it's true I am a little bit cowardly...
Some of the content that I want to write about could change people's perception of me. Whilst I'm down for being my authentic self I'm not down for everybody I know, knowing about the different lives I've lived just yet...I need to build up to that kind of scrutiny.
But my inner narcissist is chomping at the bit to write with all the carefree abandon of a stallion let loose.
All my friends and family are still on facebook...
And this is why I love you Steemit!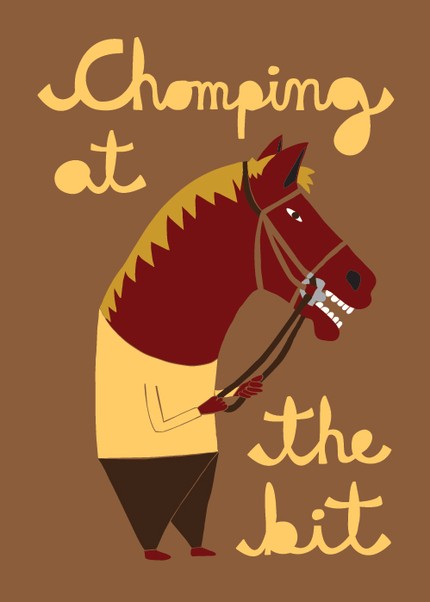 you can buy this cool tee print at
https://www.spreadshirt.ca/chomping+at+the+bit+t-shirts-A18852306