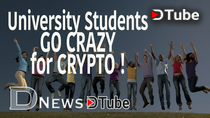 ---
University students all over the US, Canada and the world are rushing to take cryptocurrency and blockchain courses! What does this mean? It means that crypto is the future guys! Get in now while it's still on sale!
*** If you want to get through the video in record time, set your playback speed to 1.25x, 1.5x or even 2x.
Here are the links from the video above:
|| https://www.cryptoinvestor.news/news/university-students-rush-to-take-cryptocurrency-and-blockchain-courses/
|| https://steemkr.com/bitcoin/@scandinavianlife/how-many-people-own-bitcoin-alt-coins-and-how-large-are-their-wallets
Hey guys, welcome to D-News on steemit and dtube. Bringing you the latest news in the crypto sphere!
My goal here is to share relevant news, tips, and any other helpful information to you. We cover anything and everything in the cryptocurrency realm.
If you have any suggestions or comments, please let me know and I'll be happy to hear from you!
Disclaimer: This is NOT financial advice. I am not a financial advisor. Please do your due diligence and research in every topic. Never invest your bread money. Take care of yourself & family first. Don't always follow the herd, follow your heart.
Thanks again, I'll see you guys next time here on D-News on @dtube and remember to keep it D-centralized!
You can find us on twitter here:
https://twitter.com/dtubenews

---
▶️ DTube
▶️ IPFS