Introducing dlike - Steem App for Webmasters and Social Geeks to Share and Get Rewarded
 Dear STEEM community, 
 I am really excited to introduce dlike App
What is dlike?
dlike is an application entirely build for people to enjoy the additional source of monetization on the most prominent and first ever decentralized blockchain based social media, steem. 
dlike offers all webmasters and social media geeks an opportunity to share on steem with an ease to monetize their content and time.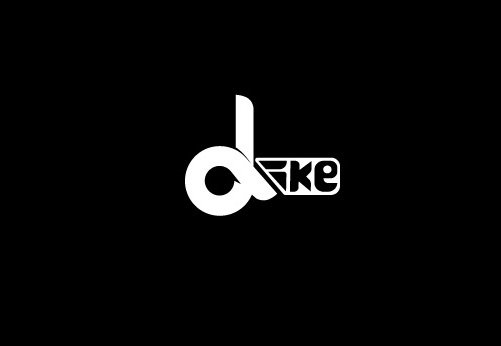 How to use dlike?
dlike is simple to use app for steem which is based on crawling of urls that you want to share. You simply put the url, dlike grabs data from that url (image, title and description) and you are ready to submit. It's done! You can add tags and edit any of the details before submitting.
You can share these urls from any website or from any top social media sites like twitter, Facebook, Instagram and Pinterest.
You can also upload cool images and can share them to community. At present, video uploading is not supported.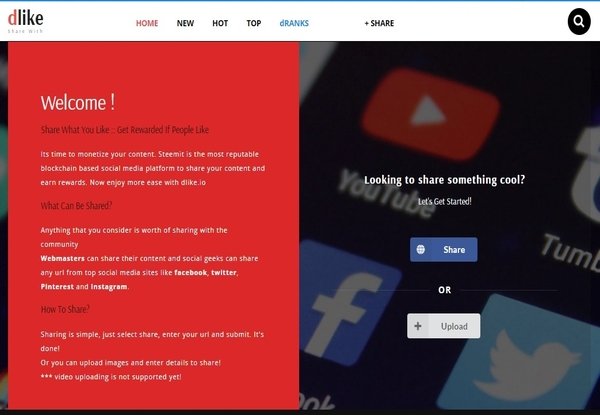 How dlike works?
dlike has been built on a unique ranking system based on ABV( Account Based Voting ) which is inspired from another popular steem app @steemhunt. This ranking system is named as dworth and dlike has tried to make the ranking system even better by introducing the popularity of steem user (Number of followers).
Under this ranking system top ranked sharing on dlike will be rewarded on daily basis. 
dlike will be rewarding all users who will be sharing new posts, writing new comments, upvoting and resharing cool content. For this dlike will be following the most lovable dtube.rewards idea by @dtube.
dlike idea and design
The design of dlike is based on popular social media platform, Pinterest, where people share cool things and gain popularity. Still there was no such app on steem to share things by webmasters and social geeks, so I have come up with this idea and design and I hope your suggestions can make things even better.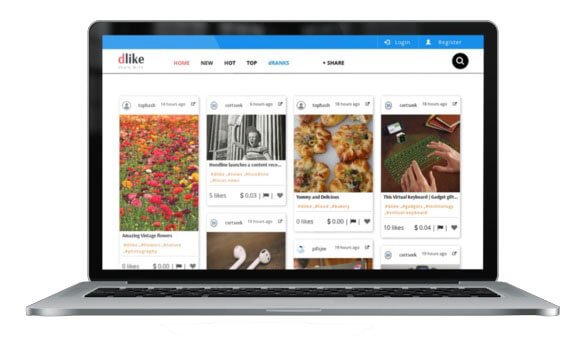 Upcoming developments and IPFS
dlike web based version is ready and I am working on mobile apps (ios and android) and browser extension so webmasters can easily share their content with just one click. A social share button for webmasters is also under development along with wordpress plugin to ensure more ease of use.
To make our app truly decentralized, dlike image sharing will soon be available on IPFS and its code will  be made open source. To ensure all this timely and properly, dlike will be getting 15% as beneficiary from all posts shared thorough the app. Out of this 15 percent, 5% will go directly to dlike.rewards and will be shared among all contributors on dlike. 9% will go to dlike to cover costs and ensure future development and 1% will be managed as dlike.fund to ensure future stability of the app.
Sponsors and Developers
I am not a developer myself, just an ordinary idea guy, so I am looking for team of dedicated people to ensure the success of this app. If you are developer, coder, designer, promoter or moderator and want to be a part, I will be more than happy to welcome you as a team member. 
dlike is also looking for sponsors, who can delegate SP to dlike as we already have dlike.rewards and will be offering return on investment to all delegators. 
Team and Credits
I must mention an awesome guy faisal (developer) who helped a lot to convert this idea into reality. Another genius who helped me a lot to understand the working of API is @cadawg and the most helping person for me on steem @hightouch who always helped me when I needed.
dlike website : https://dlike.io
dlike discord: https://discord.gg/JYSkBFk