Guys, I'm interested in your opinion! Let's dream a little? Imagine that in our big family #STEEM appeared enthusiasts to develop vending business with us. Maybe that company executives may simply users of our platform.
What are the advantages of vending business? First of all, this is that vending can be both small and medium-sized and even large businesses. For each scale and for different starting capital there is own niche. Let's break it down and take a closer look both advantages and weaknesses of vending.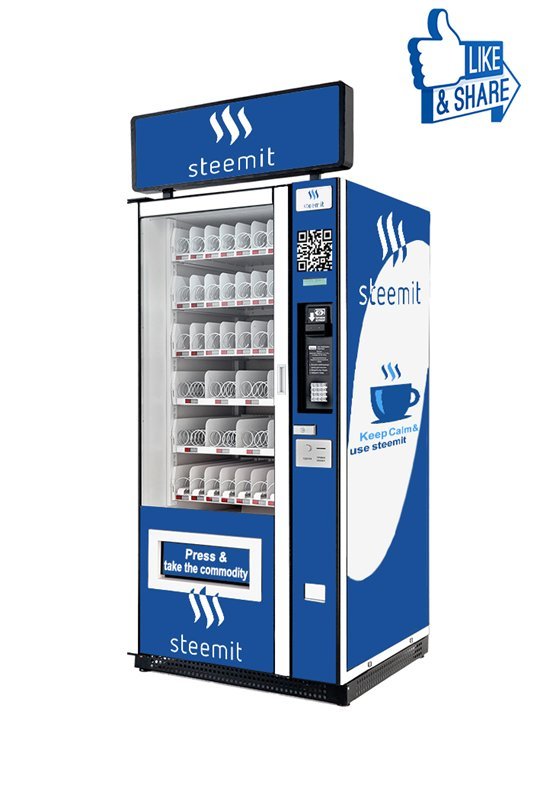 The advantages of vending business
Easy way to popularize our idea
Due to this usual phenomenon as the vending in your life, we can greatly increase the interest and strengthen confidence in the cryptographic world to our company.
The increase of turnover and market capitalization
This is a chance to raise the value and significantly increase the turnover of the coin.
The minimum start-up capital
Start of own business in the field of automated trading (vending), requires a minimum start-up capital. Vending is one of the few businesses where the costs are recouped fairly quickly. According to many audit firms, even in a highly competitive environment that exists in most developed countries, every dollar dropped into the vending machine, bring its owners an average of 54 percent of profits.
You don't need a separate office, store or warehouse spaces
Your vending machines are located on the "foreign territory" and you only pay for their accommodation. It is not necessary the secondary areas.
No advertising costs
Vending machines are advertising themselves. Nevertheless, you, as a company-operator of vending machines will have actively promote your services. Please note - not the vending machines, namely services. Advertise them you will be the owners of commercial areas or other potential sites for the installation of vending machines.
Standard practice of promotion of vending operator's services usually includes a placement in promotional and informational publications (passive presence), and an active search for places of installation of vending machines and the promotion of one's services.
The first option is designed for customers who have found a possibility of accommodation on their territory of the vending machine, for example, to improve the conditions of supply of office staff, and are looking for appropriate services and the terms of an option. Passive presence also includes the provision of one's own website.
Active promotion of vending services - an analysis of the potential areas of possible placement of vending machines, direct marketing.
Vending is a sale for cash
Catching vending, you don't release the goods "for implementation" and, as a consequence, you don't have debtors. Goods paid in cash or cryptocurrency STEEM immediately upon release.
Vending is a stable business
According to statistics from the countries where there are automated trading for decades, vending service operators go bankrupt and go out of business much less than their colleagues in other trade areas.
Vending doesn't afraid of the economic crisis
During the Great Depression of 30-ies years of XX century in America one cent owners of vending machines for the sale of chewing gum were among the few who escaped bankruptcy. As you can see, even in the hardest times buyers were found one cent on chewing gum for children.
In times of economic turmoil people can indulge in the campaign to an expensive restaurant or postpone buying expensive durable goods until better times, but still can afford drink a glass of inexpensive coffee.
In this business you plan your time for yourself
Vending can be a main business, and just an additional source of income. Serve vending machines (unless of course you plan to do it yourself) you can at any time. You are free to plan your day and make a convenient schedule.
Vending is a growing worldwide business
We can become the first in the world! Pioneers always earn more than their followers.
Unpretentiousness of vending machines
Many sellers of vending equipment emphasize the main advantages of automatic merchants - unlike sellers-people, vending machines can work 24 hours per day, 7 days per week.
At the same time they don't need a paid rest, smoke breaks and lunch breaks. Machines don't get sick, not subject to rapid changes in mood, and alcohol withdrawal syndrome. Vending machines will not come to you for an increase in salaries and not unionized. Machines cannot deceive either the buyer or owner, and hence there is no need in sudden revisions and control procurement. Any owner of a retail outlet immediately appreciate the benefits of vending machines and vending business as a whole.
Disadvantages of vending business
Of course, vending machines have disadvantages too. Let's consider the main ones
Like any machine, the vending machine may break
To protect from this on 100% percent cannot any vending operator, but necessary precaution is to buy a reliable machine with a warranty.
Vending machines aren't able to take care of their appearance itself
This responsibility rests with you - the owner of the vending machine. Never neglect appearance of your "sellers". In an attractive and net machine sales are significantly higher!
The machine cannot complain about the problem
Vending machine cannot complain about the problem and will be idle until the next service. In fairness it should be noted that modern vending machines are gradually getting rid of this shortcoming. Many of them are already equipped with GSM-module and can notify its owner of the progress of sales, stock of goods or technical malfunctions!
The machine is easier to cheat, palming off to it fake money
Modern vending machines are equipped with advanced payment systems, thanks to which they have taken a real share of counterfeit money is small. The best way to cope with the task of electronic payment systems, whereas the mechanical coin acceptor cope with their task a little worse, but even here the percentage of counterfeits is very small. BUT here "we come on the scene '.
Unlike human vending machine has no emotions
The machine cannot support a conversation, joke, or just smile. This is perhaps the most serious disadvantage of automatic trading. But nothing stands still, and designers vending machines are continuously working to make them look more attractive, and the buyer was the most satisfied, making a purchase. There are already talking vending machines, and very soon the machine will be able to give advice or answer customer questions. Sure, someday, there will be automatic, endowed with a sense of humor!
I hope you liked it! Write your opinion in the comments
#steem #steemit #business #money #news #investments #blockchain