New in Steemit? Here's a Quick Guide for You!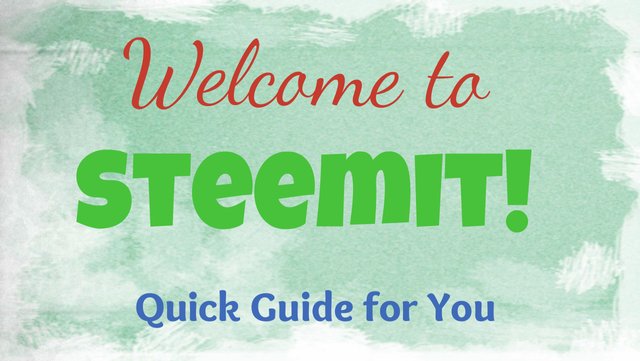 ---
Everyday in Steemit, we are welcoming a crowd of new users and we are getting bigger and bigger.
Awesome!


So why Steemit out of all the social media sites? You don't post for free here! You get paid!
We got paid. We make friends. Lots of fun going on here in Steemit. And this is for REAL!
So if you are new here, I am sure you can be clueless or if you tried to research, the information were not so easy to digest all at once. And let me tell you, you will not know everything about Steemit in a day. You need to start and carry on. And we will be of help.
Let me tell you some basic information about Steemit to get you started.
What is Steemit ?
Steemit is a social media platform that rewards you when you make contribution through posting, voting and curating, commenting and even joining contests. You get rewarded for sharing your voice! It is free to do so and you can get paid based on the upvotes you get!
Upvotes
This is a way of saying that you like the post that you read.
To upvote, just click the upvote icon.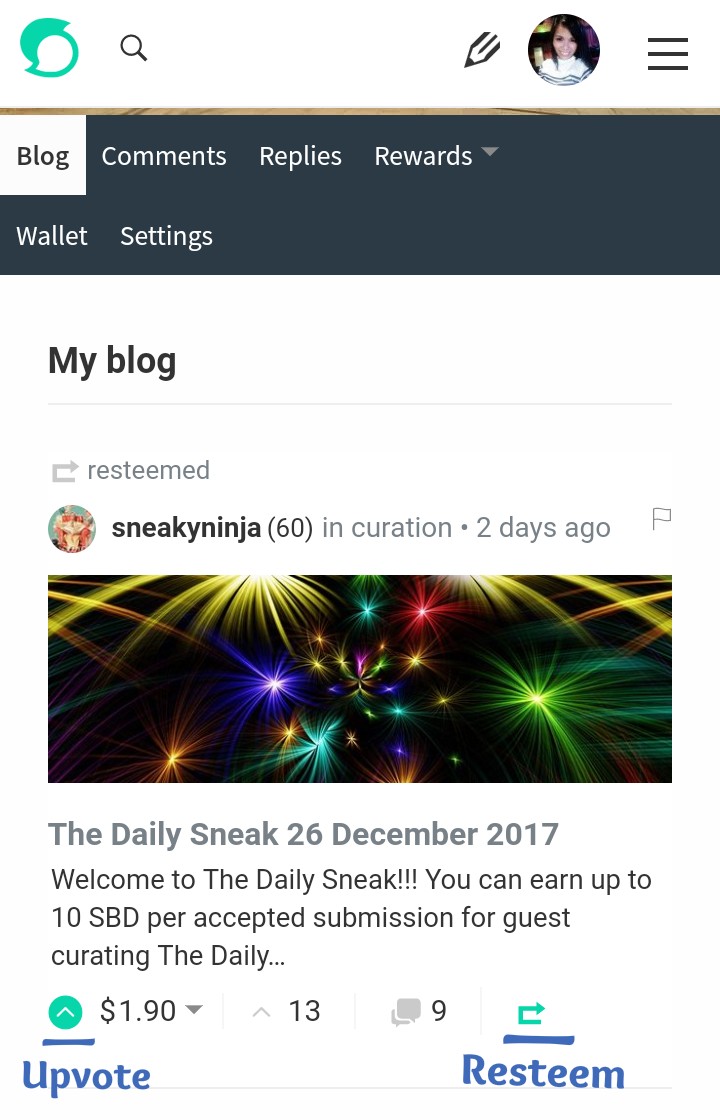 Resteem
Resteeeming others post means you are sharing it to others and will be posted on your blog. So if you want to Resteem post, just click the Resteem icon.
Comments
Commenting to others post is one way to interact with other users. Make sure that your comment counts. Be creative! Begging for Upvotes or a "Follow me , I'll Follow you comment is a big NO. It won't work like that.
Posting
You can post anything you want in this platform. But a good quality content post will be much rewarded. Post have three main parts: Title, Content and Tags. Title should be relevant to the content of your post. In your content don't just post words but also high quality images. Learn how to use Markdown to pimp your post. If your posting photos, write something about it, don't just post a picture. Be creative! And if you are getting images in the internet make sure to cite the source. You cannot just copy and paste from internet for we have bots here like Cheetah who will eventually upvote and message you regarding that. We don't tolerate plagiarism. You can be flagged or downvoted.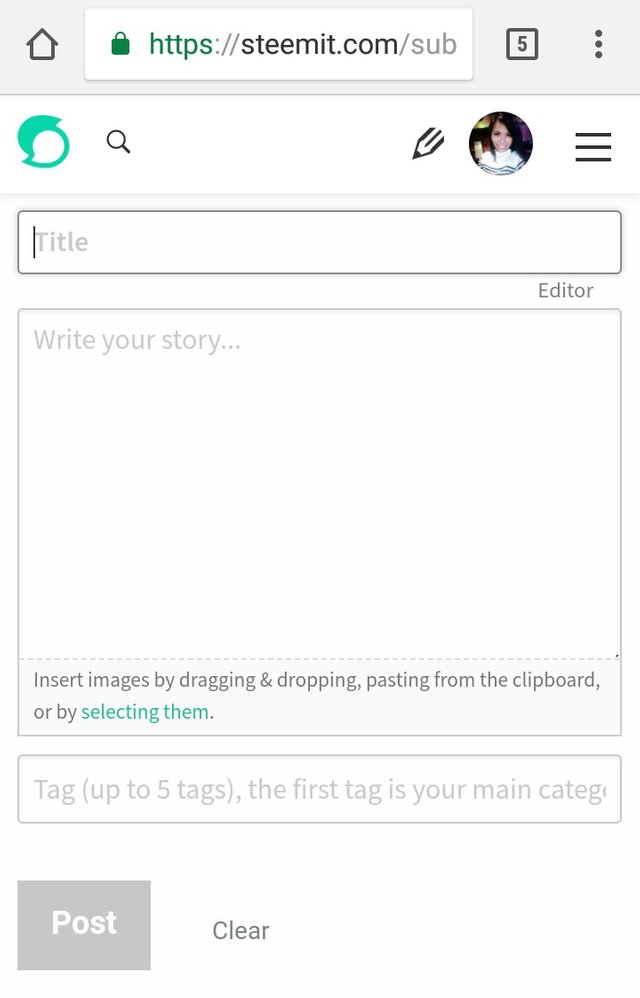 Tags
Tag your post properly, if it's about food, don't tag it to politics! Tags help people find the posts that they're into. You can use up to 5 Tags. Make sure it's all relevant. You can check the TAGS section for the popular tags or start making your own trail.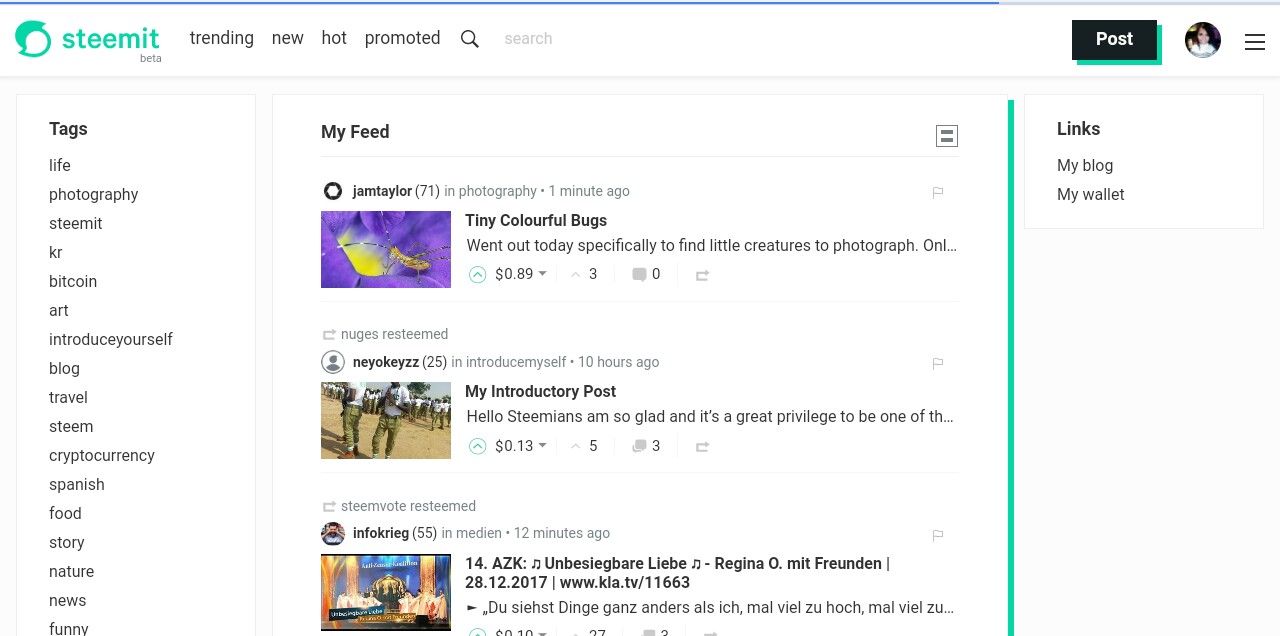 Followers, Followings and Feeds
If you want to follow an author, just click their username and click the "follow" button.
Followings are the one you follow and their posts will be on your Feeds.
You can check your followers and followings in your profile page.
Reputation
Beside your name on your profile page is your reputation. Every new users starts at 25. Your reputation is a way to measure the value you give to the platform. It goes up when you get Upvotes and also will go down if you get flagged. The higher the reputation, that means you're awesome!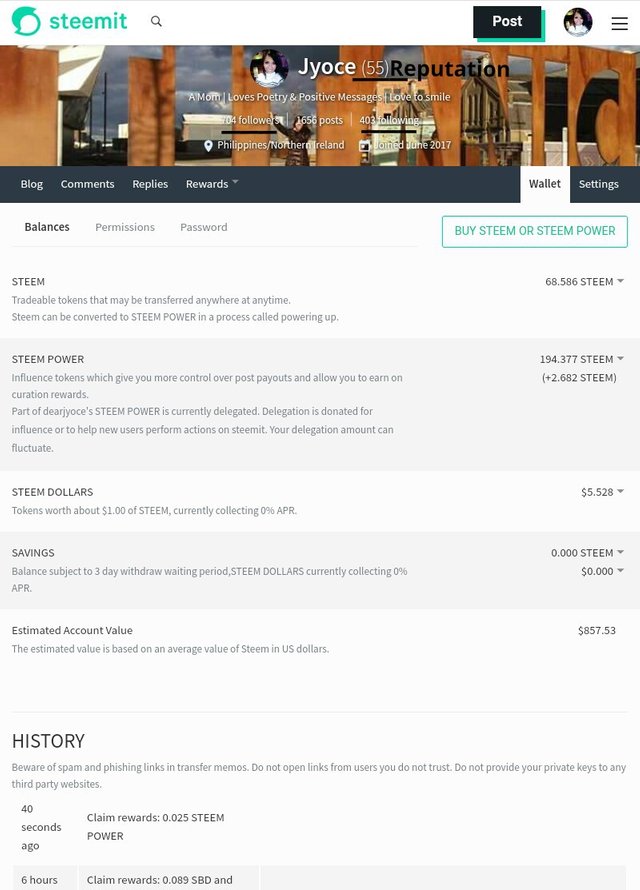 Voting and Curating
You can upvote others work by clicking the upvote button. You can resteemed for more exposure. You can be rewarded too by voting and curating. Payout is after 7 days. The reward payout will be split between the author and the curators. Author of the post or comment gets 75% and the curators gets 25%. Of the 25% will be split between the author and curator again if the curator votes within the first 30 minutes.
If the post is upvoted the moment it was posted, the curation reward goes 100% to the author. At 3 minutes, reward goes 90% to the author, 10% to the curator. At 15 minutes, split 50/50. At 27 minutes, 10% goes to the author, 90% to the curator. And if post is upvoted after 30 minutes, curation reward goes to curator 100%.
STEEMIT CURRENCIES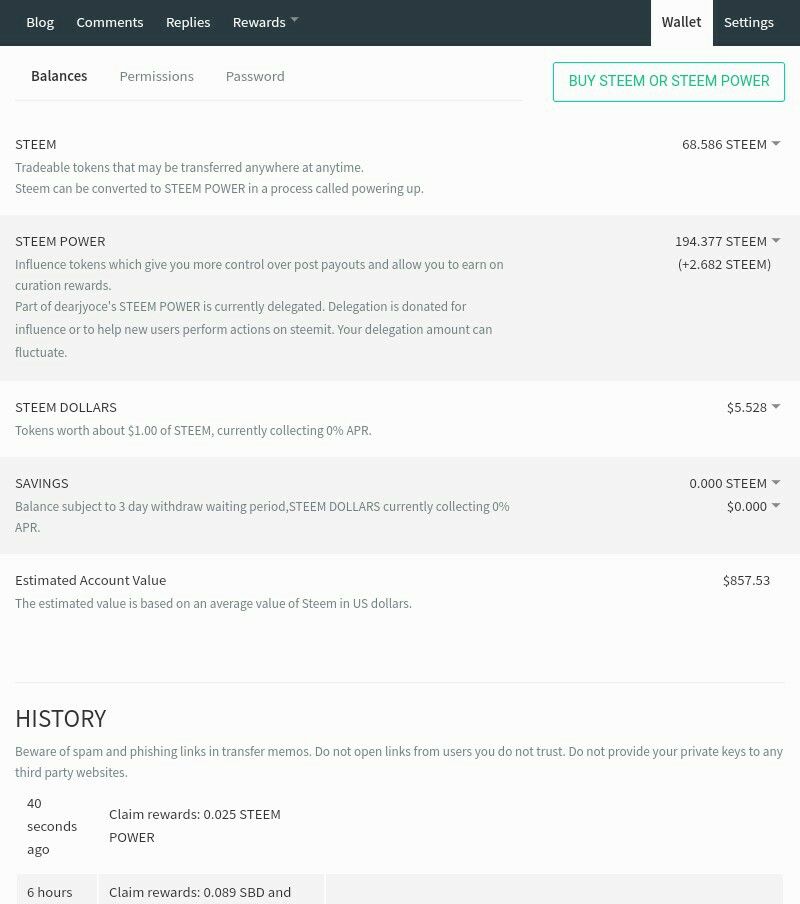 Steem Dollars or SBD
SBD is the cryptocurrency rewarded to you in Steemit. You can trade it to other altcoins in the market or sell it for Steem . As of this writing SBD is equivalent to $7.84 based on bittex rate. It is changing from time to time. And your reward will be split to SBD and Steem power.
STEEM POWER
STEEM power or SP measures your influence in the Steem network. The more SP you hold, the more you can influence the value of posts and comments. It is less liquid, so if you wish to Power down, you will get your Steem every after 7 days for 13 weeks.
STEEM
Steem is the base liquid currency in the platform. Before Steem is higher than SBD but now sbd worth more. And this could change in time. Just like other altcoins you can trade it in the market or use it to Power Up means your Steem could be transfered to your Steem Power. As of this writing Steem value is equivalent to $2.83.
Home, New, Hot, Promoted
These are how blog posts are sorted.
Home is your feed. You can see here the posts from your followings.
Trending are the posts currently having high pending payouts.
New are the posts sorted at the time posted. New post first.
Hot are the popular posts at the moment.
Promoted are posts that paid by the author to boost the visibility of their posts.
PROFILE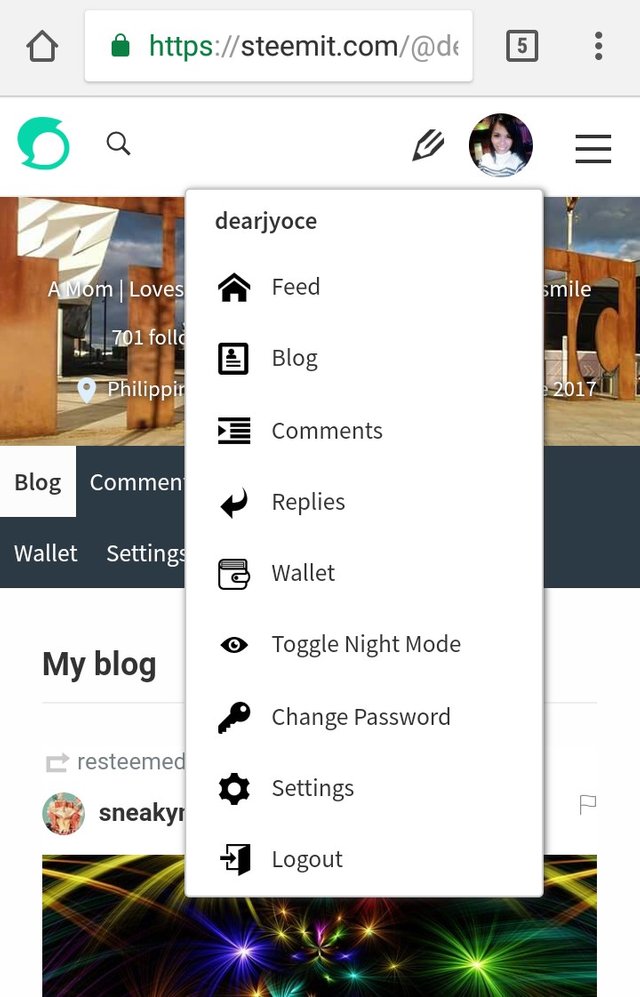 Feed is where you see the recent posts of people you follow.
Blog is where you can see your posts and the ones you resteemed.
Comments here is where you see all your comments.
Replies is where you can see people replies on your post or comments.
Wallet is where you can see all your money Steem, SBD, Steem power, make transfers and all your transactions under BALANCES. There's the PERMISSION too where you can see all your keys for posting, active, owner and memo. And PASSWORD if you want to reset your password. The first rule of steemit is Do not lose your password! Once you lose it, it's gone.
Toggle night mode was added recently and you can change your mode what suits your eyes here.
Change Password same as I mentioned before. Here is where you change your password and is also under Wallet.
Settings here is where you update your setttings.
Logout here is were you logout.
CASHING OUT
You can exchange your Steem or SBD through Blocktrades, Poloniex or Bittrex. You can also "Power Up" to gain more Steem power!
And here is what you need to do first!
Back up your password! Save it somewhere safe where only you can find it. Remember, once you forgot your password, it's the end. There's no password recovery here.

Set up your profile and your avatar! You don't like people to think you are not real. If others went to check your account and see that you have things in common they will eventually follow you. Make your profile great!

Install Discord. Discord are Steemit hub. You can connect with others and build your circle of audience.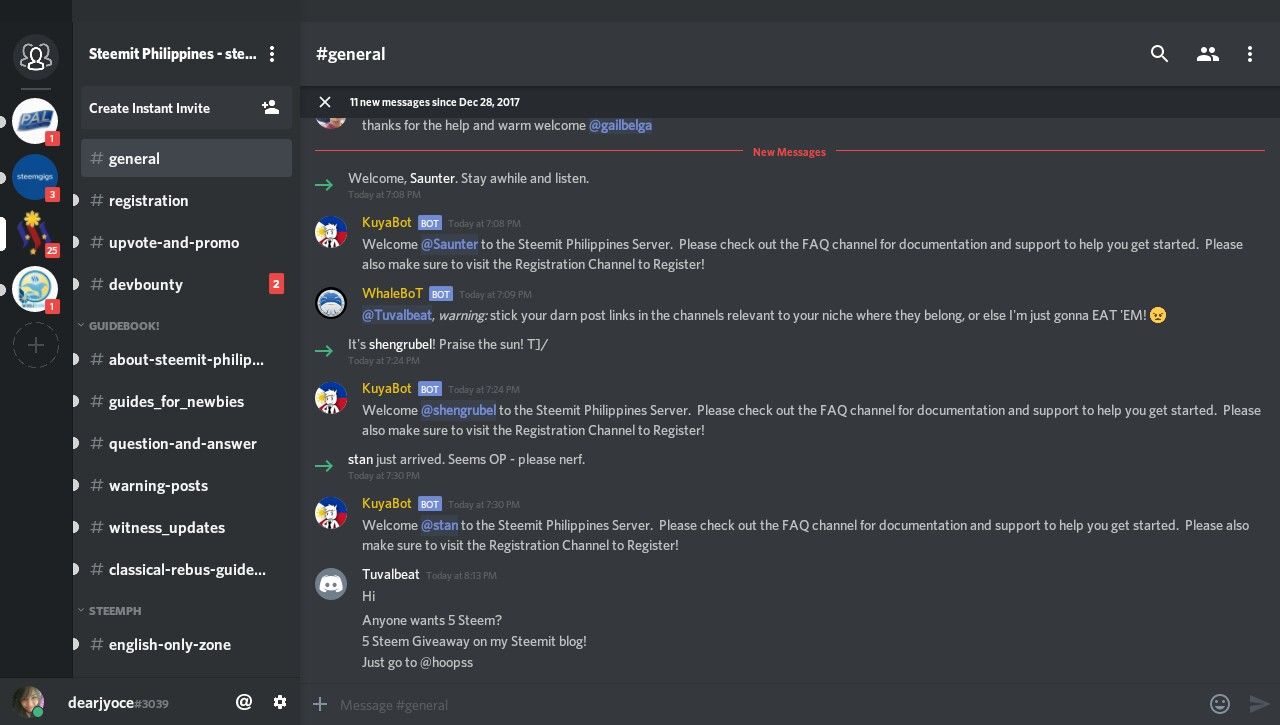 Create your Introduction Post. This is important. Make a good introduction post, tell everybody who you are and what are your passions. What can we look forward to your coming posts. This is the best time to verify yourself to the platform. You may want to hold a paper with your username and date! Tag #introduceyourself as the main tag.
And based on my own experience that I want to share that you might like,
Join contests At the tags section look for contest and check which one suits you. If you love arts or photography there's lots of contests and challenges going on. Aside from winning, you can also win followers. Interaction is the key.
So that's it I hope it will help, and Welcome again! And if you have questions, corrections and other information to add please comment below and I will appreciate. Thank you!
Steem On!