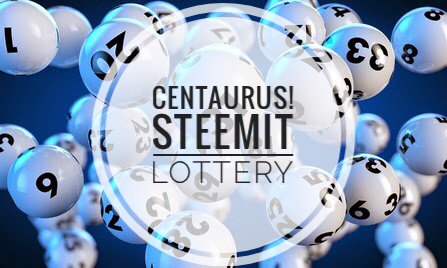 Hello Steemians and welcome to the CENTAURUS Steemit lottery!
Easy As 1,2,3
Commenting it's free on Steemit so that's why this lottery only requires you to upvote and comment on this post with a number between 1 and 30.
Accumulative Prize! Earn Huge Payouts
The lottery will be held frequently, so stay tuned, here are the rules:
To participate, upvote this post and comment only one number between 1 and 30.
If there is a repeated number in the comments, the prize will be divided.
For every lottery, a random number between 1 and 30 will be generated, giving a lucky participant the chance to win 50% of the post earnings.
If no one has the winning number, 50% of the earnings will be added to the next lottery and so on, so imagine how huge the jackpot could be.
Transparency
To prove that the number has been chosen randomly, I will post the capture of the random number selected in the Random.org website. Notice in the navigation bar that the parameters are correct (a random integer between 1 and 30).
If you take a look on the website, there is a timestamp, guaranteeing the winning number was selected before posting this.
The winning number will be announced in one week, when the post receives the payout.
You can also check the exact publication date and time of this post by changing steemit.com for steemd.com in the url.
Spread The Word
If more people participate, the payout will increase significantly and the chances of someone hitting the accumulated reward will be higher!! Remember that it's free to participate, all you need to do is upvote and comment with your number.
---