I've been on Steemit for 2 months now and wow what an exciting 2 months it has been! When my wife told me about steemit, I have to admit I was skeptical as that's in my nature. I thought, "great, another social media platform I don't have time for." How wrong I was! I'll humbly admit my first impression was wrong (and she was right). I love my wife and I'm thankful for her and for all of you who've supported and helped me along the way here!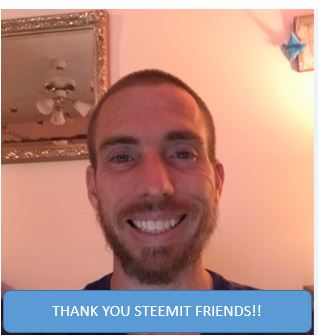 Why this turned out different than FB, twitter and others
So even during weeks when I'm not earning much, why have I still spent 1-2 or more hours a day here? I could think of so many reasons but these in particular stand out to me
The payouts make it worth doing whether they're $0.10 or $70 (70=my highest payout)
Sharing things I'm passionate about and I enjoy doing is fulfilling to me
All the kind and intelligent people I've met here give me hope for this world and joy in communicating with them
The opportunity to invest and get more than a 20% return per year on my money which sure beats bank interest rates
I love seeing that my account value recently hit $3,000 and is above $3,100 (3k was my goal for end of September). BOOM!
This is not only a fun hobby but a lucrative long term investment
I've invested close to $2,000 of my own money here because I see bright future for this platform. I've dialed back my 401k contributions for now in order to invest in a basket of cryptos and STEEM is what I hold the most of in the form of STEEM power. As far as crypto investing is concerned, I also have some BTC, ETH, KMD, BCC, EOS, ZEC and BTS and plan to keep adding on pullbacks as I see fit.
The stock market is at all time highs and I'm at a good place as far as the 401K balance goes compared to my age. I don't regret reducing the contribution for now since the market needs a pullback in my humble opinion. Because of this and the extra spending money I have from my lucrative yet often frustrating corporate job, I can afford to invest in cryptocurrencies once per week and sometimes more often.
With the recent dip my buys were more frequent last week but I haven't bought anything since Friday when the bounce started and I'm gonna chill out on it for another week or so unless we see another great buying opportunity . I've already shared my buys from last week in other posts and comments so I won't go into it again. I'll just say the buys I made last week are green green green!
More Gratitude!
Look at the small bounce we've seen in the price of STEEM this week! Chart courtesy of iphone cryptotrader app / poloniex data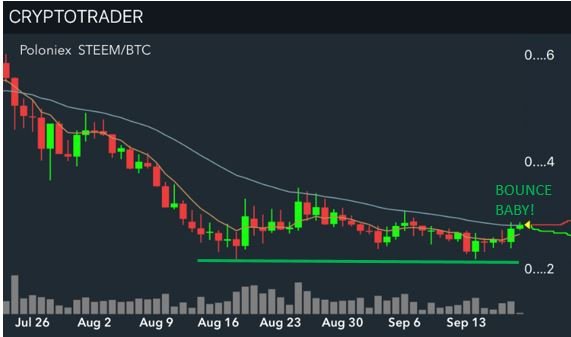 Could we have seen a double bottom happen and be on our way back up towards $2 / STEEM? Time will tell but I'm confident it'll go there and beyond. I've seen some predict $4 and even $10 next year and that would be amazing but I'm thinking more along the lines of 3-5 years but who knows, it could be sooner than we think! I did a post recently about the current STEEM price and a few scenarios that could play out. Fingers crossed for the double bottom.
https://steemit.com/steem/@cryptokeepr/steem-trading-range-getting-tighter-where-to-next
So what's next for me?
I'm currently at 3,100 and some change account value and 464 wonderful followers! thank you thank you thank you all!
My next goal is to get my account value to $5,000 by the end of the year and have 750 followers. I like setting goals that are realistic so I can shatter them before I expect to. I hope you'll all continue to follow my journey here and I thank each and every one of you who have upvoted, resteemed, followed, commented, and supported me in so many ways. I will continue to reciprocate the good will as I am able to via upvoting good content, and engaging with all you wonderful, diverse, and intelligent people by commenting and replying.
I'd like to note that I've had a really horrible week in so many ways but writing this post and chilling my wife here next to me has made it all better and I am very happy at the moment. Thanks you @pretzelgirlsandy and thank you Steemians :)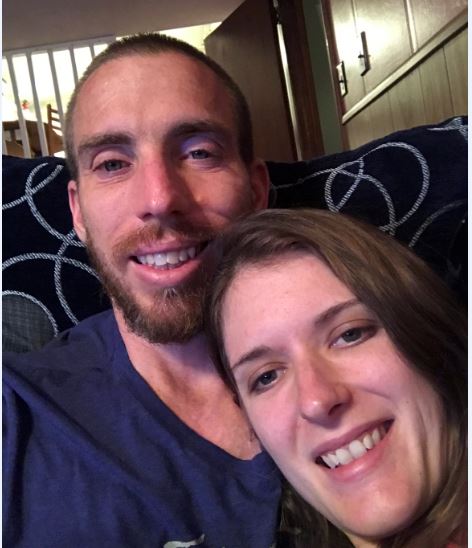 Much love to you all and a special thanks to all the witnesses who keep this platform running smoothly. Onward and upward!
Thanks everyone :)
Sincerely -- @cryptokeepr (John S)