Good Morning/Evening Steemians,
For those of you who don't know about Cheetah, it's a bot that looks for Plagiarism in people's posts.
So what exactly is plagiarism:
This is what comes up when you google it.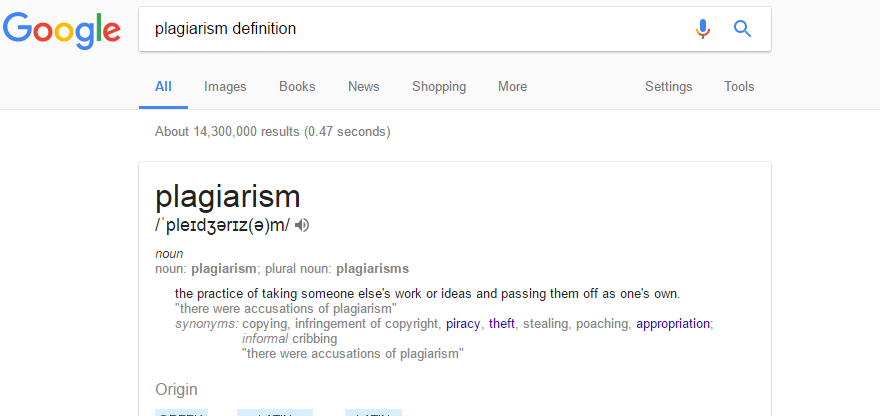 Since my headline caught your attention, I just want to say that I'm in no way encouraging you to copy other people's work. And I'm against plagiarism of all sorts. and I strongly believe that one should try to be as original as possible. But sometimes when we're out of words or too exhausted to type, we tend to just copy and paste things. That's where Cheetah catches people. When you copy a line or the whole paragraph and paste it at another spot, you're also bringing with that line, some aspects or hidden codes of the original post. And those hidden codes help Cheetah find the original post and then it flags your post .
A lot of people take inspiration from other people's work, and I think there's nothing wrong with it. But we should try and type it in our own words. But if you've run out of words and you want to write a line or a para exactly the same as in the original post, try and type it in. Do not copy and paste using your mouse or through your keyboard ( Ctrl + C & Ctrl + V) as that'll 100% catch the attention of Cheetah and you'll find something similar to the one below in the comment section of your post:
Now some people could argue that it doesn't matter if you link the original post as a Source at the bottom. But I think it still matters, as when I find an article that's interesting on Steemit and decide to upvote it but when scrolling down see that it's been marked by Cheetah, I just move on without upvoting it. So yeah plenty of people think the same and don't upvote on posts that've been marked by Cheetah.
So act smart and outsmart Cheetah by typing anything that you've seen on the original post instead of being lazy and deciding to copy and paste. Plus you won't get too many chances after Cheetah starts to tag your posts as you'll then be flagged for being a plagiarist. And if you're planning to take inspiration from a post, don't try and type the whole post by typing exactly word by word, try to type it in your own words for the most part and you'll be forgiven if you're just using a line or a small para as it is from the original work.

Follow, Resteem and UPVOTE