What's Up With My Library?
"The only thing that you absolutely have to know, is the location of the library."
- Albert Einstein -
My Steemit article collection has become unmanageably large.
Out of desperation, I've started another round of library updating. In this brief article, I want to tell you where I hope to go with this in the near term.



In case you may be unaware,
you can usually access the latest version of the library by clicking on most any image in my articles. For example, click the image of The Library above.
You can also always access the latest version of the library using the link in the center of the banner on my blog page...
In the highlighted image of my blog header below, you can see where The Library link is permanently located.



In my latest library update,
I've brought all my library shelves into view in a table on a single page. I hope this will make library access easier and more intuitive for everyone. I'll be moving any helpful shelf descriptions to the individual shelf pages.
It is also time to create the next level in the topic hierarchy. For example, the "Stories" category will soon have its own subsidiary shelves, including Fiction, Autobiography, Guest Authors, and so on.
However, please be patient... this will take me a while, as I plan to attack a single shelf at a time.
Longer term,
I continue to hope to create some tools that will help manage and present the content of my Steemit archives. I also want to find a better system of organization to appropriately cross-index my writing in ways that make it easy to find articles on any topic.
But for the moment, I want to "catch up" by filing recent articles onto the library shelves, and instituting some simple upgrades. The intent is to make my work more accessible to both my long term, loyal readers and to new readers who stumble on my writing and want more.
Thank you for being or becoming a loyal reader.
Thus begins our first significant library structural update in almost a year. If you want to know more about our "Steemit Library Technology," you can find a fuller description at the link immediately below... Meanwhile, Enjoy The Library!
---
---
~FIN~
---

P.S. If you have an "in" with anybody at Steemit, Inc. - Would you please ask them to get rid of these damn, extremely annoying "off-website" arrow/boxes? The have, overnight, made Steemit ugly. There are much better solutions.
---
CLICK the image below to visit The Library.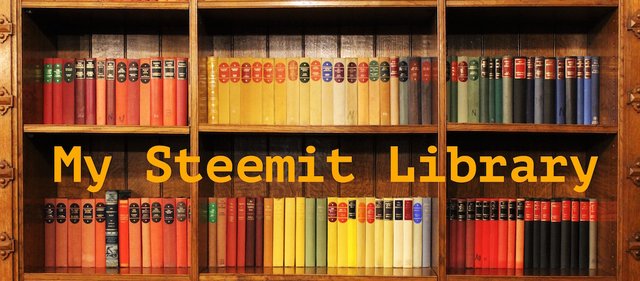 ---

---
LOOK! Check out our amazing product:


Introducing: The SILVERengines proton - Image by @creatr
CONTACT US - Will Exchange for Steem
---
Thanks for your time and attention.
You
are why I'm here on Steemit!
I have very eclectic interests and hope, over time, to write about them all.
---
⬇️To Check Out @creatr's World⬇️CLICK Each Image Below⬇️