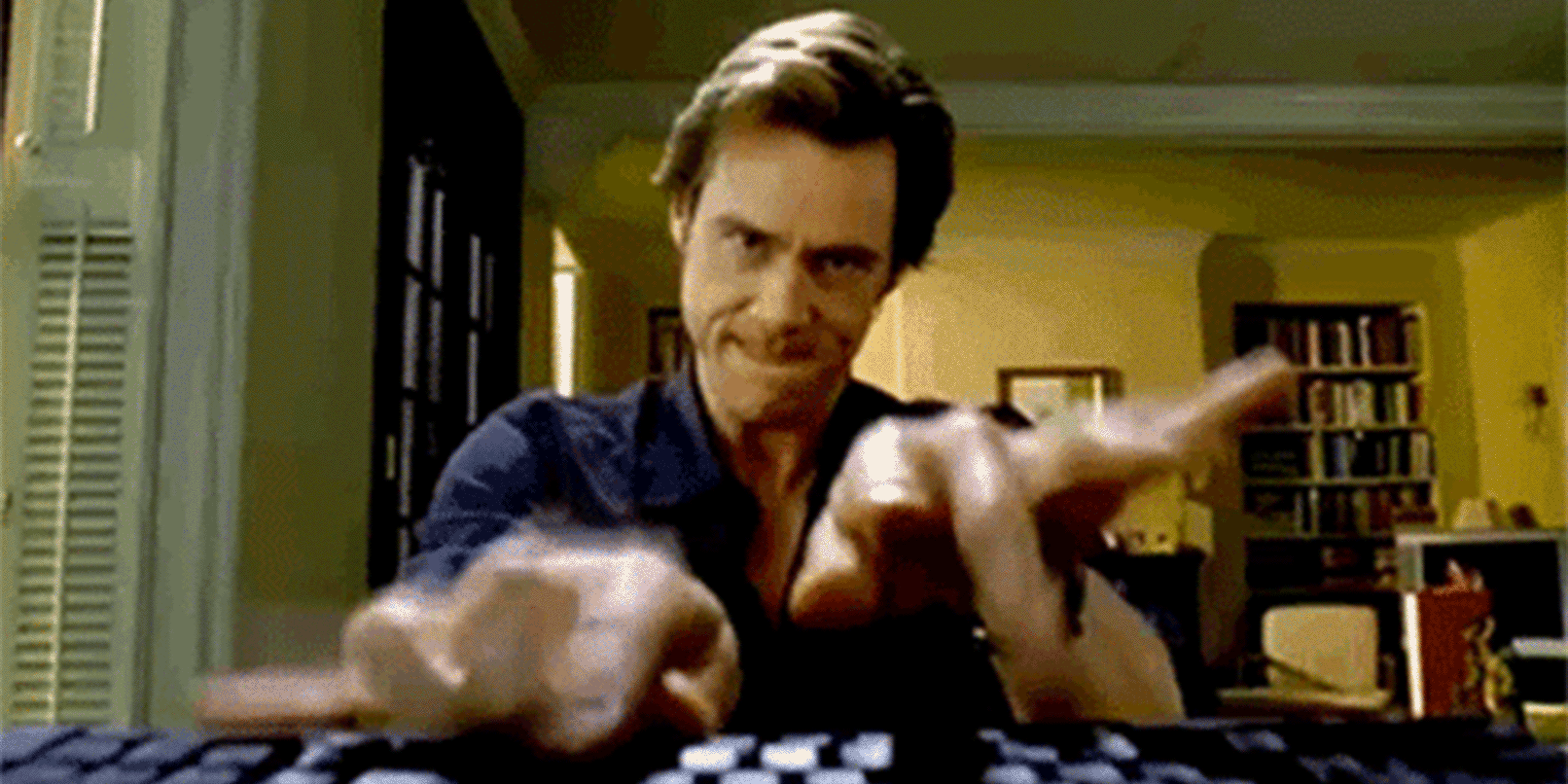 Say what? Is this dude seriously talking about comments? Damn right, this Ace dude is about to impart some serious knowledge about writing high quality comments on Steemit. Believe it or not, an excellent comment does wonders for gaining more followers, meeting new and talented Steemians and gets you those higher-ranked upvotes with some nifty rewards to boot. Enough hype - here is my step-by-step guide to writing high quality comments:   
Read the entire article - don't skim!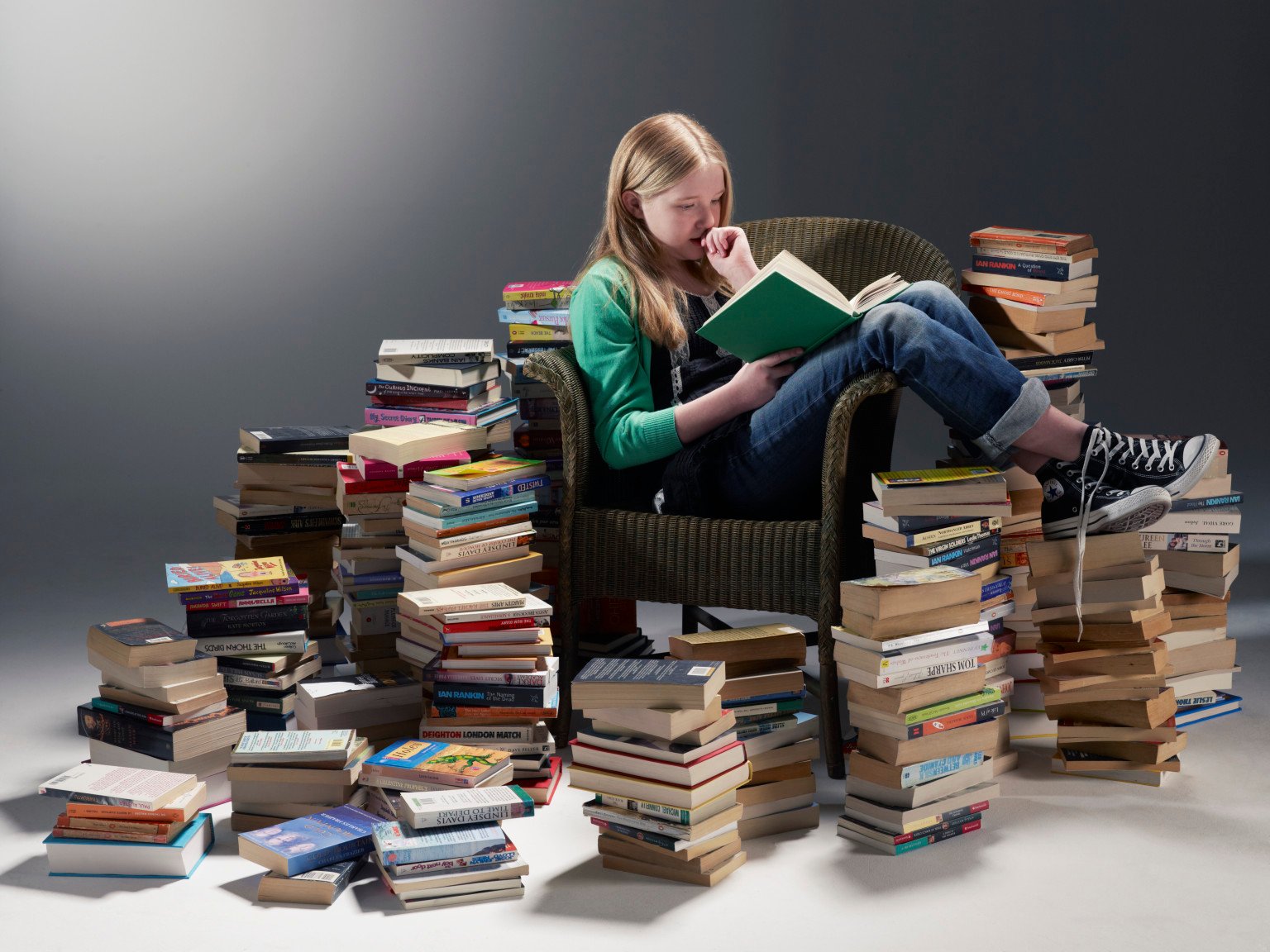 If you want to add value with great comments, don't try cutting corners by skimming the article. You have to know what the author is talking about before you can even think about interacting with them through comments. Heck, there are some people who don't even read the article and simply frame their comment on either the title or the thumbnail of the author (oh baby you're so beautiful, have an upvote!). See, that's just plain lazy! A hastily written comment can be spotted a mile away by the author, so don't expect to receive an upvote or any rewards for a "Good post" or "Cool story bro." Read the entire article so that you'll know exactly what to comment on!   
Start off by explaining what you appreciated the most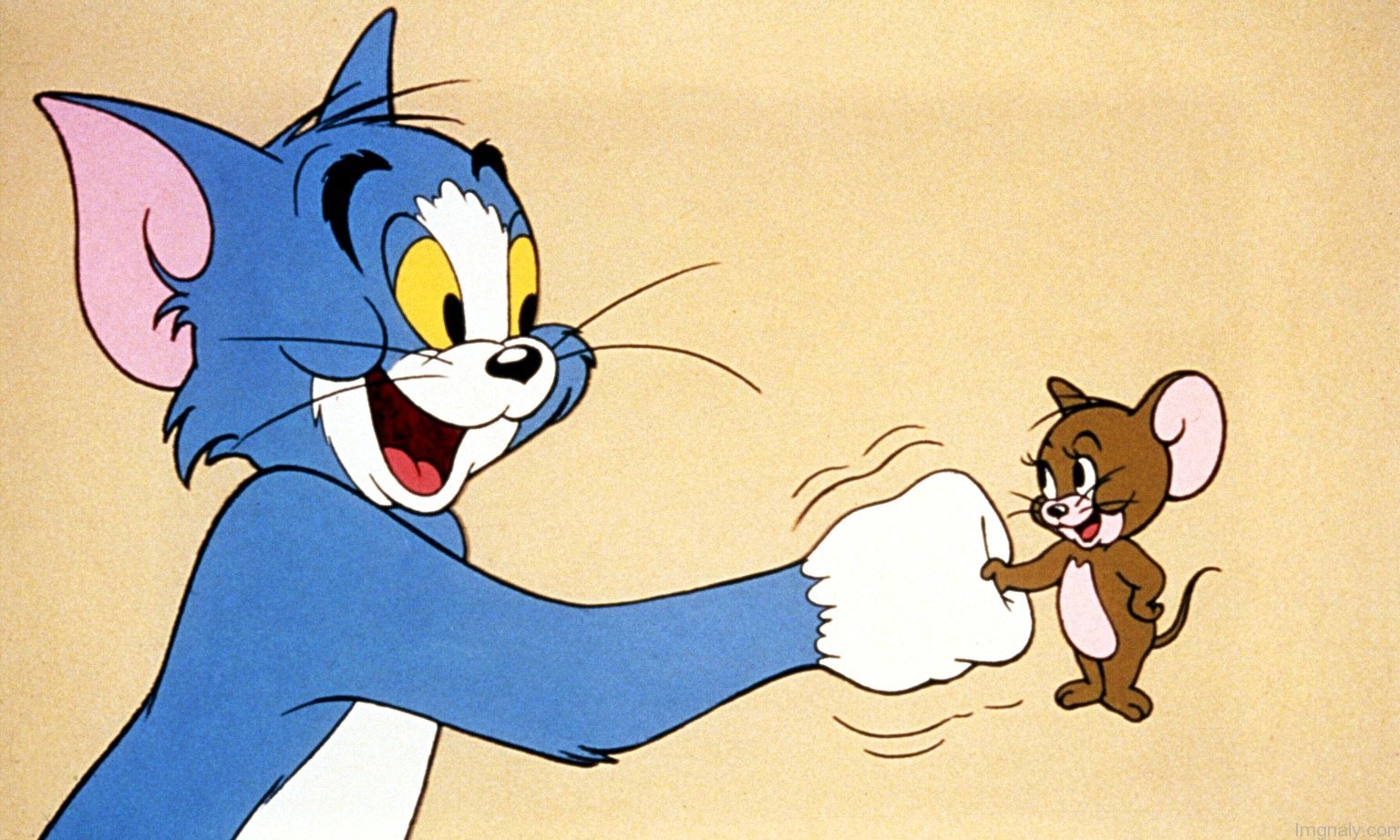 Of course, you can start off by thanking the author for a great post. But don't just stop there – tell the author exactly why it was such a great post by detailing exactly what you appreciated the most in the article. Point out your favorite parts of the article and go a step further by explaining why those particular parts specifically impacted you. I always love reading comments like these because it gives me a better indication of whether or not my article was actually useful and helpful for my readers.    
If you are going to disagree, please do so in a civilized way, without insulting the author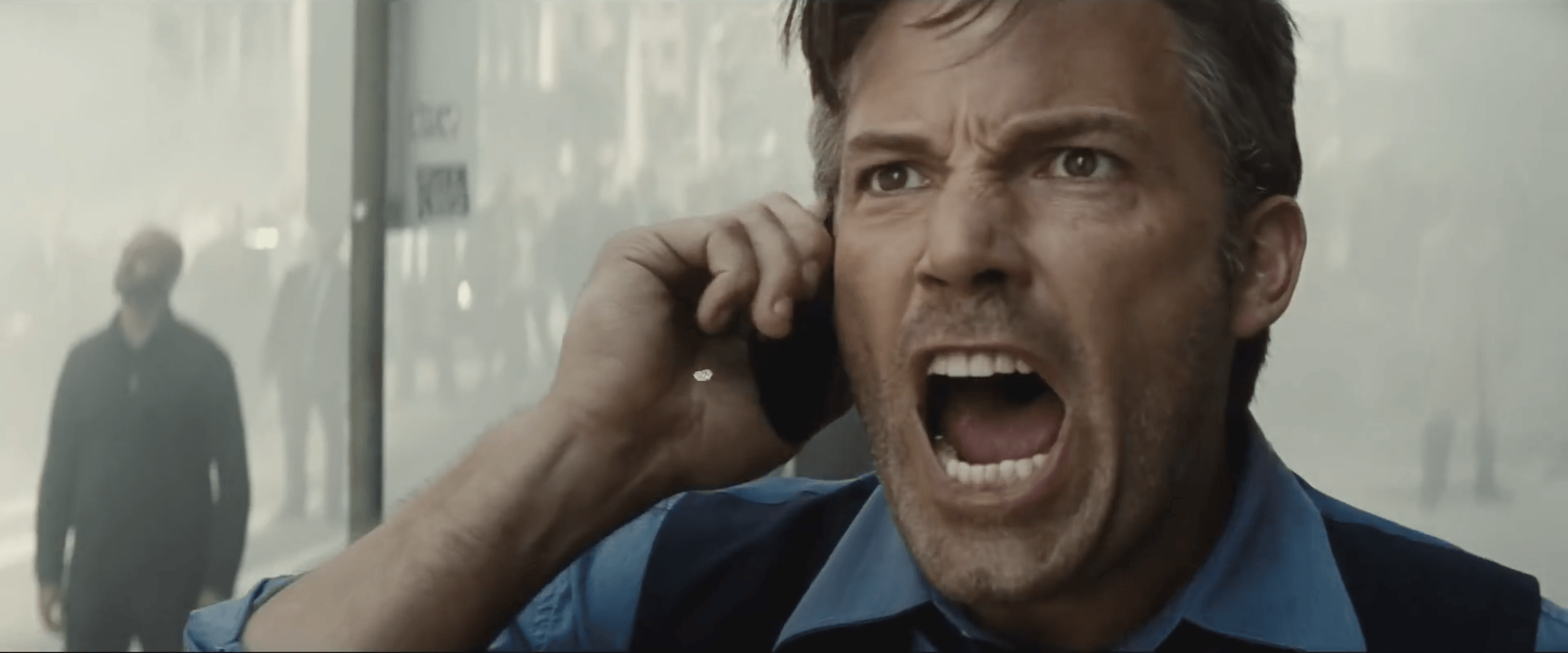 Face it, you're not always going to agree with the author on everything. Sometimes the best thing to do when you strongly disagree with the author is to simply not say anything at all. But since we are all devoted members of this great community, it's totally fine to express our disagreement in the comments section – but only in a civilized manner. Don't start attacking and abusing the author if you don't agree with what they write! State plainly why you don't agree with their views but also show that you respect their opinion. All authors, including me, respect constructive criticism and are certainly willing to entertain other perspectives as well. Always engage authors calmly and logically!   
Never beg for an upvote or follow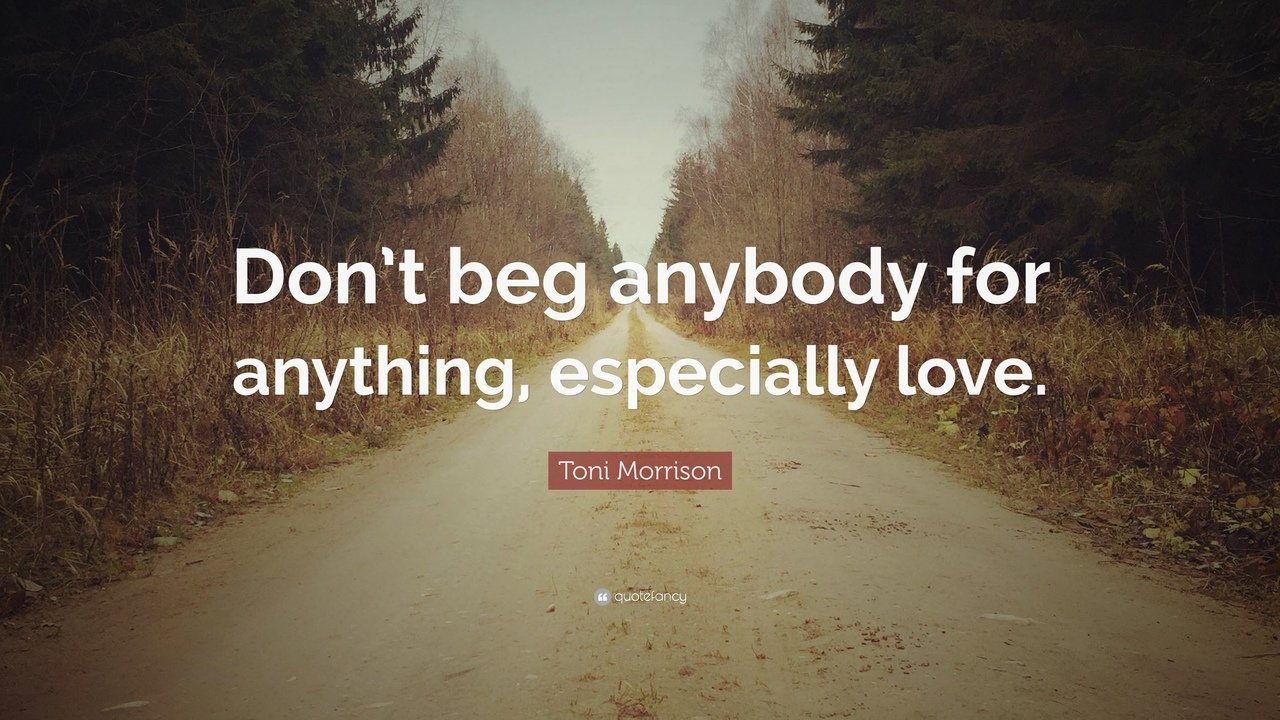 This is a MAJOR NO-NO on Steemit – don't start begging for upvotes and follows in the comments! Especially on articles of well-respected and veteran Steemians. These veterans have worked very hard to get to this point and definitely will not take kindly to these blunt requests. Not only will you get ignored for this type of behavior – you can even get flagged and downvoted! And downvotes from higher-ranking Steemians can instantly destroy your reputation on Steemit. So please, pretty please, don't beg in the comments!   
Never spam your links!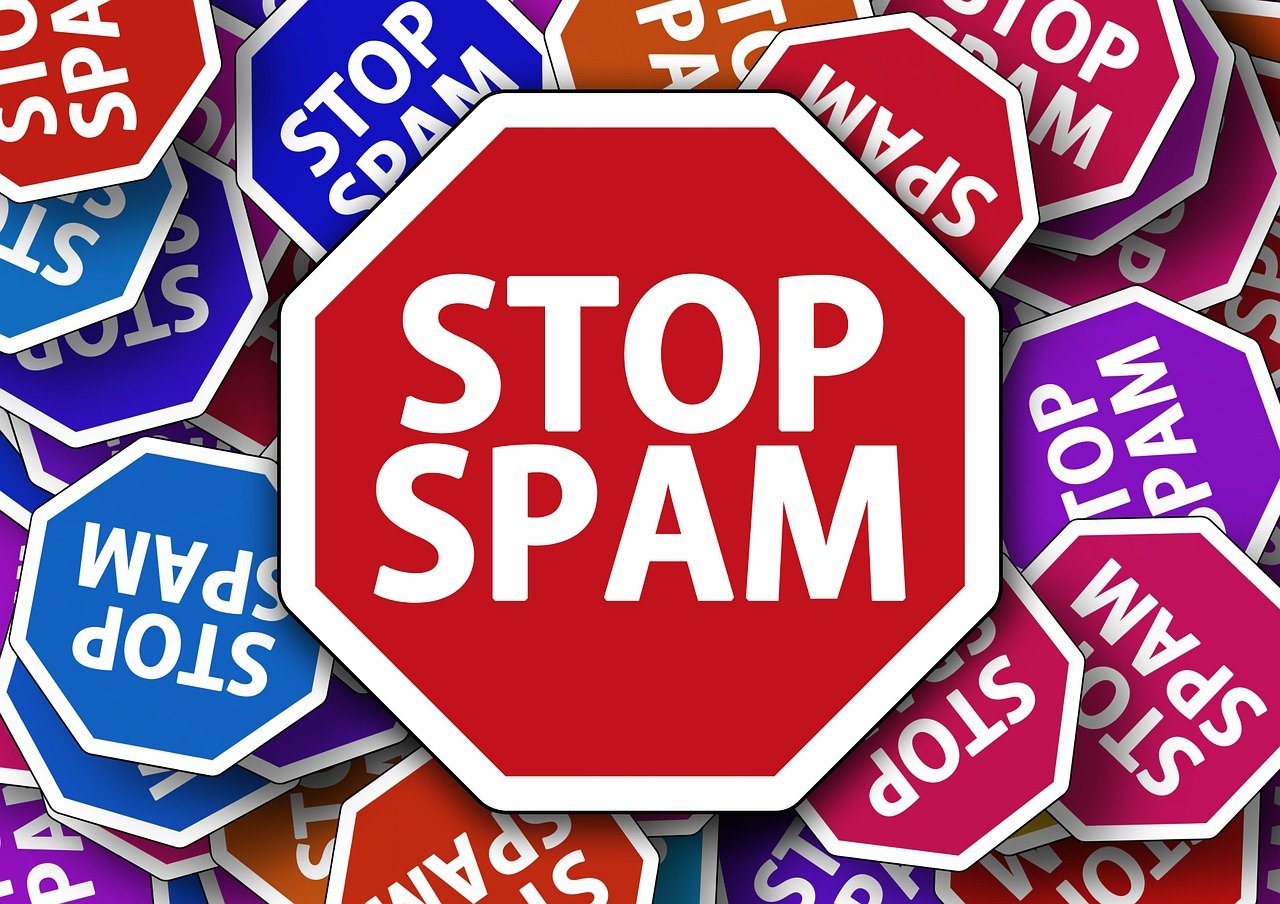 Even worse than begging for upvotes and follows in the comments is when certain newcomers to the community start spamming their links. These guys don't even read the article and simply write "Good post, now check out my post too" before pasting the URL of their winky-dink post. This is spam people and is a direct violation of Steemit rules! You might get by without getting flagging for "upvote for upvote" or "follow for follow" but if you ever spam your link in the comments, especially on the article of a higher-ranking Steemian or whale, you will absolutely get your ass downvoted in a snap! If you are a constant spammer of links, you can even get reported to steemcleaners and before long, you will be completely invisible with a negative reputation score on Steemit! So please refrain from posting any of your links in the comments if you want to continue participating in the community.    
Be prepared to write at least 3-4 sentences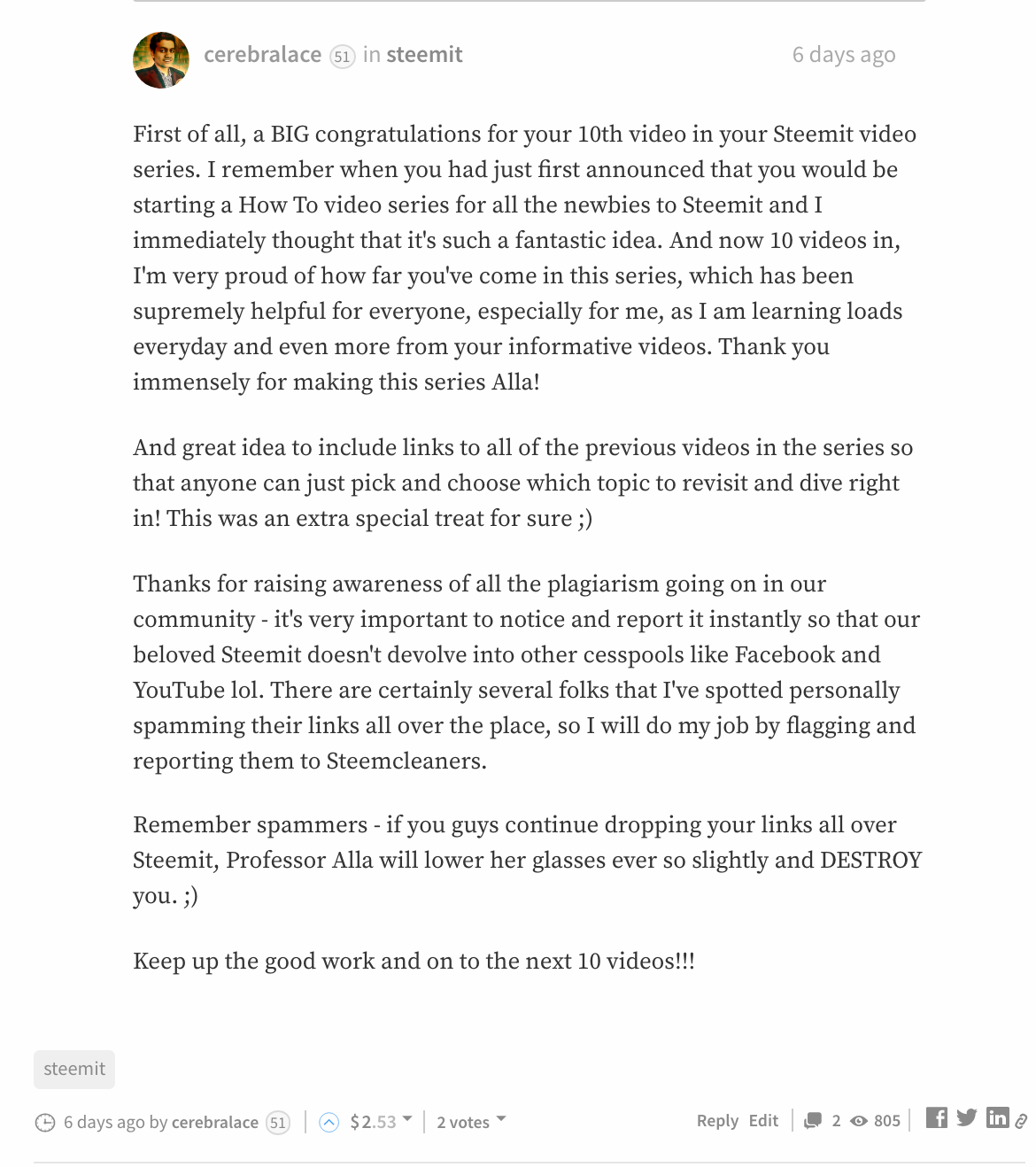 A good, high quality comment is at least 3-4 sentences. It can even be longer and can be supplemented by a relevant photo, gif or meme. But don't expect to receive any replies or upvotes from authors for simple one-liners like "Good job", "Good post", "Great job can you follow me?" If you're looking for something more than just a bulging post count, you will have to do a better job on your comments and make them as complete and relevant to the post as possible. Take a look at the snapshot above for an example of one of my higher quality comments.    
There are certain places where comments are more valuable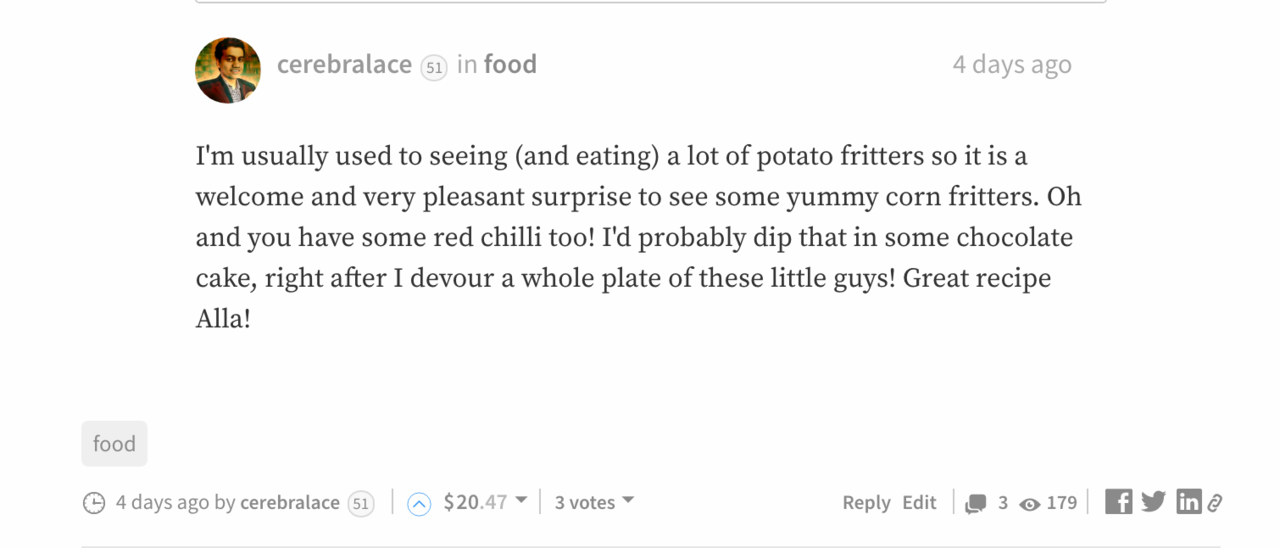 If you are looking to get additional rewards through commenting (especially if you don't blog too often), there are some veteran Steemians who are always interacting with their readers in the comments section and absolutely love to reward great, high quality comments. From my personal experience, some of these awesome, philanthropic authors include @trevonjb, @allasyummyfood, @craig-grant, @aggroed, @acidyo and several others who shall remain nameless for now. Of course, you should be commenting on any post that you find useful and helpful but feel free to engage these authors in particular – don't spam these guys, contribute to the discussion with relevant, high quality posts. And tell them that Ace sent you! ;)   
Have fun and make new friends!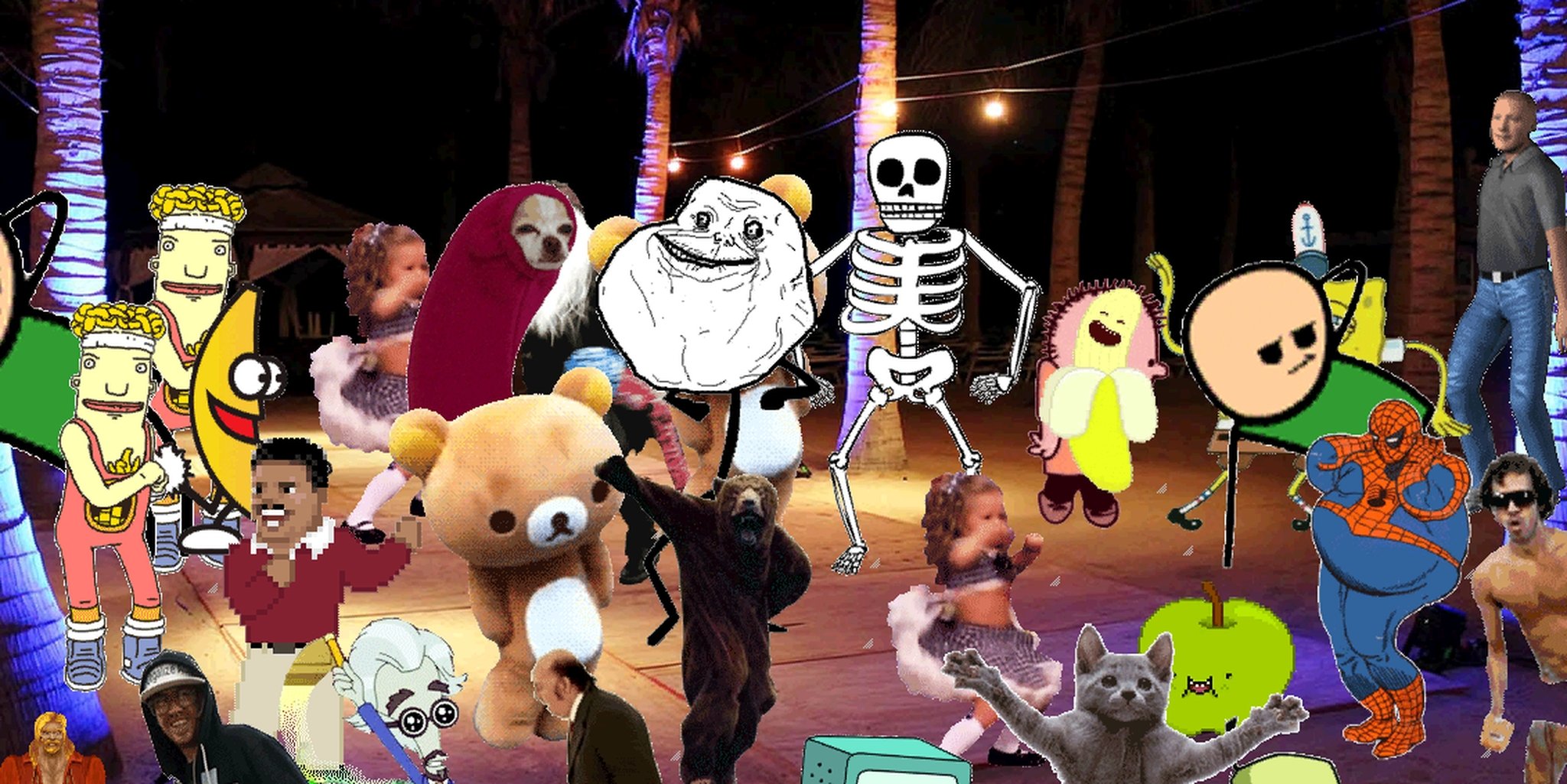 Even though you have to put in the effort to write a really good, useful comment, this should immediately become natural and a part of your normal day to day routine on Steemit. Commenting should be fun! Especially if you approach it without thinking about upvotes and rewards. If you are wholeheartedly reading posts that you enjoy and directly engaging the authors, then writing candid, thoughtful comments will actually gain you new followers for your own posts and most importantly, you'll make some awesome friends too!    
I actually met @deveerei by commenting on an amazing drawing he made about a month ago and since then, we've been great friends and have even started collaborating on a Steemit original story – Fried Yellow Plantains.    
High quality comments open many doors on Steemit – direct conversations with your fellow Steemians, more upvotes and author rewards, more followers and most importantly the potential for new life-long friends! Thus, they help to foster and maintain the sense of community on our Steemit platform – which will grow even faster and skyrocket past the moon if we can continue to remain open-minded, respectful and even more united on our march to become THE social network of the Milky Way galaxy!   
---
Image Sources: 1, 2, 3, 4, 5, 6, 7, 8, 9
Until next time, keep acing life!