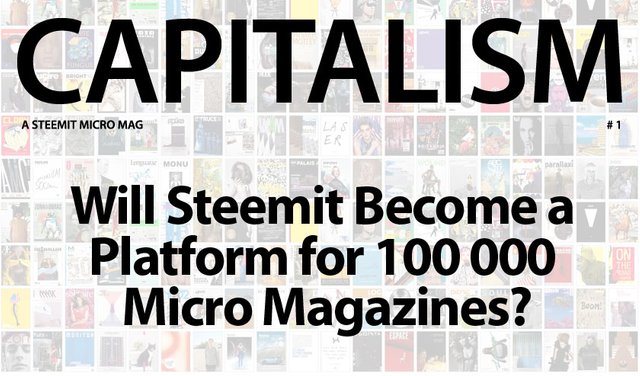 Since July 23, the day I became a Steemer, I'm thinking all the time about the the present and future of Steemit. What is it and how will it evolve?
The Steemit Whitepaper is very clear in this point: 
"Steem is an experiment designed to address challenges in the cryptocurrency and social media industries by combining the best aspects from both. Steem presents earning opportunities to content creators and internet readers in ways that have not existed within the social media industry." (p. 44.)
The reference in social media for Steemit is obviously Reddit. It is mentioned several times in the Whitepaper. Also Ned Scott, the CEO of Steemit.com, said in an interview with forklog that Steemit should become the better Reddit. He mentioned censorship problems at Facebook and Reddit and told, that they can be solved with blockchain. For the media it seems also clear, that Steemit is a "Reddit-like social network".
Maybe it is, but maybe it could become something different.
Seth Godin about the Future of Media: Micro Magazines
One of the blogs I'm constantly reading for a very long time is written by Seth Godin, a marketing guru. In 2010 he wrote a post about "Micro magazines and the future of media" where he stated, that classical magazines like Newsweek are too slow and too general, whereas the world is fast and specific. His solution: "micro magazines": 
"There's room in the market for 100,000 profitable micro-magazines. Why not have one about Aruba, for example? If all the people who vacation in Aruba could read about the island in detail every month, read about restaurants, resorts and politics, for free, in an easy to share format… Multiply this by every destination, every interest group, every type of profession (how about a micro-magazine for ethnobiologists?)"
Godin gave some thoughts about the details of such micro magazines. The most important were: they are digital and enabling the audience (he called it 'tribe') to connect and share ideas in the magazine.
Let's take a look at Steemit.com now.
Steemit as a Platform for Micro Magazines
Is Steemit to become the next Reddit? That's possible, but there are alternatives as well. A look at the web design of Steemit and Reddit shows to me some very obvious differences:
Reddit has a better designed comment section. It's made for huge conversations. Single branches in the tree structure can be closed to get a better overview. 
Steemit on the other hand has a smarter comment system. It weights the comments by votes and reputation. And the more Steempower someone has, the more weight has his vote.
Reddit has a very oldschool design. It's not optimised for online reading of long texts and looks a little bit overcrowded.
Steemit on the other hand has lots of white space and is optimized for online reading of long texts. The web design reminds more of Medium than of Reddit.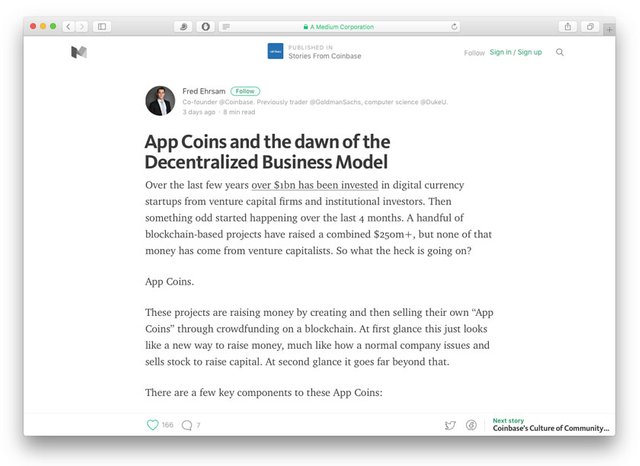 Medium.com: Looks like Steemit. But is without the Steem.
In other words: Steemit is much better fitted for longer articles than Reddit. It could be something like Medium, but with all the features of a social news platform. And powered by Steem, of course. This brings us back to the six year old idea of Seth Godin:
Could Steemit become a platform of several thousand micro magazines?
That's possible. Because Steemit is optimized for article reading and could provide a very unique way for financing such niche magazines. Think of Facebook as plattform for the personal network, Reddit as platform for discussions of any kind and Steemit as platform for high quality niche articles. So maybe Steemit will become something that not yet exists: a social micro magazine platform.
There are already Micro Magazines on Steemit
The idea of branding my Steemit account @capitalism starting with this post as a micro magazine was inspired by some users that I'm following. They are already providing a kind of micro magazines. It's @piedpiper, @bravenewcoin, @infovore (SteemMag) and @darknet (Steemit Crypto Mag). Their topic is mostly Steem and cryptocurrencies, because we Steemers are mostly still a bunch of nerdy early adopters. But with thousands of new Steemers new interests will come and more topics will be covered.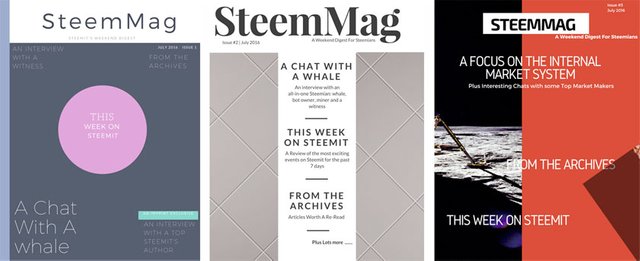 The SteemMag by @infovore: The first micro magazine on Steemit.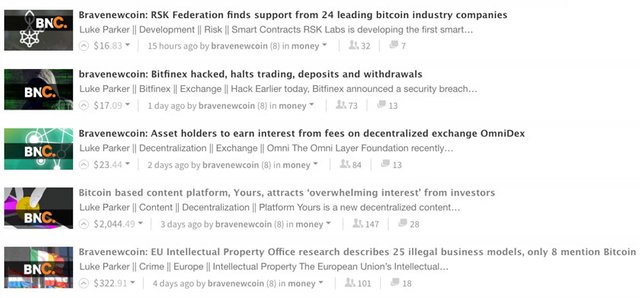 The BNC. Magazine by @bravenewcoin: Niche Content and branded thumbnails.
The Steemit Whitepaper compares Steemit with the free market. Sticking to this analogy we can spot now the appearance of the first professional corporations. Like the SteemMag and BNC. they use branding, provide quality goods and are improving themself continously. It's like in the 18th century. @Ned and @Dan just invented the Steem Engine and the Steemers are starting to use it for their content production.
Now it's time for you to start your own Steem powered micro magazine.
What do you think about this?