How to backup your byteball wallet
I wonder what will happen if we were to lose our precious bytes. We know the stress we went through to gather them. We became marketers, writing catchy jingles, one on one marketing, convincing the hardest heart, sometimes getting duped in the process of getting referrals. Now that we have the bytes, how do we back it up? Don't forget we have the larger percentage waiting to be withdrawn in 2019 (July for most Nigerians).
However, should we get stuck with just a mobile device because we are protecting our darling bytes? Or should our device (PC or phone) get stolen or even wiped, what happens? Good news, you can backup your byteball wallet. Just follow the following steps and you are safe.
First, go to settings in your byteball wallet

Go to backup wallet seed

N.B: You can recover your bytes by using the seeds but not your blackbytes (if you have any).
click on Show wallet seed anyway, it will bring a series of words which are your secret seeds, keep them safe.

The seeds are a collection of random English words that may be meaningless, don't try to understand it (lol), just keep it safe. In case you change your device or something happens, download the wallet, click on Recovery from seeds, type in your seeds and your wallet will be restored.
To be on the safe side, a full backup is advised. It is advisable to do this backup after every payment si as not to lose any bytes or blackbytes. This is the backup of the complete wallet data.
Follow these steps: open wallet > click on settings > full backup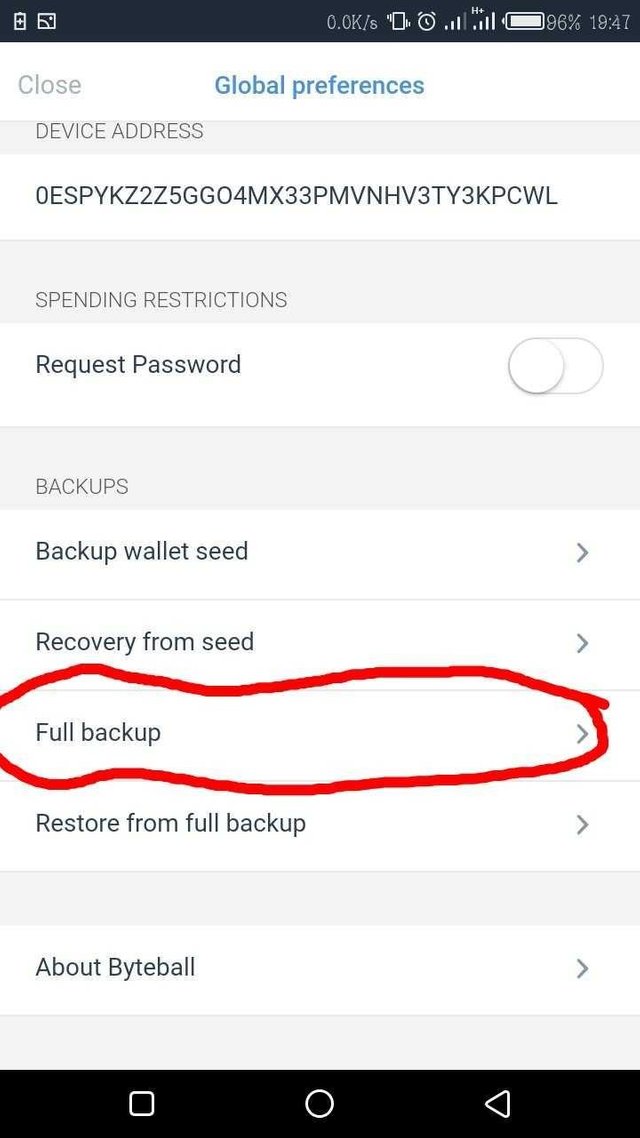 Set up a password. You know how important passwords are, so I wouldn't emphasize the need to keep them safe.


Once that is done, click on export and save file where you want.

Tada! Wallet successfully backed up. Yippiee! 👯
To restore your wallet from full backup,
Settings> restore from full backup

chose your file

Input your password that you chose during the full backup process, click in import. Yay! Wallet restored! Don't forget to back up your new wallet.
You may also backup your wallet manually by just copying the byteball folder in your device and keeping it safe.
I hope you found this helpful. For those yet to get their bytes, get it here.
All images were gotten on my phone and edited with PicsArt where necessary.
---
I am @bookoons, reminding you today to Make A Difference