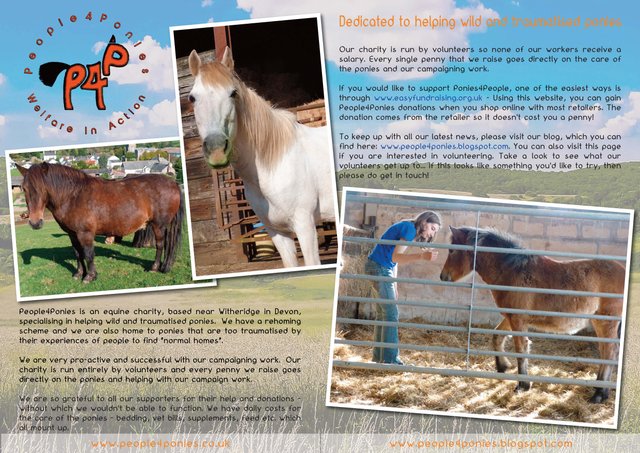 People4Ponies is an equine charity, based near Witheridge in Devon, UK, specialising in helping wild and traumatised ponies.
People4Ponies have a rehoming scheme and are also home to ponies that are too traumatised by their experiences of people to find "normal homes".
People4Ponies are very pro-active and successful with their campaigning work. The charity is run entirely by volunteers and every penny raised goes directly on the ponies and helping with our campaign work.
The charity is very grateful to all supporters for their help and donations - without which they would not be able to function. Daily costs for the care of the ponies include bedding, vet bills, supplements, feed etc. which all mount up.
The charity is run by volunteers so none of the volunteers receive a salary. Every single penny that raised goes directly on the care of the ponies and campaign work.
If you would like to support Ponies4People, one of the easiest ways is through:
http://www.easyfundraising.org.uk/causes/people4ponies/?t=Easyfundraising-lo&v=a&=
Using this website, you can gain People4Ponies donations when you shop online with most retailers. The donation comes from the retailer so it doesn't cost you a penny!
To keep up with all the latest news, please visit the People4Poniesblog, which you can find by visiting:
http://people4ponies.blogspot.co.uk
You can also visit this page if you are interested in volunteering. Take a look to see what our volunteers get up to... if this looks like something you'd like to try, then please do get in touch!
Please help to support People4Ponies! A donation will also be made to People4Ponies from any earnings made on this post.
Thank you :o)