New milestone, has reached the 50 post in Steemit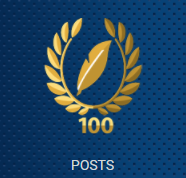 Thanks to return more focused on the platform and think long in my portfolio of Criptomonedas and thinking ahead in a larger Steemit account, we continue to grow.
I just hope to continue with the constancy that I do now, sometimes lowers the mood to see low rewards but hey we still. 😁
I hope not to lose focus and leave, that many times I was tempted to leave the platform to see very low rewards, but I will try to continue with all my will to be constant.

These data can be found in SteemitBoard >> http://steemitboard.com/
You only have to put your user name
Here a last achievement 😁 >> 50 post in Steemit
This publication is my translation, however, I helped online dictionaries and translators to learn more and practice my English daily, I appreciate your vote and comments to correct my mistakes, thanks
I hope you like this article and is to your liking.
Don't forget to vote, comment and give Resteem