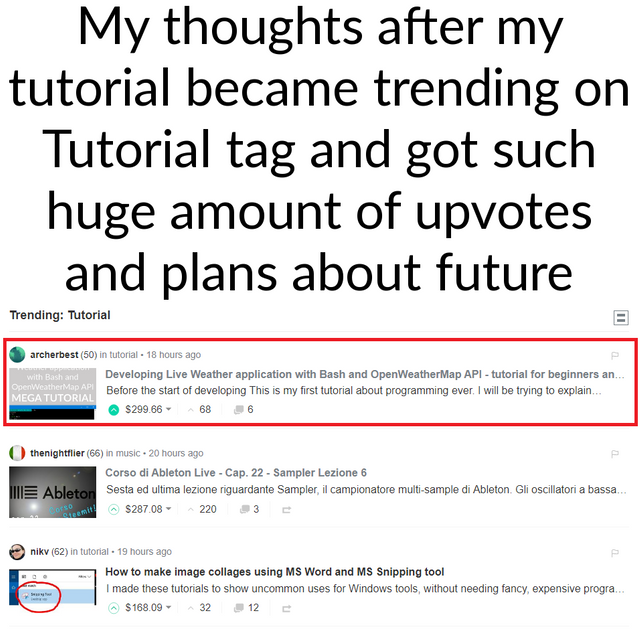 Wow! I did not expect this!
Before I posted my tutorial Developing Live Weather application with Bash and OpenWeatherMap API - tutorial for beginners and programming enthusiasts at yesterday, I hadn't think I would get 68 (and still growing) upvotes worth about $300 and many new followers! This morning before I woke up I was very interested about yours feedback. When I had opened SteemIt I was surprised and really happy (still I am!), my hands was shaking. :D
Is my content useful for others?
It is significant sign I did good job and it were apprciated by Steem community. I really feel proud of myself and thankful to you for yours votes. That's an excellent feeling when you spend many hours working on your post and then it becomes trending. If you have not programming before and my article inspired you to coding or just you think it's interesting I will be glad more. As I said I am just a student and I have been learning all the time, but before I took up studies I had been learning a lot on my own, thanks to you I am sure I am although a little good doing what I do. :) That was my first such huge tutorial and I will be posting new tutorials.
My plans about future
At soon I am going to public new tutorial. I don't know concrete date right now. It will be surprise. :) Of cours the main topic of posts will be programming and developing applications. Next articles will be as wide as previous one and with step-by-step explanations to make everything more clear. I wish I will public new post in this month, but because of my duties I can't promise.
I have a question
What topic about programming are you interested in (for example: languages) I should write about? Let me know in comments, it will be vital information for me. I'd like to provide you entertainment, improve your knowledge and partially it depends on you what I will be posting.
As I mentioned next tutorial will be revealed soon. Stay tuned!
If you find my posts usefull consider upvote, comment and resteem. Thanks!