THE APPICS SOCIAL MEDIA INTRODUCE [BASED ON STEEM BLOCKCHAIN]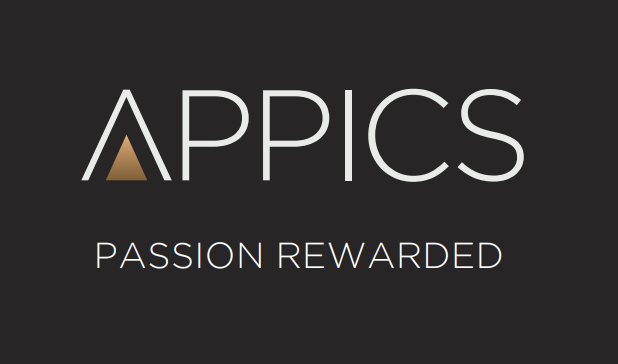 HEY
DEAR STEEMIANS & READERS,
many of you know Appics and many of you don't. Appics is a social media platform based on the Steemit Blockchain for iOS & Android. The platform is similar to Instagram but plays by the rules of Steemit.
---
Votes instead of Likes
On Appics as well as on Steemit there are no Likes, because on both platforms votes are worth something. You have the choice between 1%-100% of votes.

Each vote has a weighting, which depends on how many tokens you have. This token is called "APX" and is available at crypto currency exchanges.

At the time (14th December 2019) the token is available on Steem-Engine & NewDex. On Steem-Engine you can buy APX with Steem and on NewDex with EOS.

Through this voting system, users are no longer Like Dependent. Now that money is in focus, users need to become more creative to convince the community to vote with bigger votes.
---
The Profil
Here you can see the profile in the app. In the profile you can see your wallet with the current value. This value is only visible for you. More about the wallet can be found in the next part.

You can set a title picture at the top. Just click the 3 points on the right above the dollar amount.

The profile description includes Title, Website & About Me. Because Steemit & Appics doesn't allow you to change your username, because it counts as your account address, you can write your real name or etc. in the title.

In the lower section you can see your published articles, which are displayed in a 3x3 feed just like on Instagram.
---
The Wallet
This is what the wallet looks like. You get into the wallet when you click on the dollar amount in the profile. In the upper part you can see the whole wallet balance. Left and right you can see the APX Balance & the Steem Balance. These are your Liquid APX & Steem. You can sell them as you like.

Steem is there because you have the opportunity to earn not only APX, but also Steem with your contributions. Your contribution will also be published on Steemit and the users who vote via Steemit will give you the opportunity to earn Steem.

Then we have Power Up & Power Down. Power Up means that you can freeze your liquid APX or turn it into Appics Power (APX Power). APX Power is there to give your votes more value. Power Down is exactly the opposite. You convert your APX Power into liquid APX to sell it or something like that. The power-down process takes 13 weeks in total and is booked weekly on your liquid side. This means that the amount you want to pay out will be paid out in 1/13 per week for 13 weeks. Example: Pay Out 1300 APX or Dollar / 13 Weeks = Weekly 100 APX / Dollar

Next we have the Appics Power (APX Power) and the Steem Power (SP). As just mentioned, APX Power is needed to make your votes on Appics worth something. The SP is needed to perform actions like post, comment, & vote. Through the SP you get Resource Credits (RC's). Each of these actions costs you credits. These credits are regenerated by 20% daily. So if you have 0% then it takes 5 days until you are 100% again.

The last thing we have is the delegation. Delegation is borrowing APX Power or SP. These tokens/coins remain in your possession but are booked as power for the receiver. This would be like the receiver having the tokens/coins himself. The recipient cannot sell or send these tokens/coins. Delegation is used to support users on the platform.

The Transaction History is not yet installed but will be available soon.
---
Categories
On the platform there are not only hashtags but also head categories. At the moment there are 18 categories. Before you publish your contribution you have to choose one of 18 categories. More will come in the future.
These categories are current:
crypto
fashion
lifestyle
sports
art
travel
food
fitness
music
beauty
dance
comedy
gaming
business
tech
animal
purpose
wisdom
---
Before Posting
Before you post, you write your description. Currently the description of your post on Steemit is divided into title & text. But it will be changed in the future, so that you can give your posts a title via Appics. Otherwise you can edit the post for Steemit. The editing function via the app will also be available soon.

After that, we have hashtags. You can choose up to 4 hashtags. If there is a hashtag, the app will show you this hashtag in grey.

Next we have the categories where we just spoke about. Just click on it and choose one of the 18 categories that match your post.

At the moment, the current version does not yet integrate Tag User & Add Location. This will also be possible in the future and of course contributions will be sorted by location.

After publishing, your post will appear in Appics and at the same time will be visible as a blog entry about Steemit.
---
Contribution Value & PayOut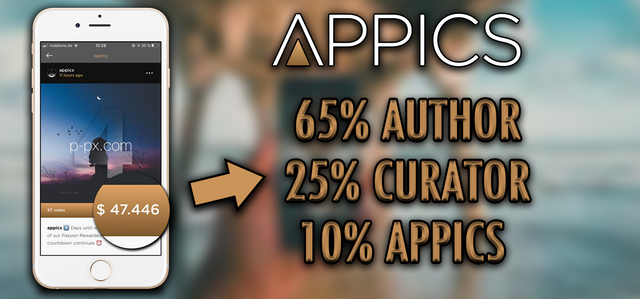 Picture Source: @appics & OWN CREATION
The post value is displayed on the right side of a bar that is integrated in the post window. This value will be paid out 7 days after publication. The payout distribution is as follows: 65% for the author who owns the contribution, 25% goes to the curators that are the voters of the contribution and 10% goes to Appics for the Ecosystem.

The amount is paid in APX tokens. Let's say, for example, an amount would have been $100 after 7 days. You will get 65%, so $65 will be paid out. Let's assume the APX rate would be $0.05. The calculation would look like this: 65$ : 0,05$ = 1300 APX. That would mean in this case you would get 1300 APX.

At the moment it is in the beta version so that the APX tokens are automatically booked into the APX Power. Later you have the option if you want to book 100% of the payout into the APX Power or if you want 50% Liquid & 50% Appics Power. In our example this would be either 1300 APX directly into the APX Power or 650 APX liquid & 650 APX as Power.
---
GET EARLY ACCESS

Here are the instructions how to download the Beta App for iOS & Android. For iOS it's relatively easy.
iOS Instructions
1. Download the App "TEST FLIGHT"
2. Go to "ios.appics.com"
3. Click on "START TESTING"
4. On Testflight click on "ACCEPT"
5. Download Appics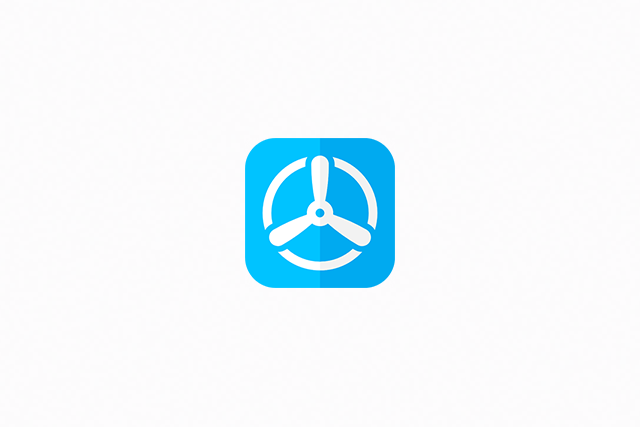 TEST-FLIGHT LINK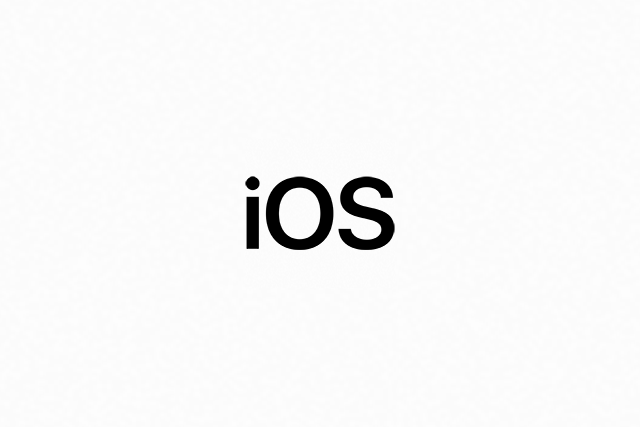 Appics Download LINK
Android Instructions
On Android the process takes a while because Google
unfortunately only has a manual activation for the emails.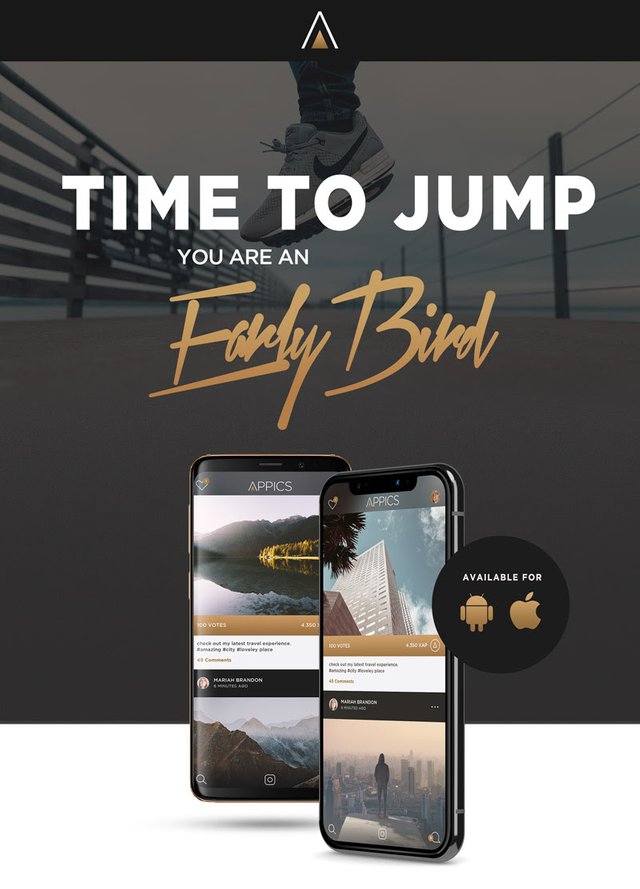 1. Click on the link to get to the form.

2. Fill out the form. IMPORTANT: Enter your "Google PlayStore Email".
This is required to download the beta version.

3. It'll take a few days from now. You will receive a confirmation email after filling in the form. Wait until the 2nd email comes with the letterhead "TIME TO JUMP, YOU ARE AN EARLY BIRD".

4. When you have received the email click on Download Android App.

⬇️ CLICK HERE ⬇️

Appics Form
---

CLICK HERE TO REGISTER
If you don't have a Steemit account yet then register here at steemit.com. Then you need a Steemit Account to log in into Appics App. The registration takes 1-2 weeks.

If you want to speed up this process you can pay for your account. Currently costs 3 Steem that would be about 0,30$. If you wait you will receive an email after 1-2 Weeks. Click on the link to finish setting up your account.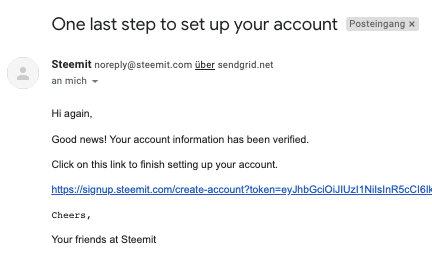 The email that you get after 1-2 weeks.
⚠️❗️EXTREMELY IMPORTANT ❗️⚠️
You will receive 4 passwords.


Active Key


Posting Key


Owner Key


Memo Key

These passwords must be stored and kept in a safe place. Your passwords cannot be recovered. If you lose your passwords, you also lose access to your account and your money.
---
TELEGRAM

💬 If you have any questions about APPICS,
you can ask the Appics admins on Telegram:
Official APPICS Group 🌎
APPICS - South Korea 🇰🇷
APPICS - Deutschland 🇩🇪
APPICS - Russia 🇷🇺
APPICS - Nigeria 🇳🇬
APPICS - India
APPICS - Turkey
---
Discord

APPICS Discord - D-A-CH
APPICS Discord Global
APPICS Discord Türkiye