THE AGC INVITES ALL STEEMIANS TO APPICS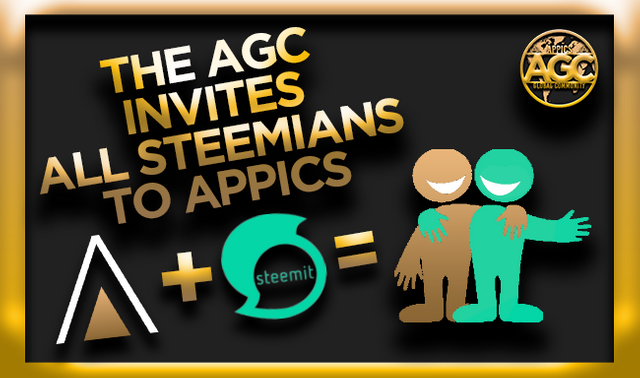 ---
Opening

What is APPICS?
@Appics is a photo & video sharing platform on the Steem Blockchain with an app for iOS & Android. APPICS has via Steem-Engine a token called APX which is distributed by content sharing on the platform. The distribution is set up on APPICS so that the author receives 65%, the voters share a 25% pool and APPICS receives 10% after 7 days.

The sorting of the content is similar to Steemit, but with a certain extra, namely with categories. On Steemit you can find New, Hot & Trending as well as on Appics. Additionally APPICS has introduced a category system. Every user has to choose one of currently 18 categories before uploading. The content will be subdivided into New, Hot or Trending in the corresponding category.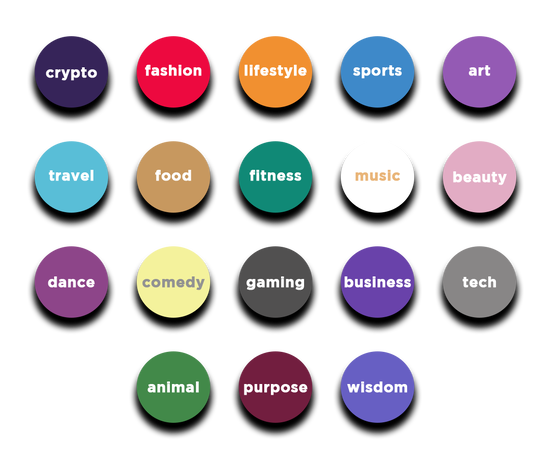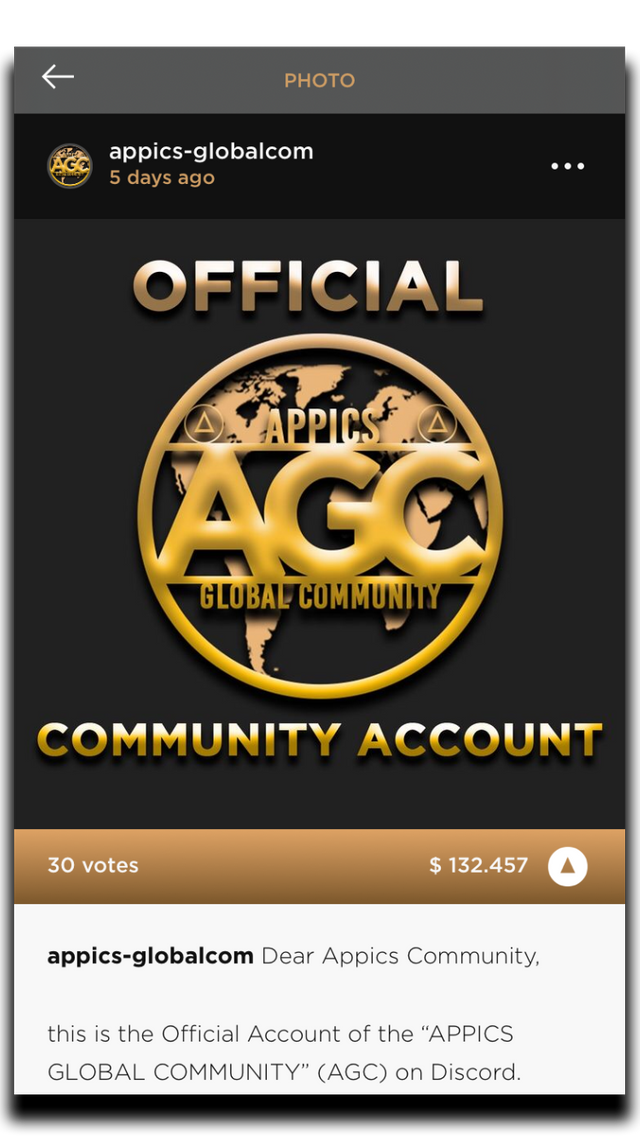 The price display is in US dollars, which means you can see immediately what your content is worth in FIAT. Now to know what you will get in APX tokens you just have to make x0.65 (for 65%) and then divide it by the market price to get Net APX Reward.

The APX token hasn't an API yet, the price in the app is fixed at $0.15. The team can't change the price manually every day and $0.15 was chosen because it was the last ICO price.

Example Calc:
$132.457 x 0.65 = $86.097
$86.097 / $0.15 = 574.9803 APX
Since we are on the Steem Blockchain our APPICS contributions are also shared on the Steem Blockchain and displayed as blog entries. The description that appears in Appics is unfortunately split on Steem into one part as title and the rest as text in the blog. The team is already working on the solution.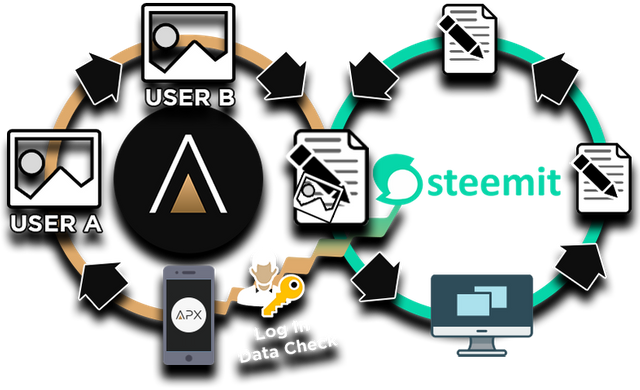 Tip: You can always edit your post on Steemit and move everything to the right position. Definitely work with thumbnails. Thumbnail is the image preview of the blog post and is always the first image in the posting, see first image in this post. The size for a perfect thumbnail is 650x384.
So you can post an image on APPICS and tell more about it on Steemit. For example you have been traveling and taken a picture and upload it to APPICS and on Steemit you can tell more about it, maybe with more pictures.

As just mentioned everything that happens on APPICS is transferred to the Blockchain and that means also Votings. When an APPICS user votes on the app he/she votes with 2 Staked Power. Once with APX Power and once with SteemPower. So Appics users can earn 2 currencies with one post.

---
What do Steemians get out of it
No matter if Steemians are on APPICS or not you will still have the advantage. Steemit is a web based platform, which means that it is designed to create and upload content over the web. APPICS is a platform that is designed for the Smartphone. As a lot is done with the smartphone today, especially social media, it is expected that APPICS will reach a high number of users. Let's not forget that we are still on the Steem Blockchain and APPICS runs on the Steem Chain, which means that every APPICS user will become a Steemian first.
The comparison to Instagram Statistic.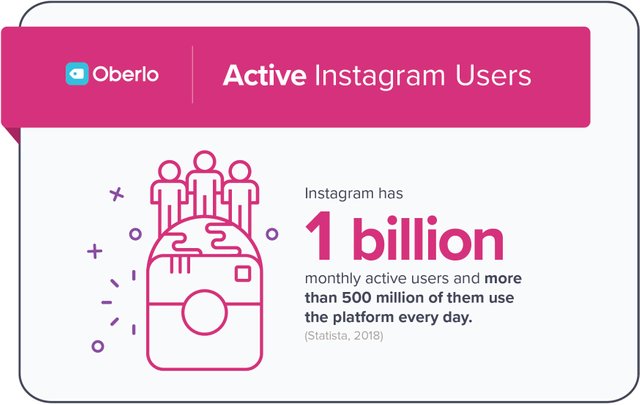 Source
Instagram will be 10 years old this year in October and has over 1 billion monthly active users and 500 million of these use Instagram daily.

Let's apply the beautiful if 1% rule. 1% of 1 billion is 10 million and in the same ratio the daily active users are 50%, that is 5 million. Just imagine APPICS with 1% of the Instagram statistics from 2018, that would mean 10 million Steemit accounts of which 5 million are daily active users. Then imagine how many users upload content to the Steem Blockchain and earn and use Steem.

Some would say now Instagram had 10 years time for this, should we wait 10 years now? Instagram was created 3 years after the first iPhone came out and if you look at TikTok you don't need 10 years for anything anymore.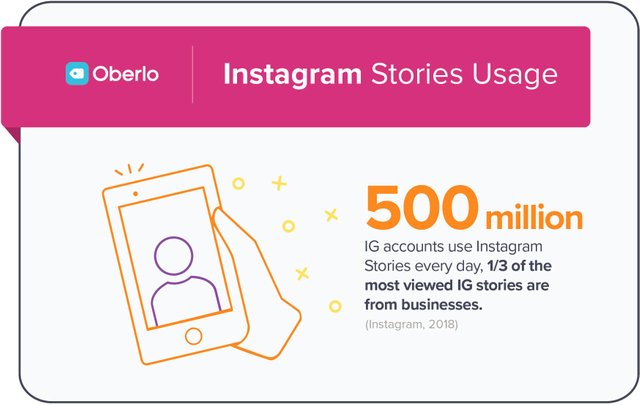 Source
The next point is the biggest engagement feature on social media. It's a centralized feature, namely THE STORY that stays online only 24 hours. Through the Story function, users can stay connected with their followers, share small information without having to upload a post. As you can see on Instagram 500 million IG accounts use the Story feature daily and 1/3 of the most viewed stories are from businesses.

This is very good that businesses use this function because it is the modern way of advertising. Because when the number of users increases, businesses will come to APPICS because their target group is on APPICS. Through the shops placing their advertisements on APPICS, APPICS earns money to develop the platform further.

The advantage of implementing the story function on APPICS is that we have different categories where the stories can be sorted + also in New, Hot and Trending.

The advantage for Steemians is that you also have the possibility to get more interaction from your readers. You can announce in your stories that you have published a new blog post, maybe even with a Swipe Up function directly to the post.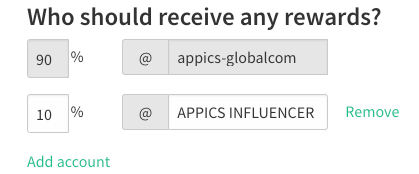 There is also the possibility to make a deal with other users who are APPICS influencers for a promotion for a Steemit Blog. For example, the Steemian can set rules that the Influencer is benefited 10% in Steem/SP and the Influencer can set rules that the Steemian is benefited 10% in APX.
---
The Token Economics
It is all well and good that you now earn a crypto currency for content. But it doesn't make sense if you have to change the crypto currency into another one to buy then something with it.

APPICS has therefore planned to introduce the shop function where brands, shops or verified users have a shop in their profile. So you can buy something with your earned APX. Which would make APX a vehicle of exchange for goods. Of course APPICS would demand a commission from every purchase because they are the provider of the shop function.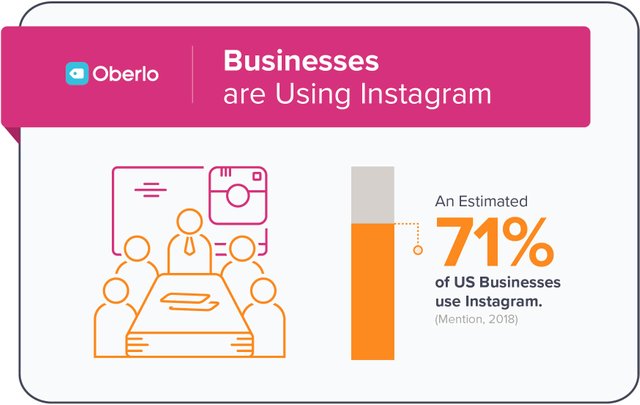 Source

We must also think entrepreneurially. Companies like Facebook make money by selling our pictures. Since APPICS does not drop this income completely for the company so you have to replace this income. With functions like advertising or shop functions you can earn a lot of money. Alone through the shop function you can earn a lot of money. For companies this is excellent because they can sell their products with their account, so they can place advertising and upload content. This means that APPICS gets a commission from the shop income, from advertising of brands or businesses and they earn 10% of the content of the account.

Take for example the company Nike. Nike can advertise for a new collection, sell the new collection in their profile and publish a contribution for the collection in form of a picture or a video etc. Speaking of Nike, that would be a huge income but back to reality because that's in the future.

So you see what can and will happen in the future. But for this to happen we have to stick together as APPICS Community & Steemians. Because we said we can achieve much more together. APPICS users can write blogs if they want and Steemians can publish photos/videos. Both sides have and will have an advantage of both platforms.
---
How do I download the app?

iOS
For iOS it is relatively simple. You download the Testflight app from the App Store and then go to ios.appics.com and follow the instructions.
Android
For Android, due to Google's beta program, you must fill out a form and enter your Google Play Store email so the team can confirm your Play Store email for download. Click here to fill out form.
---
Join the APPICS GLOBAL COMMUNITY on Discord


CLICK ON BANNER
If you have any questions about APPICS, you can ask the admins on Telegram:
Official APPICS Group
APPICS - South Korea
APPICS - Deutschland
APPICS - Russia
APPICS - Nigeria
APPICS - Bangladesh
APPICS - South America