Do you know what is the secret of Steemit Success ?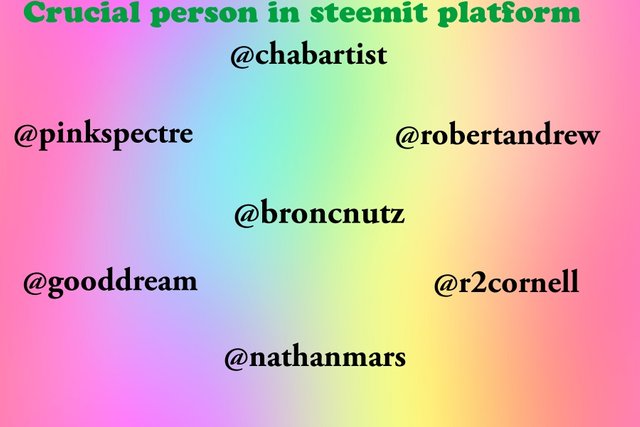 HELLO MY LOVELY STEEMIANS
Today I am discuss about the secret of steemit success because it is very important to discuss this too. yes, the way a woman has a hand behind the success of every man, of course any somebody of the behind the Steemit success in the same way. Due to my view, all the people who have a name here, all these people are behind of steemit success. All these people is the hero behind all the scenes, who are never mentioned.
@broncnutz is a very big fan of denver broncos in NFL. their post is very unique in steemit platform. he has never posted on any one topic. he is very good person. whenever broncos loses the match broncnutz becomes very depressing. editing the video is very well know to them. there is specialist about it.
@gooddream are very fond of films. reviewing movies if anyone has to learn then learn from gooddream. i think there will be very few movies which they have not seen. they analyze both old and new movies, they have specialty
@pinkspectre if you have to learn how to make a cake or chocolate then learn from them. they are mastered here. if you have not seen the world, you can see the world through their pictures. they have also big hand behind the steemit success.
@robertandrew old is gold thats my line. never forget their contribution. he also has never posted on any one topic. all post is unique in different different topic. their family is very cute, they have two children. just complete his 1 year in steemit platform. i have great hopes from his post.
@r2cornell one another great old man, they have mastered photography. they love to take a picture of tree, plant, flower. he has just made record getting the most comments. this is big deal in itself. working at this age also has become inspirational for the youth.
@chbartist his post makes records of long- term post writing everyday. looking at his post, it seems like he has inherited the post writing . if a person is troubled by his life, then coming to their post of him will probably benefit from this.
@haejin one of the most reputation in the steemit platform. i forgot to add their name, it's our fault. they have mastered financial analysis. if anyone learns their financial analysis then they will never lose in trading in life.
And last
@nathanmars i saw them in a post, how to fill glass with one and one drops, you can learn from them with great comfort. i salute them. how to take everyone together, nobody knows better than them. i'll be coming soon in the Dtube family.
I Request to you steemit Owner, in steemit platform you should be given an annually Reward to people, which is good in post. i have just put my point, give or not give up is your hand.