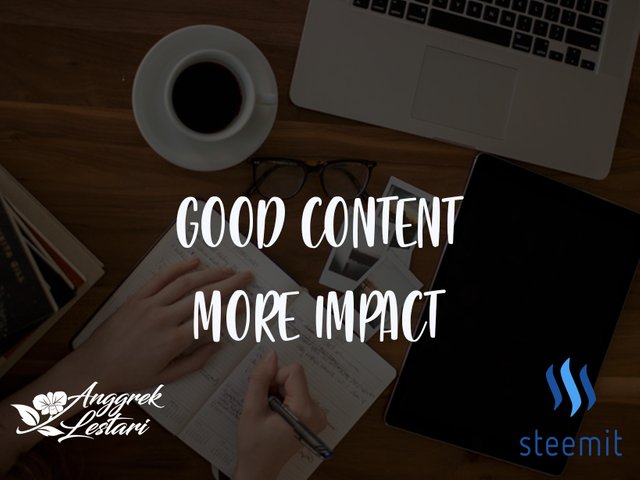 The value of SBD and Steem is indeed decreasing. However, it can not be used as a reason Steemit has decreased activity. Maybe we can learn from the platform that is first popular Facebook and Instagram.
One important thing that we can take lessons from other platforms to make Steemit a fun place, that is to multiply interesting content and useful for everyday life.
The entertaining content is a major component in the content that attracts a lot of users because everyday users are already fitted with a lot of work affairs, so users need more things that are able to entertain.
In addition to content that is useful for entertainment, content that provides new insights is also the content that attracts the most users to linger on a platform.
How to incorporate entertainment components and insights can be done in many ways, and in the simplest way, by sharing personal experiences. Of course this is in line with what the tagline Steemit means (in my opinion).
Steemit has a tagline: Your voice is worth something. According to what I understand, from this Steemit tagline, we can share personal experiences. From the self-experience of others will gain new insights that have never been known.
Because life experience is indeed the most expensive teacher.
So, let's create more good content in Steemit, so we all the Steemians can get feel friendly experience together in this blockchain platform, even though the rewards are low.
What are some positive impacts when more interesting content in Steemit?
- Increase Interaction to fellow users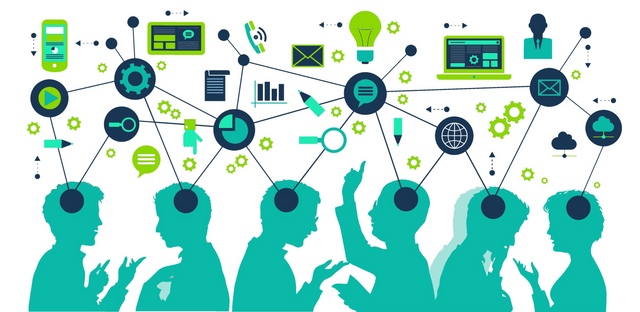 Interactive Platform
Things that can be used as a benchmark / indicator of a fun value of a platform and make Steemit a fun place that becomes an interactive platform. Responses from other users that make a user reluctant to leave this platform.
- Increase investor's trust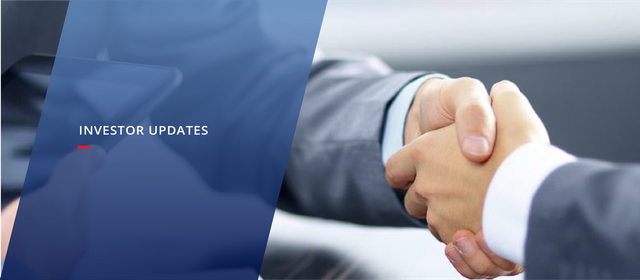 Investor's Trust
An indicator that can appeal to investors is a healthy environment in Steemit. Turnover of investment value is clear, one of them with the resulting quality content.
Lately, it is very difficult also found quality content, probably due to low rewards exchange rate so the spirit decreased.
Another thing that is sad is the many users who plagiarized. How can Steemit bring in many investors, when the content is no longer interesting? In fact, the content becomes the main source for the occurrence of mining Steem blocks.
So, do you still want to be lazy to create original and quality content for the advancement of the Steemit ecosystem?
Indeed hard work never betrays results. Nothing is free in this world. The reality is, you really have to work hard to get rewards. You can not be free to receive materials.
Let's make your voice nice to be heard in the world of Steemit so that your voice is more valuable. Be a unique voice in content that can attract many users to feel friendly in your account.
Keep Steeming On!
---
---
Please read more content about "Have Fun With Steemit Series":
---
---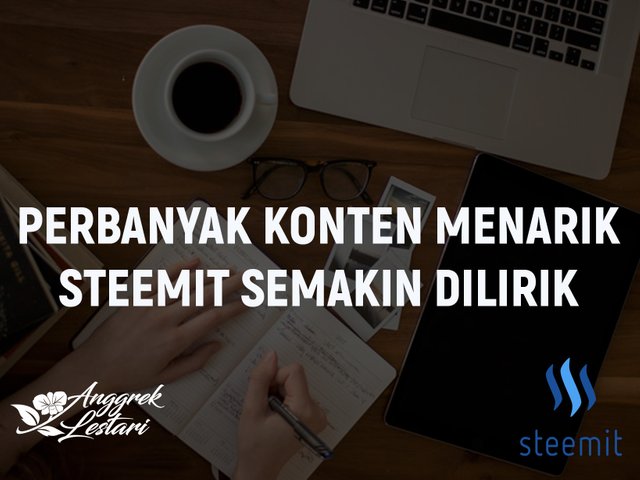 BAHASA INDONESIA: Perbanyak Konten Menarik Supaya Para Pengguna Betah di Steemit
Nilai mata uang milik platform Steemit yaitu SBD dan Steem memang sedang mengalami penurunan. Tetapi, hal tersebut tidak bisa dijadikan alasan Steemit juga mengalami keaktifan pengguna. Mungkin kita bisa belajar dari plaform yang lebih dahulu populer yaitu Facebook dan Instagram.
Satu hal penting yang bisa kita ambil pelajaran dari platform lainnya agar Steemit menjadi tempat yang menyenangkan, yaitu perbanyak konten menarik dan berguna untuk keseharian.
Konten menghibur merupakan komponen utama dalam konten yang banyak menarik pengguna sebab keseharian pengguna sudah dipenatkan dengan banyak urusan pekerjaan, sehingga pengguna butuh lebih banyak hal yang mampu menghibur.
Selain konten yang berguna untuk hiburan, konten yang sifatnya memberi wawasan baru juga merupakan konten yang paling banyak menarik pengguna untuk betah berlama-lama di suatu platform.
Cara memasukkan komponen hiburan dan wawasan sebenarnya dapat dilakukan dengan banyak cara, dan dengan cara yang paling sederhana, yaitu dengan cara membagikan pengalaman pribadi. Tentu saja cara ini sesuai dengan apa yang dimaksudkan oleh tagline Steemit (menurut saya).
Steemit memiliki tagline: Suaramu bernilai sesuatu. Menurut yang saya pahami, dari tagline Steemit ini, kita bisa membagikan pengalaman pribadi. Dari pengalaman diri sendiri orang lain akan mendapatkan wawasan baru yang selama ini belum pernah diketahui. Sebab, pengalaman kehidupan memang guru yang paling mahal harganya.
Jadi, yuk perbanyak membuat konten menarik di Steemit, agar kita semua para Steemian bisa bersama-sama betah di platform blockchain ini, meski alat pembayaran rewards sedang rendah.
Apa sajakah dampak positif bila semakin banyak konten menarik di Steemit?
Meningkatkan Interaksi terhadap sesama pengguna
Hal yang bisa dijadikan patokan/indikator sebuah nilai menyenangkan sebuah platform dan membuat Steemit menjadi tempat yang menyenangkan yaitu menjadi platform yang interaktif. Tanggapan-tanggapan dari para pengguna lain yang membuat seorang pengguna enggan meninggalkan platform ini.

Meningkatkan Kepercayaan para Investor
Indikator yang bisa menarik kepercayaan para investor adalah lingkungan yang sehat di Steemit. Perputaran nilai investasi yang jelas, salah satunya dengan dihasilkannya konten yang berkualitas.
Akhir-akhir ini sangat sulit juga ditemukan konten yang berkualitas, mungkin karena disebabkan nilai tukar rewards yang rendah sehingga semangat menurun.
Hal lain yang menyedihkan adalah, kepercayaan para paus terhadap para pengguna baru sangat menurun dikarenakan banyak pengguna yang melakukan plagiat. Bagaimana Steemit bisa mendatangkan banyak investor, bila konten-konten tidak lagi menarik? Padahal, konten menjadi sumber utama agar bisa terjadinya penambangan blok-blok Steem.
Jadi, masihkah Anda ingin malas menciptakan konten yang asli dan berkualitas untuk kemajuan ekosistem Steemit?
Sesungguhnya kerja keras tidak pernah mengkhianati hasil. Tidak ada yang gratis di dunia ini. Realitanya, Anda memang harus bekerja keras untuk mendapatkan rewards. Anda tidak bisa secara cuma-cuma, secara gratis untuk menerima materi.
Yuk, jadikan suara Anda menarik untuk didengar di dunia Steemit sehingga suara Anda semakin bernilai. Jadilah suara unik di konten yang mampu menarik banyak pengguna untuk betah di akun Anda.
---
---
Baca Juga Bagian Sebelumnya Tentang Bersenang-Senang Bersama Steemit:
---
---
My Partner For Mining Steem: @bahagia-arbi
Thanks for your coming here. I really appreciate your upvote and comment