Investment Strategy 101. Lesson 1 :Maximize Average Buy Price
First impressions are the most important!!
I'm sure many of you guys are new into the crypto space, and I know it can sometimes get overwhelming, with all this information coming at you from freaking everywhere; Tv , Youtube ads, Google Ads, and It's a lot to process, I understand that.
But let's say you have some spare money that you can afford to lose ( do not have huge expectations, be realistic and decide for yourself what you will use your money for). You just bought your first Bitcoin Litecoin, Bitcoin cash, or whatever you can buy from Coinbase these days.
My number one rule is do not use all your available fiat money you deposited. Cryptocurrency prices vary from hour to hour, from day to day, with big spikes, so when you think of profits you need to maximize the price you buy into. I would say if you have 3000$ use 2000$ as start. If you buy in at 12000$/BTC and then the next day prices falls to 11000$, you can buy more for the same fiat, but again you can use only 600$ and leave the rest for the next day. Don't be this guy
(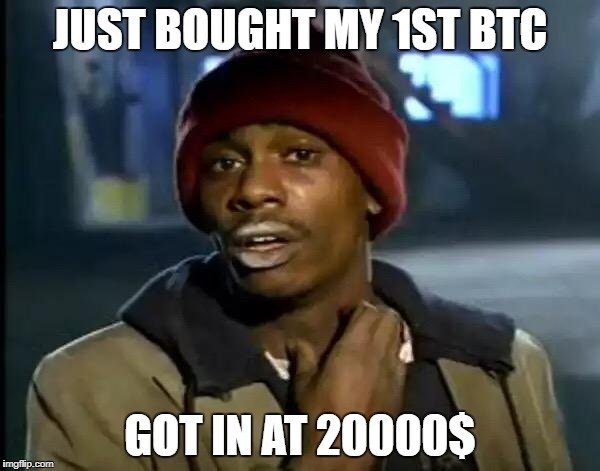 )
If you follow this first rule you will find that when you will decide to take some profits, you will have higher returns, and maximizing your profits is a very rewarding activity. And if you do fear tomorrow prices will skyrocket , remember that correction will happen from time to time in this market and you will get another shot. And if not you invested 2000$ and you should maximize the profits from there, and be happy with the results as they are.
 I will come back with some more tips so stay tuned for more!!