How to use Steemit to make your website more visible on search engines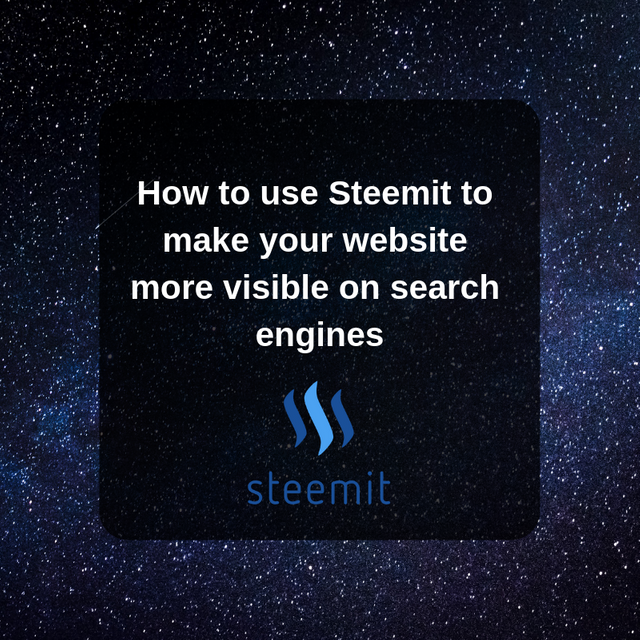 When you want to make your website more friendly for search engines, there are two ways you can do that. You can either work on the onsite SEO. Onsite optimization can be achieved in many ways. For example by placing appropriate keywords throughout your page.
However you can develop search engine friendliness of your website also with offsite measures. The most effective way to develop SEO with offsite measures is to put backlinks that refer to your website on highly respected external pages.
Not all backlinks to your website count for SEO
What most people do not know is that not all backlinks count for SEO. In order to know whether a link is increasing your SEO, you need to look at the source code. In Google Chrome you can see the source code simply by putting view-source: just before the url. You will then see the code that the browser interprets. A link has several components. Not all the components are compulsory and you can have much shorter forms. A link in code looks like that:
 <a href='https://www.url.com' target='_blank' rel='nofollow noopener' 
title='This link will take you away from steemit.com'>visible text in browser</a> 


The importance of the nofollow attribute
When you have the attribute rel='nofollow' in a link, this means that search engines will jump it and therefore such a link will have no impact on SEO. Only links without the nofollow attribute matter for SEO.
In Steemit most links have the 'nofollow' attribute. But not all of them...
What matters for the weight of backlinks is the importance of the website it is placed on
The idea of offsite SEO is to put backlinks to your website on other pages. The higher the ranking of the page the link is placed upon, the more it will contribute to your SEO.
Steemit is a perfect place to put backlinks to your website
According to Alexa which ranks websites according to traffic and inbound links, steemit's rank is around 4'000 of all the websites on the internet! Close to steemit, we find websites of very big newspapers for example. Having backlinks to your website on steemit can have a very big impact on SEO.
Alexa ranking of steemit compared with websites of important newspapers:
| Title of website | Alexa Ranking |
| --- | --- |
| washingtontimes.com | 5700 |
| telegraphindia.com | 6400 |
| chicagotribune.com | 2700 |
| steemit.com | 4120 |
| busy.org | 51495 |
source: alexa.com
How to take away the nofollow attribute of your links on steemit
By some empirical tests and some research, I tried to figure out how it was possible to take away the nofollow attribute from your links on steemit. Because without the nofollow attribute, the backlinks actually count for SEO and because of Steemit's importance, they contribute in a significant way for SEO.
I examined the source code of around 20 steemit posts and found out that there is a threshold above which the links in the posts loose their nofollow attribute. It is directly related to the value of the post. It seems that this threshold lies at around 13 $. All posts that have a value higher than 13 $ do not have the nofollow attribute!
Posts with high value don't have the nofollow attribute in their links
For companies steemit can help to boost the visibility of their website on search engines
Companies can publish articles on steemit and implement backlinks to their own website. Using upvote bots or services like smartsteem, they can then bring the value of a post above 13 $. Having reached such a value, they will have the certainty that all the links in the post will be counting for SEO. So why not start your own company blog on steemit?
****
Thank you for reading my post. Feel free to upvote, comment, resteem or follow (@achim03).
Interesting links:
Free e-mail course how to get BTC without investing anything