I have been eating this wild plant as far back into my childhood as I can recall. Come into my post for a little reminiscing.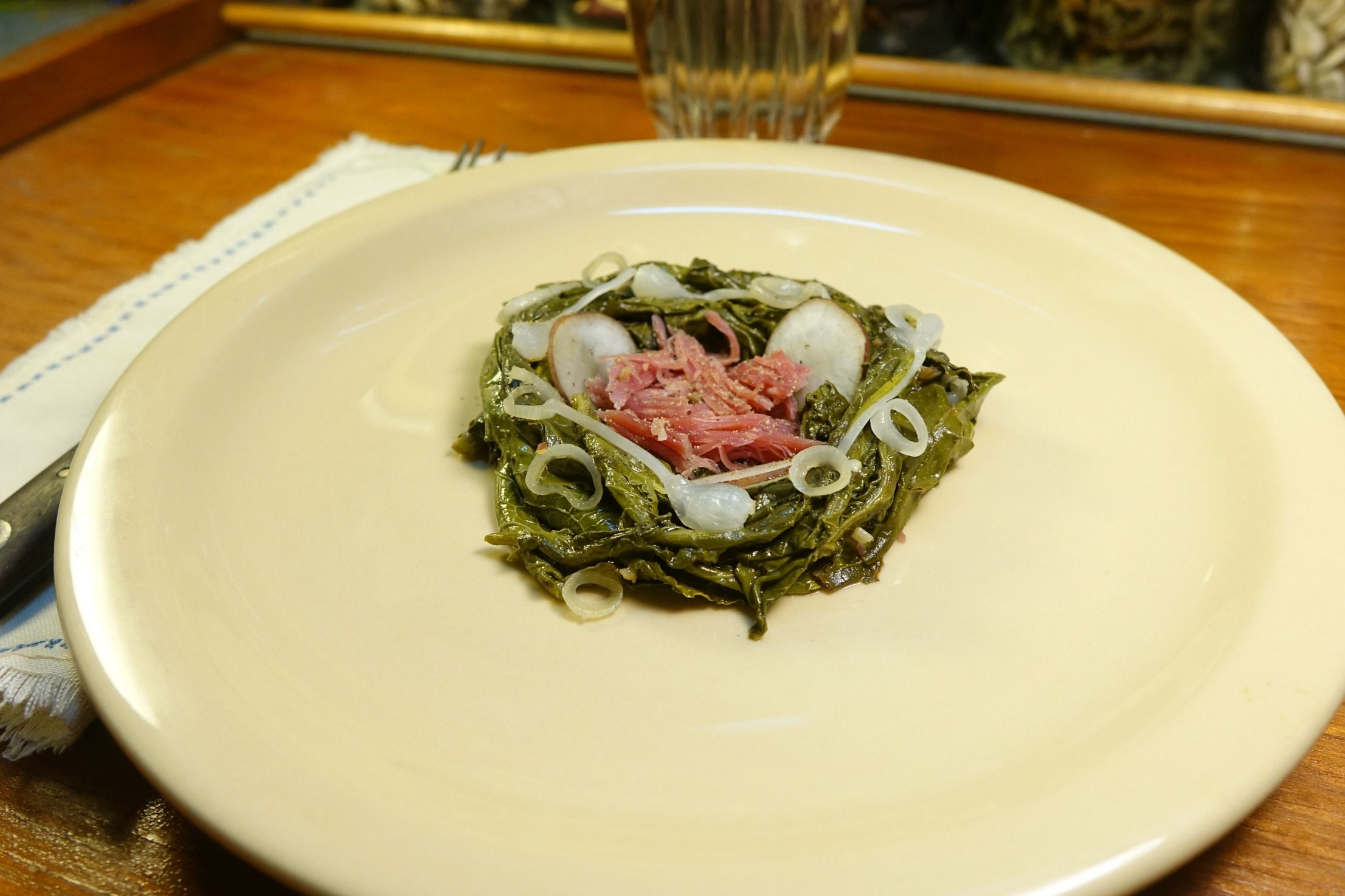 ---
Foraging Curly Dock
Dock is 1 of 3 wild greens I remember picking all through my childhood, as early as 7 years old. My dad would be driving the old station wagon, out in the countryside, and then pull off to the side of the road. We kids would get out and he would set out big paper grocery sacks. For us to fill with Poke, Dock, or Lambs Quarter, depending on the season. These weeds were real food for us.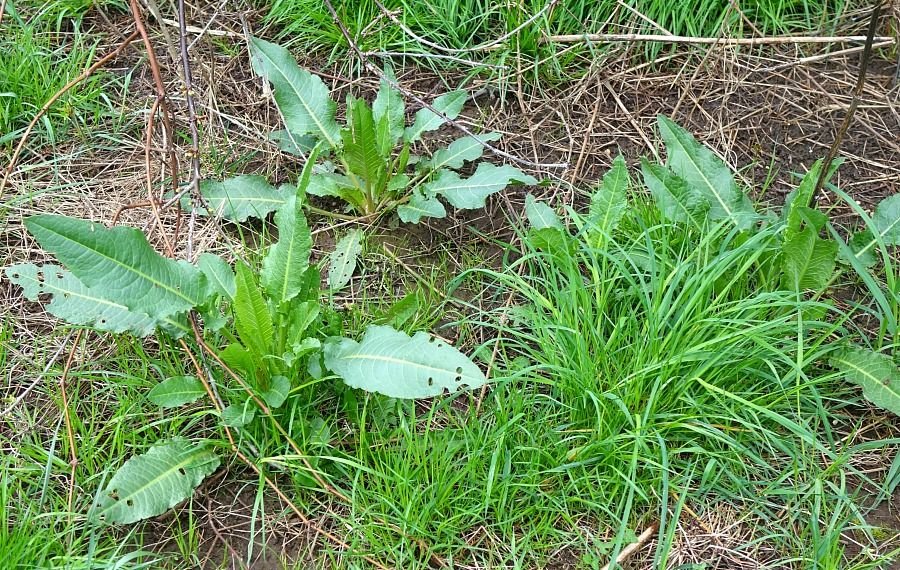 Dock is a perennial, so once you know where a good patch grows, that spot is your own personal grocery store. I'm only after the new leaves and stems.
I always enjoyed picking a big sack of wild greens. It felt good to be out in the countryside with my dad. It felt good to be doing something useful and appreciated by my parents. And it felt like I knew something special, too -- that plants were out there, just waiting for us, anywhere and everywhere.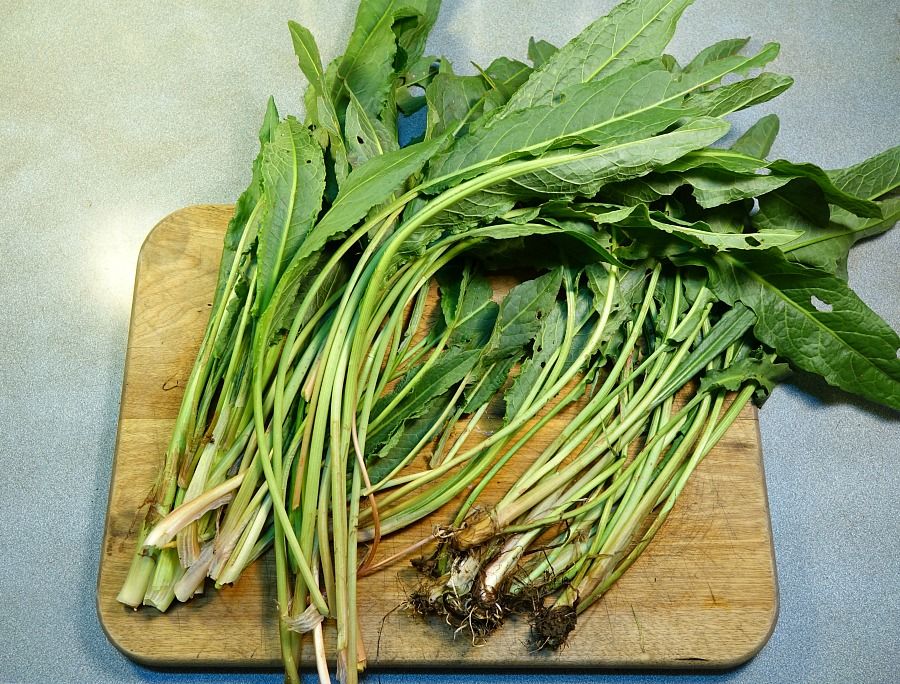 You can tell I picked these in the tall grass, where they have to grow tall and fast to compete for sunlight. Most of the time, I just cut the leaves at their base. But I can pull them, too. The pile on the right came from breaking off new offshoots from an old parent plant.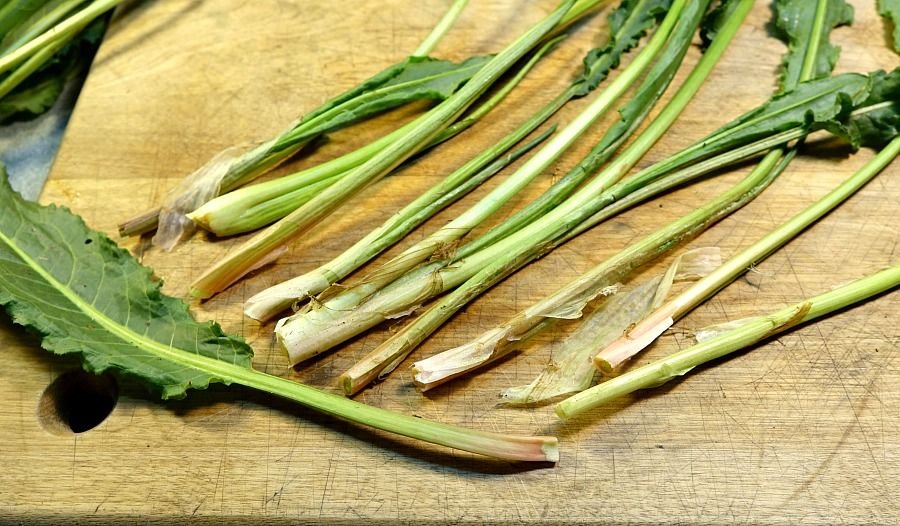 See those papery sheaths around the base of the leaves? That's a distinctive feature about new growth of dock. Inside that sheath, the plant is slick and even a little sticky. The base of each leaf is a lot like rhubarb in how in breaks off from the plant -- check out that reddish base on the leaf in the very front. It looks like a miniature rhubarb.
Yes, dock is related to rhubarb. But it's even more edible than that respected garden plant. Eating rhubarb leaves is no good for anyone. But young dock leaves are fine to eat. Rhubarb stalks are really sour. Dock has a lemon tang, but it's not really sour.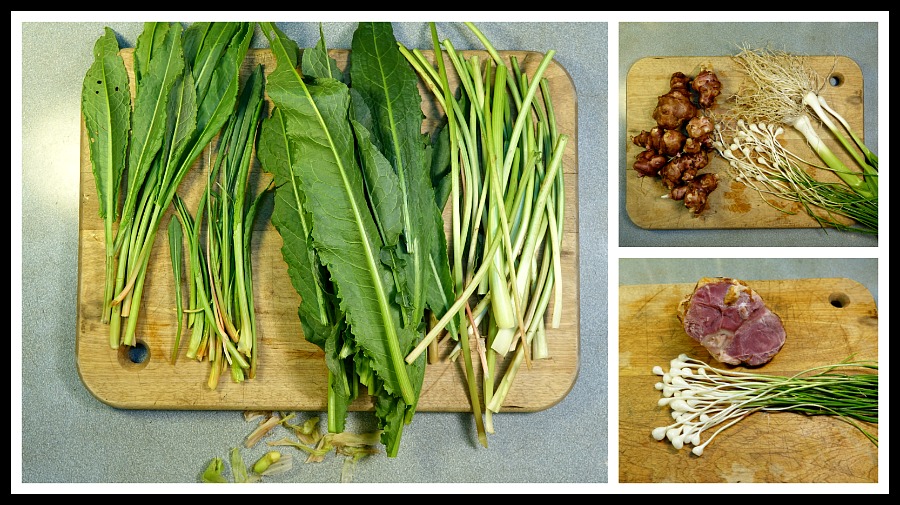 Left: For this dish, I'm just going to use the big leaves. I'll make use of the other parts later. Right top: I also harvested some Jerusalem artichoke tubers, wild garlic, and young elephant garlic plants. Right bottom: The wild garlic, cleaned before I trimmed off the green parts. And a ham hock.
---
Enjoying Curly Dock
This is such an easy dish to make. It's based on how I ate dock as a kid. How my dad made it, his mom before him, and her mom before her. And all the aunts and uncles, all from deep in the Ozark hills.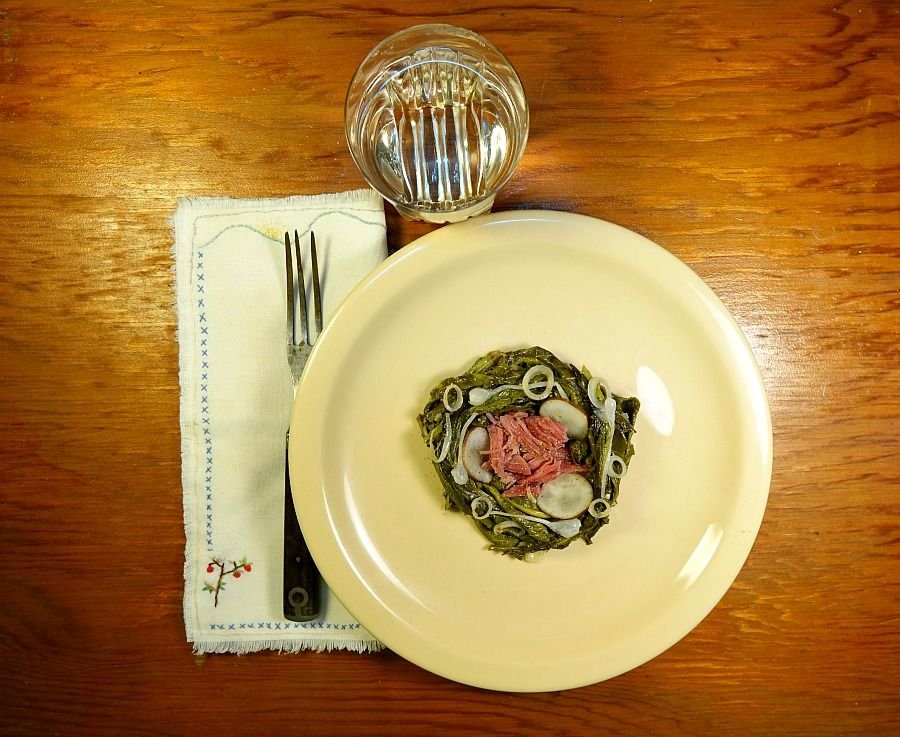 I boiled the ham hock and wild garlic, until the meat fell off the bones. I sauteed the sliced bases of the elephant garlic in a little olive oil. Then I added the dock leaves, and just a splash of water after the leaves had cooked a little.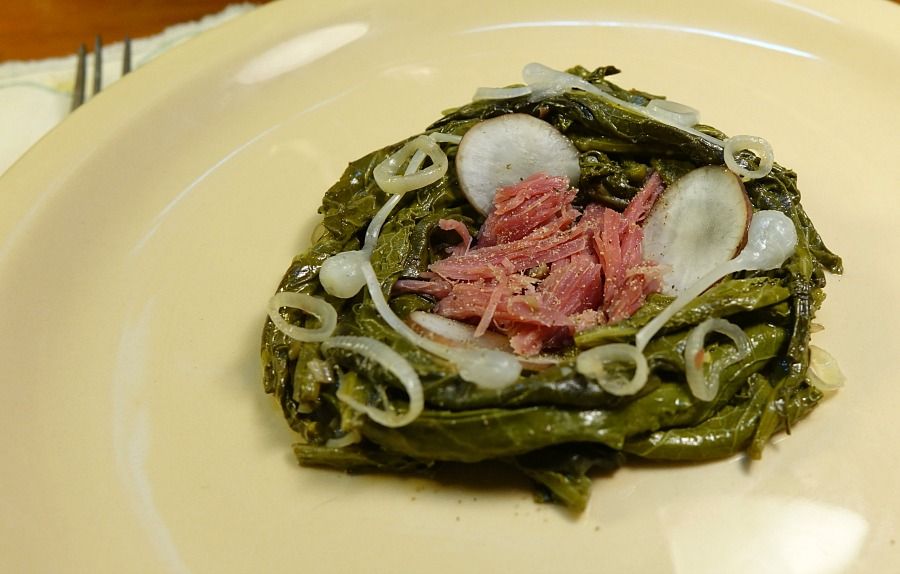 Of course, folks back in the old days would have cooked the hock and dock in a big stewpot, and served it in big bowls. And they would have used onions instead of elephant garlic. But I tried to elevate the dish for the Steemit Iron Chef. I put the hamhock in the center of a nest of the dock greens, with thin slices of Jerusalem artichokes. And with the elephant garlic and wild garlic surrounding the greens. Topped with just a touch of black pepper. That's it.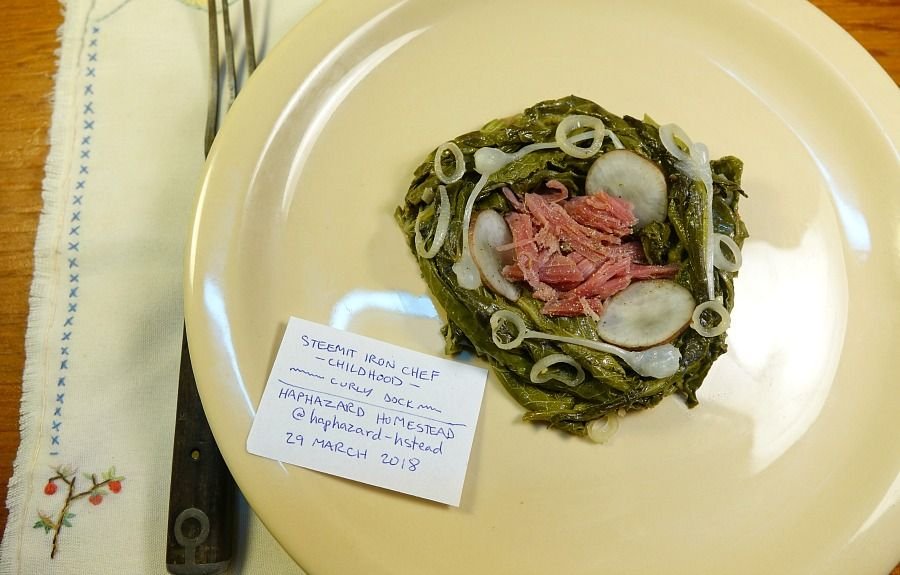 It's simple, but so, so good. I would match this plate of greens with any, at any restaurant. The dock leaves are so soft, even though they were cooked for only a few minutes. They have such a smooth, rich, deep lemon flavor. Not sharp or overpowering at all. A nice combination of greens, lemon, garlic, and smoked ham. It's magical!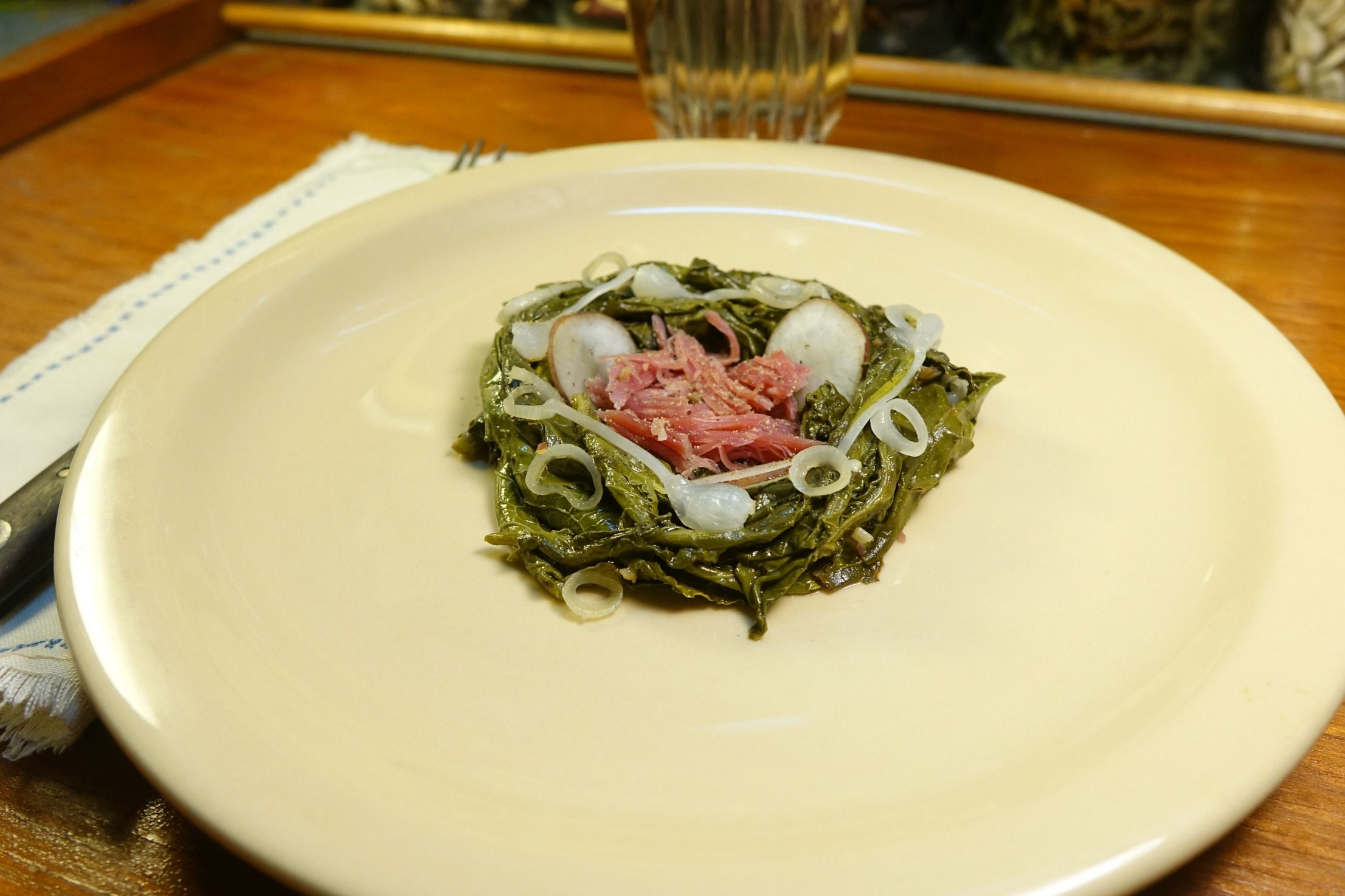 I had a wonderful childhood. Wild greens were part of that. And they still make me happy today! Thanks, Daddy!
---
What Do You Think?
Do you like cooked greens?
Have you ever had Curly Dock or any of the other Docks?
Do you ever forage wild greens?
Would you eat my small plate of curly dock?
I eat a lot of wild plants and show you how, because I believe that we can all have lives that are richer, more secure, more grounded, and more interesting by getting to know the plants and the land around us – in our yards, our parks, and our wild places.
Thanks @progressivechef for creating the Steemit Iron Chef contest series!
I try to make content that's interesting! If you found this informative and helpful, please give it an upvote and a resteem.
---
Plant List
Curly dock - Rumex crispus
Jerusalem artichokes - Helianthus tuberosus
Wild garlic - Allium vineale
Elephant garlic - Allium ampeloprasum
Poke - Phytolacca americana - special processing required
Lambsquarter - Chenopodium album
Rhubarb - Rheum rhabarbarum - leaves not for eating, stalks are good
---
Haphazard Homestead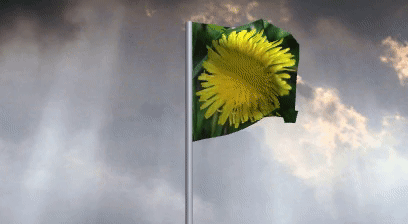 foraging, gardening, nature, simple living close to the land
All content is 100% Haphazard Homestead!
My YouTube channel: Haphazard Homestead