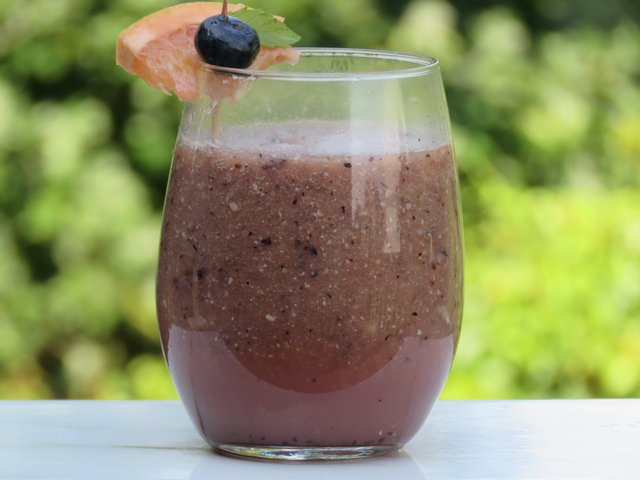 This week making this recipe for Gazpacho is a great achievement @progressivechef thank you very much.
For me the Gazpacho is one of my favorite recipes because it is fresh, raw and nutritious and I always have it in my refrigerator all the time because you can eat hot in winter, put some hot water on it and eat it instantly.
The Gazpacho is one of the protagonists of the summer gastronomy with seasonal ingredients, which should be ripe like tomatoes and peppers, with that freshness whether taken as soup or as a drink, it's satiating power, and its nutritional characteristics.

We should use Gazpacho more as a soda when using fruits, for example, instead of sugary drinks and commercial soft drinks. There are many advantages Gazpacho is much cheaper, we can make it with ingredients to taste,
It is refreshing, moisturizing and satiating and we can take it wherever we want, as we would with a bottle of water, soda.
Here I put a base recipe that is from there that we can add or remove ingredients to make many varieties of Gazpacho.
Base Recipe for Gazpacho
4 well-ripe tomatoes
1 green pepper
1 red pepper
½ onion
1 medium cucumber
1 clove garlic
1 piece of whole grain bread
3 tablespoons of apple cider vinegar
2 cups of water
2 tablespoons of olive oil
Salt to taste
Steps
We will start by washing all the vegetables.
Peel the cucumber, onion and garlic.
Cut all into medium pieces.
Beat all the vegetables with the blender for a few minutes add the bread, vinegar, salt and oil and beat for a few more minutes, until you get a homogeneous shake without large pieces.
Add the water and beat it one more minute.
I saved them in bottles in the fridge. Starting from this basic gazpacho we can elaborate on different varieties.
What I add extra to this type of gazpacho is a spoonful of vegetable protein or nut powder that gives a creamier texture and serves as a meal.
I give you two more recipes with this base adding other ingredients
**
Green Gazpacho
Here with the basic recipe green vegetables are added, green apple, parsley, avocado to give creaminess is exquisite and very refreshing.

Sweet Gazpacho
In this Gazpacho we only use the recipe based water and tomato and add fruit I made one to show them where I put 1 cup watermelon grapefruit juice 1/2 cup blackberries a piece of ginger mint leaves, 2 prunes without seed and had a cactus fruit that liquefy it first and pass it a sieve to remove the seeds in this recipe does not add sugar or salt and liquefies with little water because the watermelon already has enough liquid.
Here I put a spoon of vegetable protein and some walnut powder and I made it for myself as lunch.
With this heat is very refreshing and nutritious I hope you like my recipe and if you want more varieties I will gladly write them in the comments
---
My proof photograph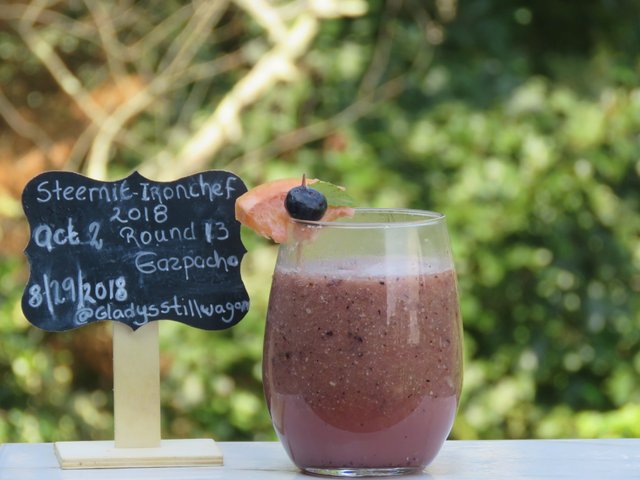 Thank you to @progessivechef , @steemit-ironchef and the sponsors for their support to
Steemit-Ironchef.
Camara Canon PowerShot SX60 HS
@gladysstillwagon