This is my entry for
#steemit-ironchef
Act 2 round 14 hosted by
@progressivechef
I think I am rather late with this entry so I will call it a null entry. I hope it is okay if I just join in for fun.
This theme got my attention since I spent six months in Mexico starting from last winter. I avoided the entire snowy cold of Montreal Canada.
I spent five of those months in Acapulco where I have gone several times over many years and met some friends that became quite close. We spent time with them much like family and I learned of their favorite traditional foods.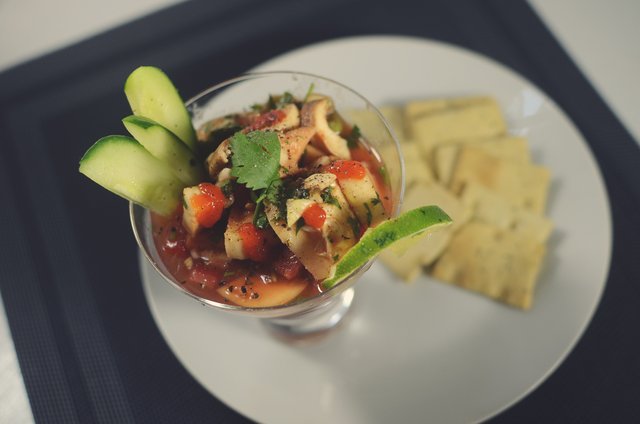 Our friend's mother would often have a feast of ceviche which she made with her son's freshly caught seafood. The guys were scuba divers and ran a business on the Acapulco Bay taking people for dives or fishing trips.
I had never heard of, or had ceviche before she made it. Since then I have become vegan but still always have fond memories of those feasts, which were packed with flavors that were new to me. But over the years I have had it in different places and in Canada even but they were made differently than the one my friend's mother would make.
She made what I call a typical Acapulco style ceviche which would vary slightly according to each familie's taste. She would use a mixture of scallops, whitefish, shrimp and sometimes squid or octopus. It was marinatied in lime juice garlic, jalapenos, cilantro, orange juice and ketchup which surprised me.
When I was there last, I did not have any vegan options from the beach vendors aside from fruit and popcorn, which was great, but I would have loved some vegan ceviche which I craved when I saw other people ordering the regular seafood kind. To me this is one of the best things to eat on a beach.
Well I am no where near the beach but I made ceviche for my entry, using oyster mushrooms. I have only made it with jicama and young coconut which were really good. I thought I would try oyster mushrooms today since they have a chewy texture like scallops. I made it Acapulco style this time.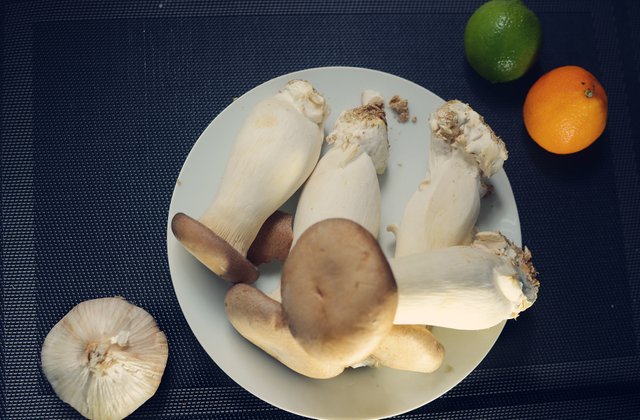 I didn't want to buy a bottle of ketchup so I made some using tomato paste. I added cider vinegar, lemon juice, agave nectar, and salt.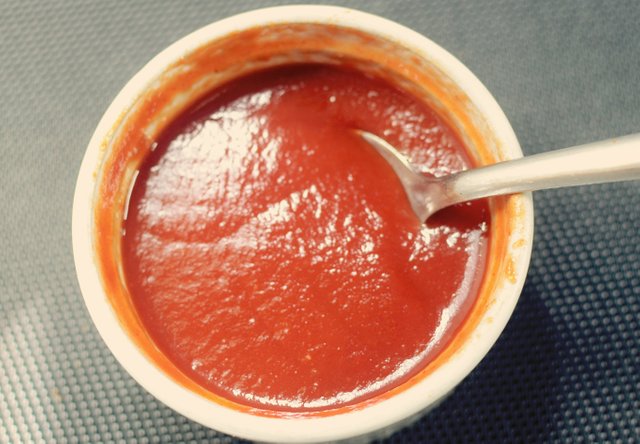 After mixing the homemade ketchup with plenty of lime juice, garlic, salt, cilantro, jalapenos, orange juice, green onions, tomatoes, I added the chopped mushrooms and let it marinate over night. They were not cooked first just like most items in traditional ceviche. The lime juice will actually cook it over time.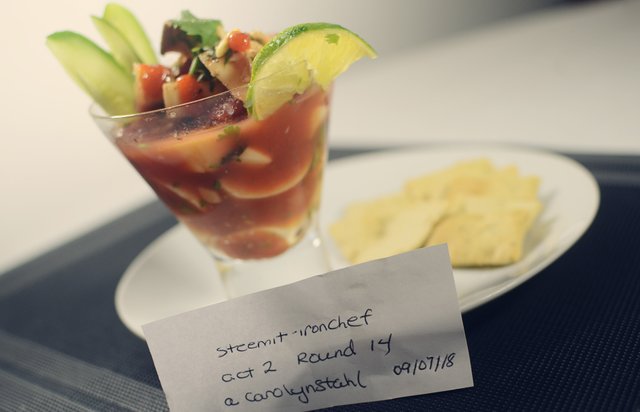 When I had ceviche in the early years of Acapulco visits, I found that it was the most common thing to eat ceviche with soda crackers. So today I purchased some crackers but they were herb crackers.
I was so thrilled at the outcome. I realized that the flavors that I love along with the chewy texture of the king oyster mushrooms, were all I need to relive the joy of the Acapulco beach feasts and remember the glorious tropical beaches that I love so much.