Before I present my dish for the steemit iron chef contest, I would like to tell you all alittle of where did my inspiration for this dish came from. As a boy burned and raised in Malaysia, I have eaten many Malaysian delicacy over the years. One of my favourite (and other the locals favourite) dish is NASI LEMAK, it literally translate into fat rice. Basically it's named that way because the dish is consider a comfort food for Malaysian. Some people eat it for almost every meal. Why did I choose to use this as a inspiration for my dish? It's mainly because I would like to make sushi interesting. What else way to do that then to incoperate a cuisine I familiar to.
NASI LEMAK SUSHI
Coconut mixed rice, chille jam (sambal), homemade bacon sushi ; fried garlic cheese ball; puff rice; spicy cucumber; clarified carrot caviar; pickles (acar); special broth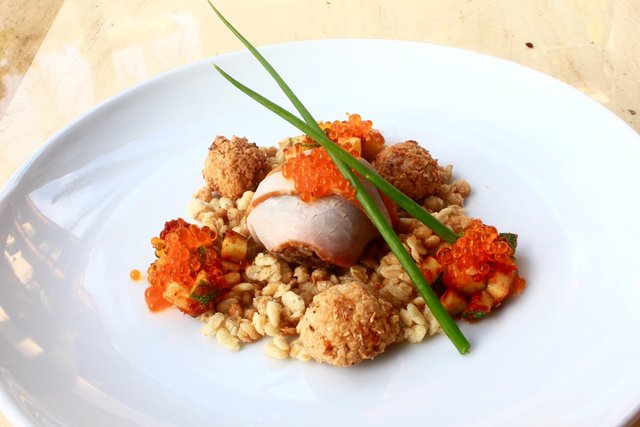 I know many of non Malaysian would never heard of NASI LEMAK before, this is why I would be explaining in detail. NASI LEMAK consist of many element, the coconut pandan rice, the sambal, the fried dried achovy and fried peanut, chicken rendang and cucumber.
For my version of it I try to stick with the elements originated in NASI LEMAK while elavating it. I'll be going into each element in detail below.
WHAT'S INSIDE
---
Elements for the sushi
---
Coconut milk and pandan steamed mixed rice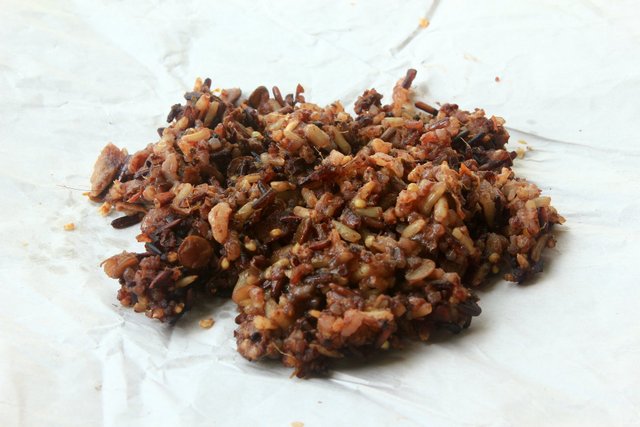 The actual NASI LEMAK uses long grain white rice, however I have decided to use a mixture of grains and lentil for my rice element. This is solely for health purpose, colour and a different mouthfeel.
To prepare the mixed rice, I boiled Lentils, wild black rice, red rice, millet in coconut milk and pandan leave. It's done when all the grains and lentils are no longer hard. Let it cool before using.
Homemade bacon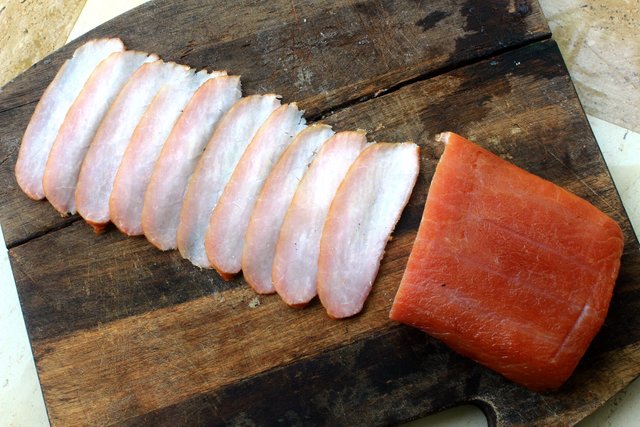 As we all know meat is one of the important element in sushi. Therefore instead of a traditional raw fish, I decided to make my own bacon to go with it. I believe the smokiness of the bacon will favour the overall dish well.
The bacon I made took about a week to prepared. The first step is to cure the meat, in this dish i used pork loin but you can use any part of the pork. The cure mix includes salt, sodium nitrate and sugar. I let the meat cure for about 6days. Before smoking the meat I soaked the cured loin in filtered water to remove some saltiness in the meat. After that I let it chill in the refrigerator fully exposed to let the meat form a layer of skin aka pellicle. This will help protect the meat from spoiling as well as allow the chemical compound from the wood chunks to adhere into it. Smoked the meat at 70c for 3 hour or until interior temperature reached 65c. Let it rest and then it's ready to be used.
chille jam( sambal)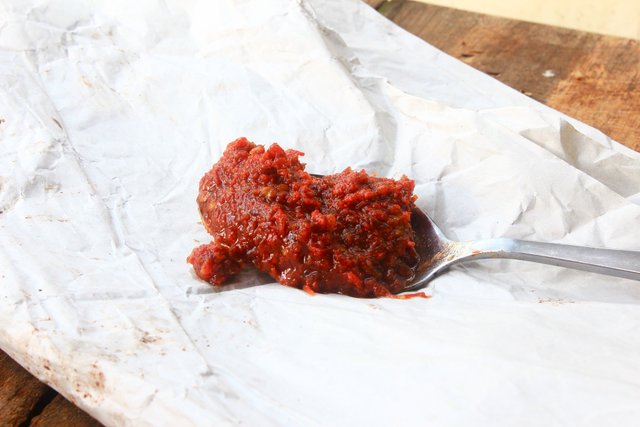 This element is absolutely important for the sushi. It brings the sushi together by giving it sweetness, saltiness, spiciness, sourness and a strong flavour punch!! The main ingredients in it are red onions, dried anchovies, shallots, rehydrationed dried chille, fermented prawn paste(belacan), garlic, tomato paste, salt and sugar.
To make the chille jam, firstly blend all the ingredients above except for sugar, salt tomato paste and the dried achovies. Fry the blended paste in hot oil until the the paste starts to separate from the oil. Once that happens add the rest of the ingredients. Stir until emulsified, let it cool and it's ready to be used.
The sushi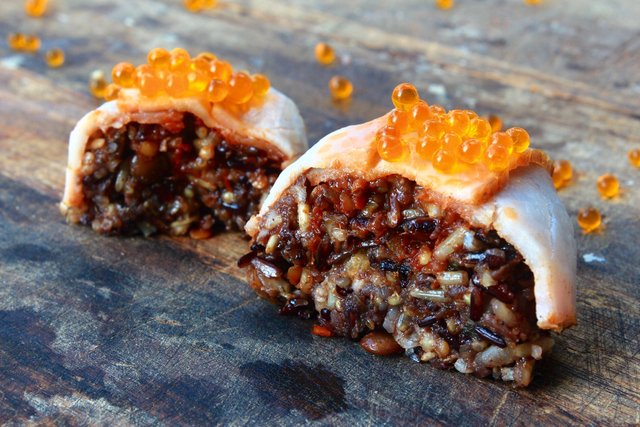 To construct the sushi, with the pump of your hands roll the rice mix into a sphere . Gently flatten it into a circle and then put a teaspoon of chille jam in the middle and then seal it back into a sphere. Place a layer a bacon slice ontop of it and then shape it in to a prefectly round sphere with the help of cling wrap.
Fried garlic cheese ball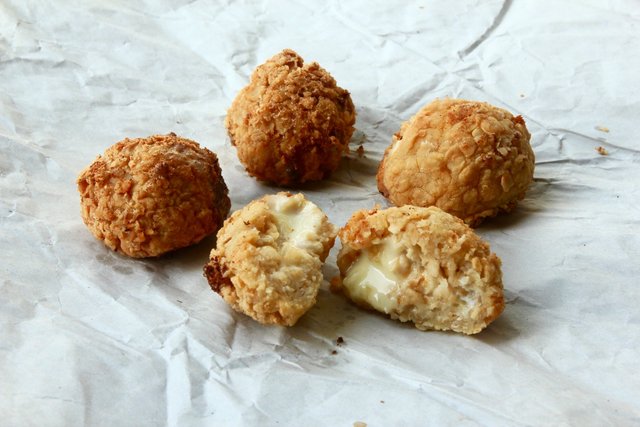 Crispy and crunchy in the exterior while creamy and milky and garlic in side. The milky flavour of the cheese will mellow down the harsh flavour of the garlic. The outer coating is oats.
In order to make the inside, I have made my homemade proceeded cheese with milk, cheddar, sodium bicarbonate, citric acid and chopped garlic. Place it in a half sphere mold and deep freeze it to make is more workable. Prefer breaking station before taking the frozen cheese out from the freezer. Bread it and deep fried it until golden brown. Drain excess oil on kitchen towel and it's ready to be used.
Puff rice coated in dehydrated coconut powder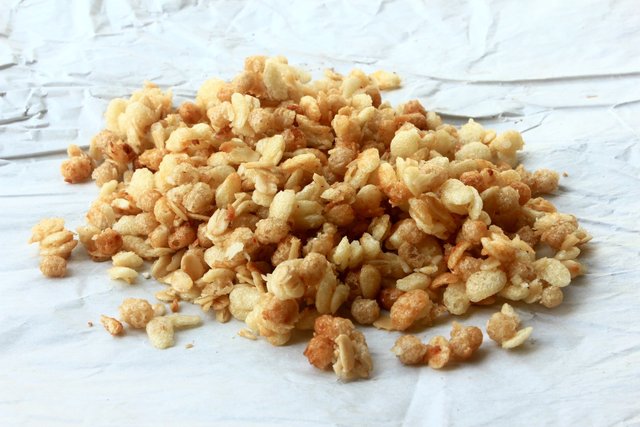 This will be the crispy element for the dish. It's light and airy and has a slight hint of coconut fragrance for the dehydrated coconut milk.
To make the puff rice, rice we have to cook the rice like how rice is suppose to be cooked. Rinsed and boil the rice in water until light and fluffy. Now this is the tricky part, to make the rice successfully puff up to be airy we have to remove some moisture in the rice but not making it dry completely. To achieve that I dry the cooked rice in a 135c oven for about two hours. To distribute the heat evenly, I layer the rice in a single layer onto the tray. Before puffing it, we have to let the rice cool down first. Preheat oil to 190c and pour in the rice and fry until it puff up light and airy. Lastly let it drain in a paper towel and then coat it with dehydrated coconut milk.
Spicy picked cucumber (acar)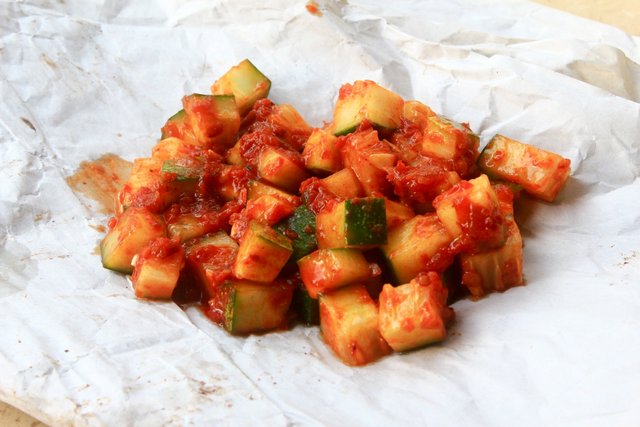 If you all know me long enough you would know that I never serve raw stuff. Since the traditional NASI LEMAK includes cucumber as one as its elements, I decided to do the same however i have made it another way, the pickling way. The element should give a refresh the palet with its sour, sweet juicy, spicy pickles. The flavours and taste should bring excitement to the person trying this dish.
To make the picked cucumber, we first have to make the spicy paste. blend shallots, red chillies, fresh turmeric and candle nuts into a paste. Fry the paste until aromatic then add tamarind juice, salt and sugar and bring to a boil. Once cooled and cruched peanuts and largely diced cucumber. Let it Mingle with the sauce overnight in the refrigerator before using.
Clarified carrot juice caviar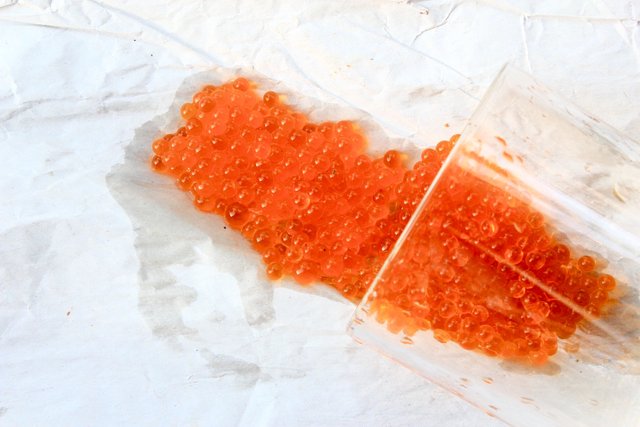 It looks like salmon roe right! But it's not, I wanted to use other flavour, a fresher, sweeter flavour that goes well with the sushi and the overall dish so I used carrot juice as its colour resembles salmon roe. I'm not saying that salmon roe is not delicious but I just want to make sushi in a different way.
To make the carrot caviar we have to first clarified the carrot juice. With the agar clarification, I have dessolved agar into the carrot juice over a low heat. Once the agar have dissolved, I then slowly add cold carrot juice into the hot mix. Make sure that the mixture does not drop below 35c or the solution will starts to gel and that's now what we want. Put it in a ice bath while whisking it to break up large lumps. Strain it over a cheese cloth gently and you should get a clear transparent orange liquid.
Now s the fun part, dissolve 10% of calcium chloride in water over low heat and chill it before use. Disperse 1% sodium alginate into the carrot juice with a blender. With a syringe, release drops of carrot juice mixture into the calcium chloride bath. Make sure to not leave the caviar in the solution too long or it will became brittle. Strain it and rinse in cold water and it's ready to be used.
Special broth ( read to find out what's so special)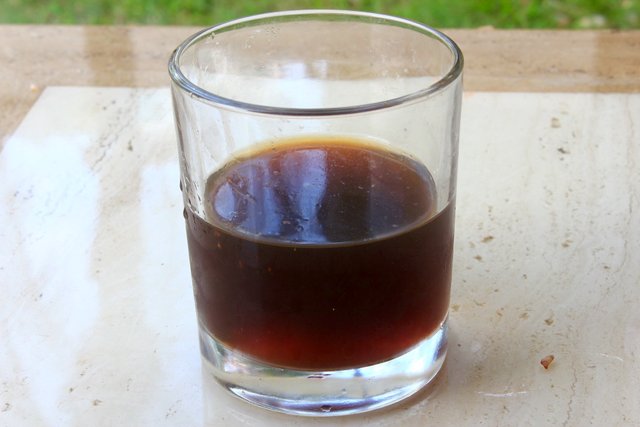 This broth is pack with full of ingredients which is what makes it complex and special. This element will add moisture, savouriness and a very meaty flavour to the dish. It's hard to describe the favour but it's roughly like this, seaweedy, seafoody, chickeny broth. The broth consist of burned onions, duck meat, chicken bone, garlic, dried achovies, dried shrimp, salted vegetable.
Although the onions looksburn but it actually the sugar camerilzing which give crazy amount of sweetness. The duck meat, dried achovies and dried shrimps gives a complex pourty-seafood flavour as well as savouriness. The chicken bones gives the broth body while the salted vegetable adds saltiness and a weedy flavour. Combine together the broth is just undescribly delicious.
Food porn