greetings to the great people of steemit!
Today I'll be writing a post for the steemit iron chef contest. @progressivechef have announced the theme to be spinach, and this is what I go to offer!
spinach skin ravioli filled with spinach, 2 cheese and enoki filling accompanied by carrot purée, seaweed jam, tomato soup, crispy enoki mushroom, marinated tomato and spinach oil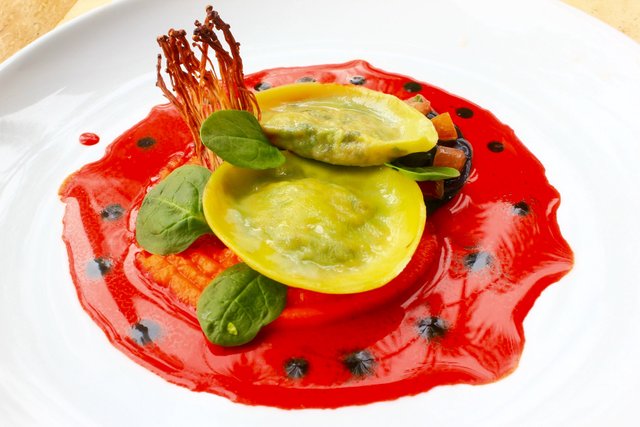 When I think spinach It automatically reminds me or quiche. The quiche that I am familiar with is usually filled with spinach cheese, eggs and other summer vegetable such as onions, garlic, tomato. With that in mind, I decided to use these familiar flavour combination to make a pasta dish out of it.
what's in it
---
spinach flavoured dough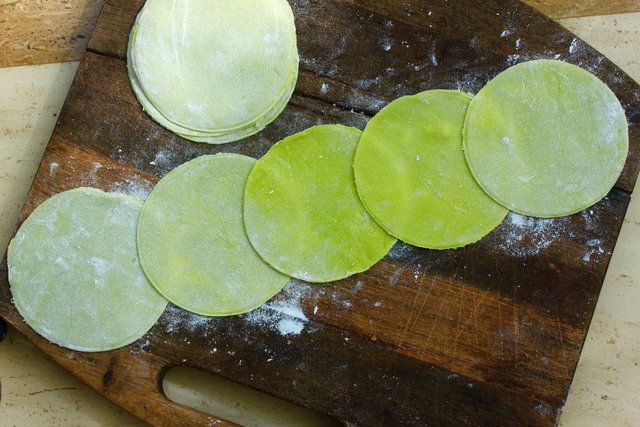 What else better way to showcase spinach than to actually show it's beautiful greenish colour! This element is mainly for its colour contribution, I find it always exciting seeing a pasta that is coloured others than the traditional yellow ones. How did I colour it? In this dough I used some freeze dried spinach powder to give that beautiful greenish colour. Its made by layering spinach leaf openly in the freeze until it dries up, then blend it into powder form. Other ingredients included in this pasta dough is the traditional egg, flour, and salt. I rolled it as thin as I could with a rolling pin, to avoid that unpleasant chewy thin dough after its cooked.
the filling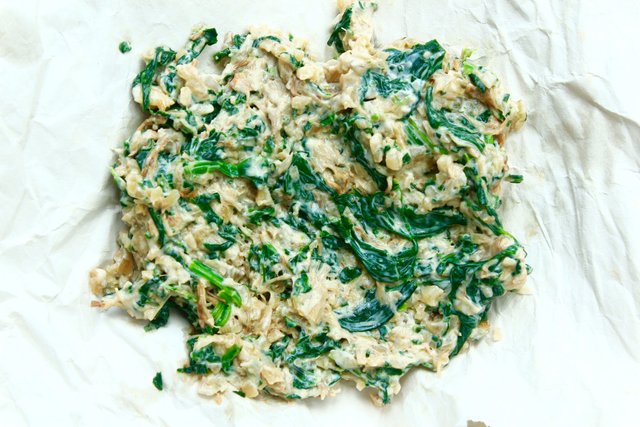 I did not want to just use spinach and cheese in my filling, so I decided to boost it flavour and taste by adding enoki mushroom, onions, garlic. Once the spinach is wilted, i then remove for the pan and chop it into small pieces and mix in cream cheese and blue cheese. Let it refrigerate until cold to be used.
the cooked ravioli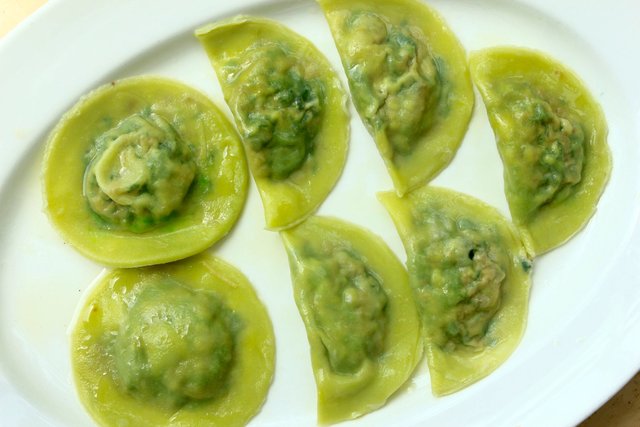 Bring a pot of water to a boil, season the water to taste like sea water and then gently lower the ravioli into the water. I know when it's done when it starts to flood. Once cooked, I removed it and oil it with some hi quality olive oil to add flavour, prevent it from drying out and give a beautiful shine to it.
fried enoki mushroom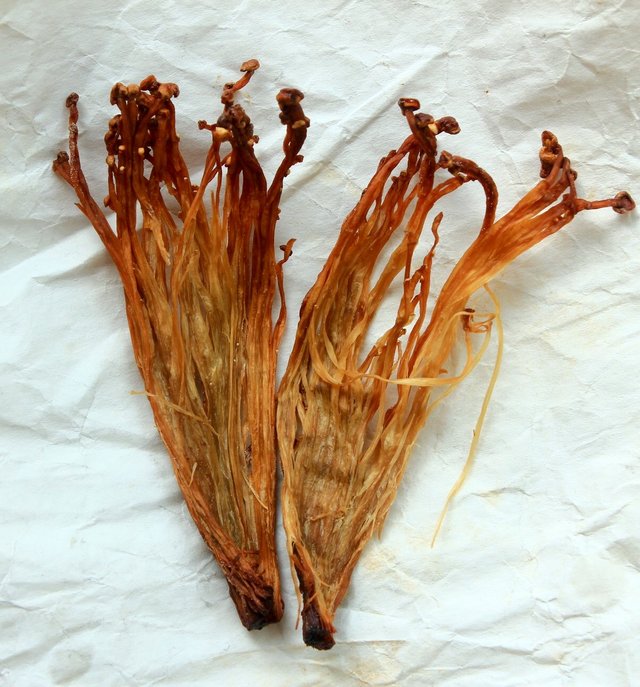 This would be the crispy element of the dish. Mushroom cooked this way has a very different flavour profile compare to braised or stir fried mushroom. To prepare this element I simply deep fried in in a very hot oil until it turns crispy.
marinated tomato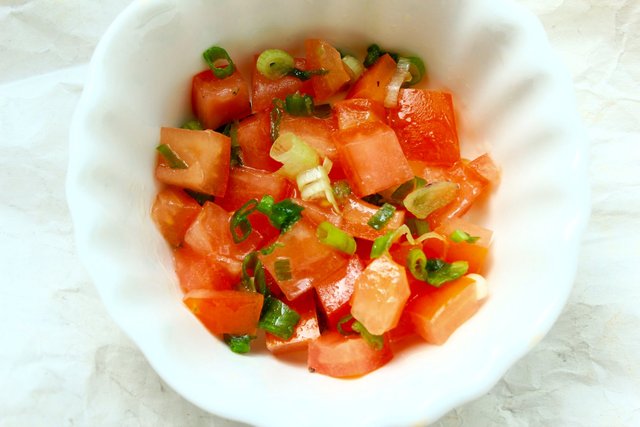 Putting raw Tomato on a dish is totally fine, however I love to add additional flavour to th tomato to add that little punch. In this dish I kept the marinade simple as I don't want too strong flavours to compete and overwhelmed the other element. I simple drizzle some VERY high quality extra virgin cold pressed olive oil and some Spring onions. I love how the super floral taste of the olive oil goes with the tomato. The Spring onions should give a little freshness to the element.
seaweed jam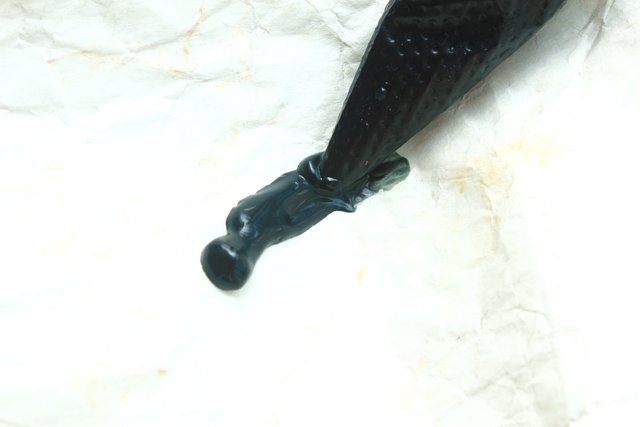 Seaweed and spinach, not a combination you seen often. But I can say that it works well together. To make the seaweed jam, I first boiled dried seaweed sheet in a dashi broth until it disintegrated into the broth. I let it further r Duce until it becames a paste then stain it though a stieve for that extremely smooth mouthfeel.
carrot purée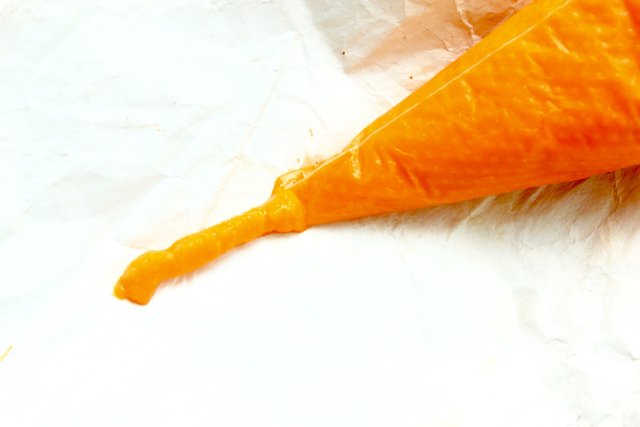 Like I said above, I like pairing Spring vegetables with spinach. Therefor for this dish I will be using carrot to make a purée out of it. This should give the dish smoothness and sweetness. The purée includes carrot, salt, clarified butter just for a little richness and nuttiness.
tomato soup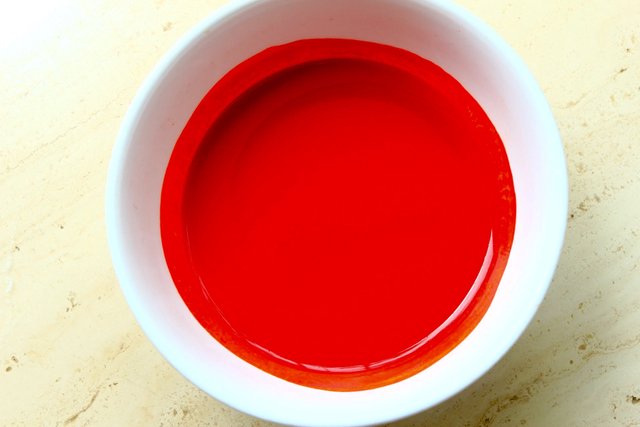 Another Spring Vegetable that goes well with spinach. I avoid adding milk, cream or any dairy product because I want the tomato flavour to stand out. For this dish I used canned tomato. Simply bring it to a boil then add some thyme and basil and let the flavour extract. Remove the herbs after the soup smells aromatic. While still hot blend it in a blender until smooth.
spinach oil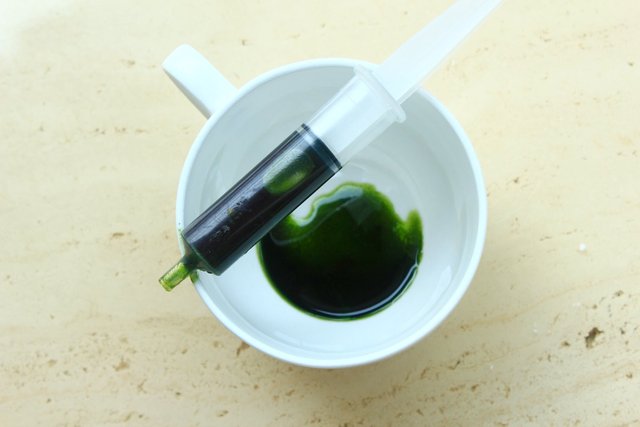 With would give a intense spinach flavour to the dish, I made it from freeze dried spinach powder. To make the spinach powder I simple layer the spinach leaf in one layer and fully exposed, then place it in the freezer until it's dried. Blend it and we have spinach powder ready to be used. To make the spinach oil, I heat up some flavourless vegetable oil on low heat and place the spinach powder it in. Let the flavour from the spinach to extract fully about 30 minutes and let it cool before using.
some food porn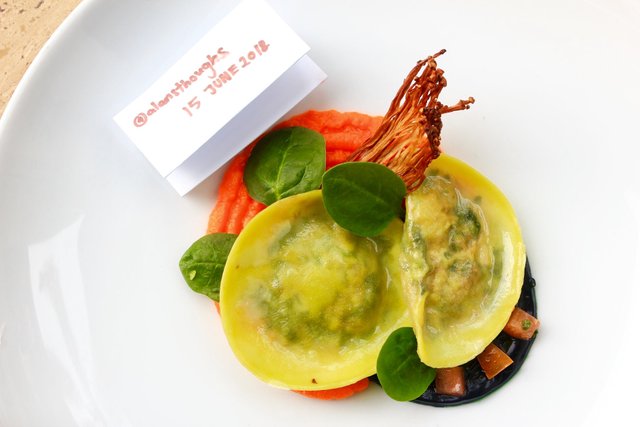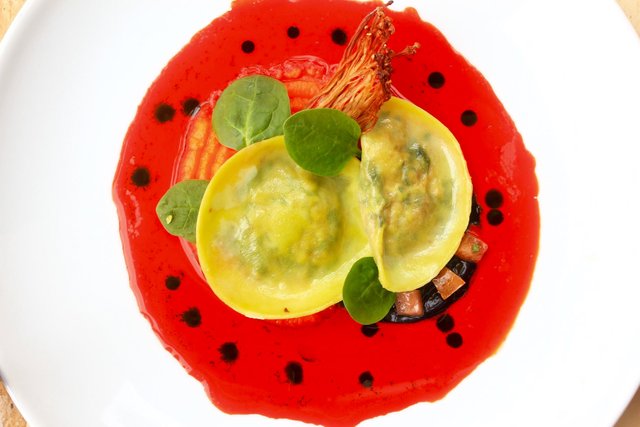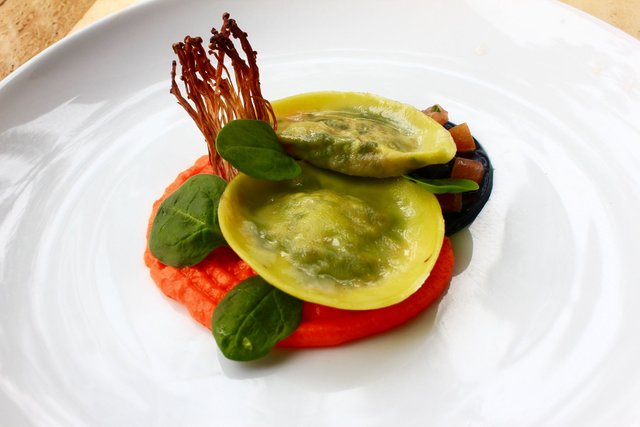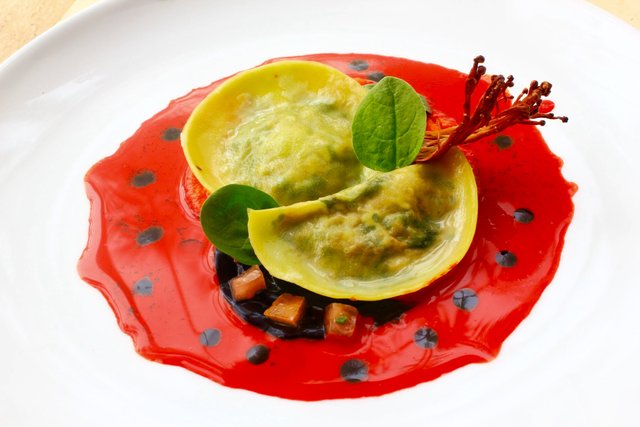 Hope all of you enjoyed it, cheers!!