Decentralized Finance Opportunity on Steemit

Introduction
The project steem-staking is a new on Steemit. The project seeks to add to the community by providing decentralized finance investment tools on the Steem blockchain.
Mission Statement
To make Steem and Steemit widely known as a decentralized finance opportunity.
To target or focus on attracting investors as new users to grow the number of Steemit users and the number of investors on Steemit.
To make use of the existing smart contracts and tokens on the steam blockchain in decentralized financial investment.
To provide information, guidance, support and reputable, transparent investment vehicles on the Steem blockchain.
Start Date:
August, 2020
Creator:
@shortsegments who has been active on this platform for 2.5 years and who has a blog about banking and finance, and a blog about decentralized finance.
What can you do to help?
Participate in the investment program to increase its size and profitability. This allows you to support the program while earning curation rewards.
Description:
Steem Staking a safe, passive, smart contract mediated form of decentralized finance investment on the Steem block chain. Which is projected to yield a 10 percent annual return on your investment or ROI
Why is Steem Staking Profitable?
Size matters.
Content creators make money for creating content like poems, stories, pictures, drawings, music or videos. Content consumers make money liking or upvoting these different types of content. The amount you get paid depends on the strength of your vote. The strength of your vote is determined by the size of your investment. The bigger your investment, the more you make from liking or upvoting. Steem Staking is big, so we get paid more for our likes, which are called upvotes.
Timing matters.
There are rules. Everyone who reads the rules and instructions knows them. I have studied the rules for two and one half years. I use my knowledge of the rules to make money. We call it maximizing your investment.
We know the best time to vote
Safety Matters.
Your capitol stays in your wallet. We We help you lock up your capitol In a non-withdrawal-able form to keep it as safe as possible from theft. We pay you Steem that you are free to spend or invest to increase your earnings.
You make money while your money is safe in your wallet
Transparency matters.
The blockchain is revolutionary because the accounting books are out in the open for everyone to see.
Here at Steem Staking we want you to trust us, but we want you to check up on what we are doing.
You can see everything we do. Trust but verify.
Steem Staking Smart Contract Explanation
In order to earn the staking interest, you must utilize a two step, smart contract mediated process; First Powering Up powering up your Steem to Steem Power and Second Delegating your Steem Power to the account Steem-Staking. Powering Up changes your Cryptocurrency from liquid Steem to illiquid Steem Power. Delegation means you delegate to Steem Staking the use of the Steem Power, but the actual Steem never leaves your account. Because your Steem is never moved, it remains in your account, under your complete control. A longer explanation is below.
The Safety of Steem Staking Project
I have loaned people money before and it is always risky because once you give someone your money you are now depending on their honesty to return your money ey if things don't turn out right. You feel vulnerability, but with Steem Staking you never feel vulnerable because your money never leaves your possession. Because with Steem Staking your Steem never leaves your wallet. Your capitol is never at risk from this investment.
The Safety of Steem Staking Project
Your capitol is never at risk from this investment. Because with Steem Staking your Steem never leaves your wallet. Your capitol is never at risk from this investment. Steem-Staking is a creation of @shortsegments who has been on the Steemit platform 2.5 years and @shortsegments set up this program to utilize all the safety features of the Steemit platform in this investment program..
How to Sign Up for Steem-Staking.
If you are new to Steemit and don't have an account start here. Current Steem investors skip to number five.
Create a new account via Steem Instant Sign-up LINK
Buy Steem on one of these exchanges: Binance, Upbit, Bithumb, Huobi Global, HitBTC, Binance, Bittrex, Bitvavo, VCC Exchange, MXC, CoinDCX, Gate.io, WazirX, Poloniex, Upbit, RuDex and Altilly.
Transfer the Steem to your new account wallet on Steemit
Power up your Steem to Steem Power using the drop down menu you see when you click on the Steem word with the triangle next to it..
Current Steem Investors Start Here
These are written instructions and I have a step by step picture guide after this section also.
You power up the amount of Steem you want invest to Steempower, using the wallet drop down menu.
Use steemworld to Delegate the desired amount of your Steem Power to steem-staking
SEE Picture Guide to Delegation to Steem-Staking BELOW
Sign into www.steemworld.org, you do this by typing www.steemworld.org/@yoursteemitname. For example I type @steem-staking
Then once your personal page loads, scroll down to the section called delegation.
Click on the box Delegation
Then a box opens and you find the box labelled who you want to delegate to and type steam-staking.
Be Very Careful as the spellchecker tends to change Steem to Steel
Once you type steem-staking into the who section, fill in the how much section.
12.. Then click okay after selecting a whole number.
A box will open asking for your active key. Steemchiller has built this and he is a top witness, so your keys aren't stored here after you exit.
After adding your active key, check okay and it will complete the delegation operation.
You can now check your Delegations, specifically outgoing Delegations and you should see steem-staking*
Special Alert Make sure it says steem-staking not steel-staking as the spell checker likes to change steem to steel and you will receive no earnings. Special Alert
That's it! Now relax.
You set it, now forget it.
Your done!
Your account will start receivIng weekly payments starting in about seven days.
Steem-Staking will list your delegation in the Steem-Staking Report, and the expected date of the first interest payment.
18.Earnings stop immediately after you remove the delegation. So once you undelegate no further earrings will be sent to your account.
Picture Guide to Setting up Steem Staking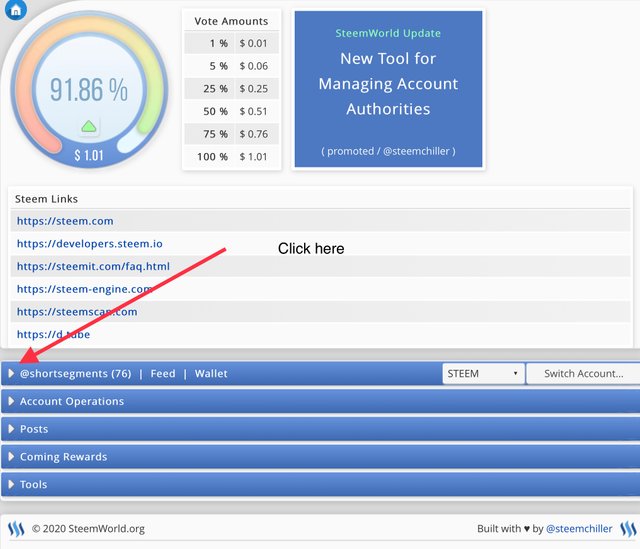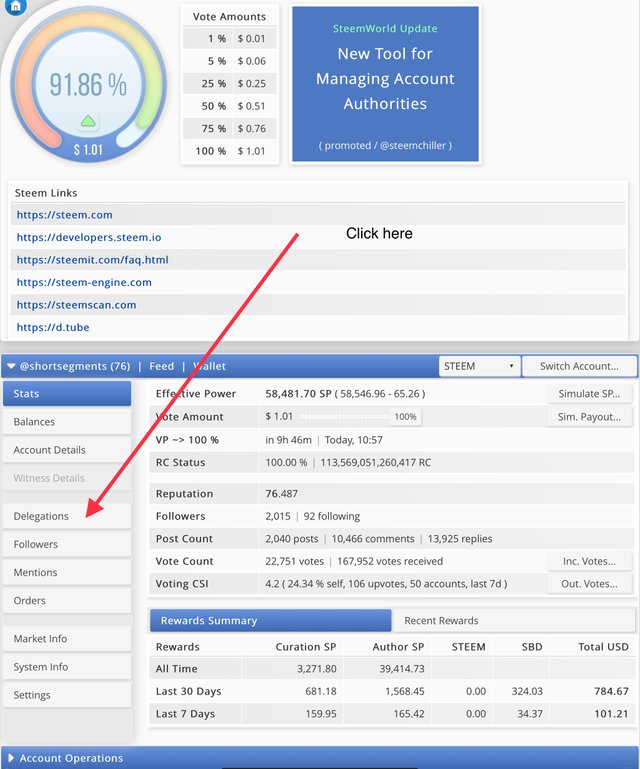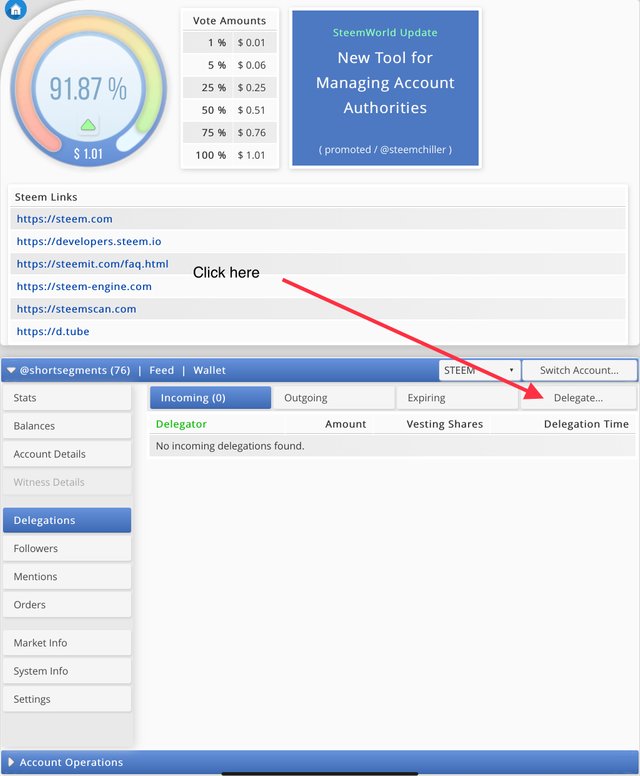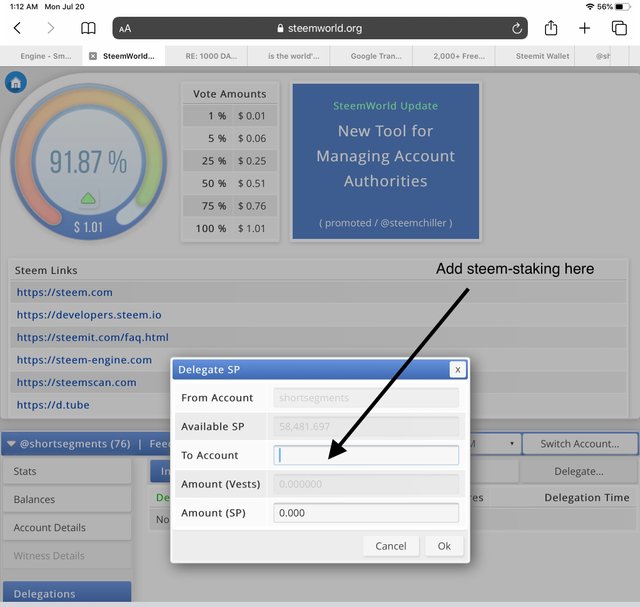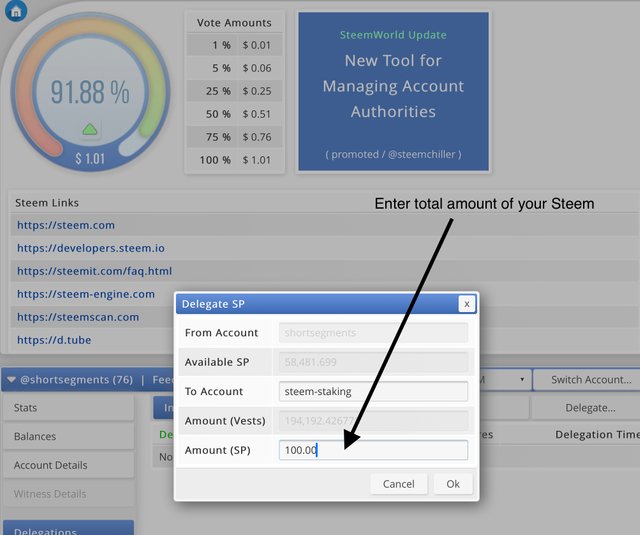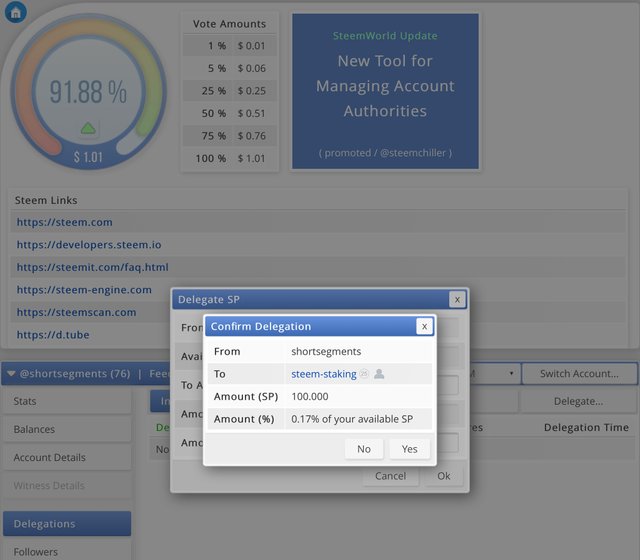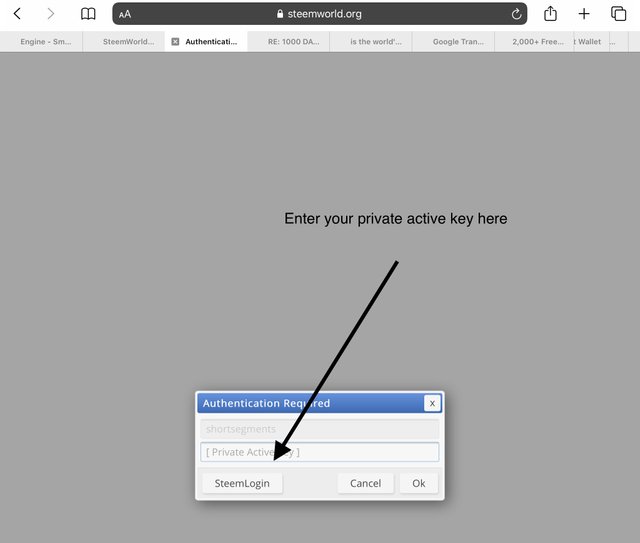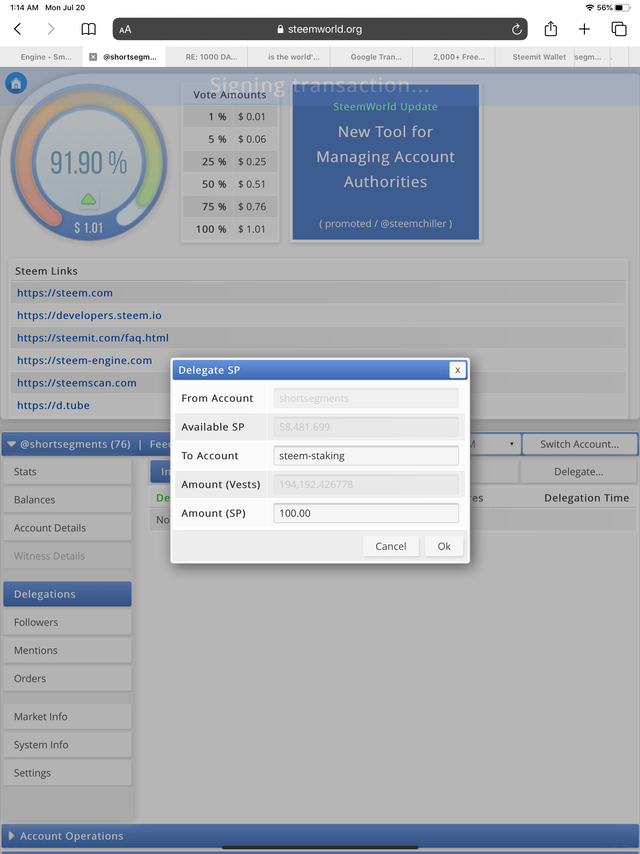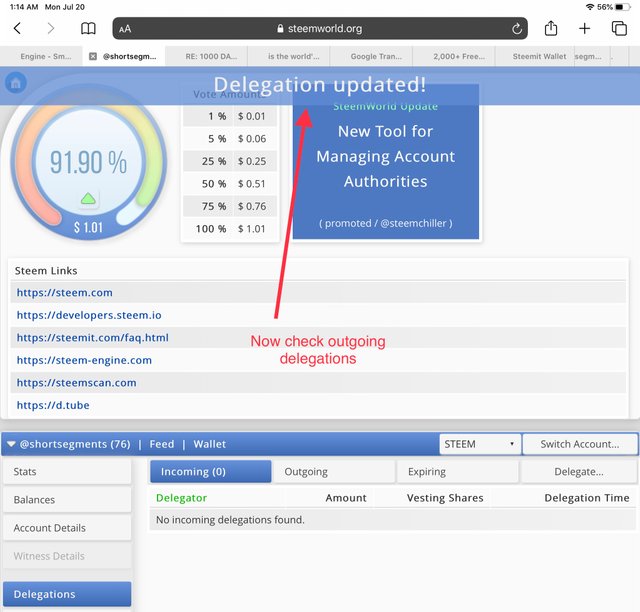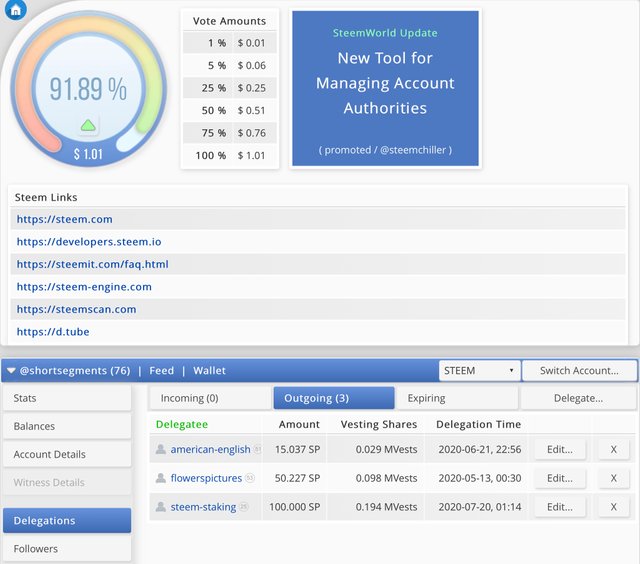 You start receiving rewards 7 days after your delegation date.
Earnings stop immediately after you remove the delegation.
That's it! Now relax.
You set it, now forget it.