Who do I Follow on Steem & why? We Try to Give Steemit Only Quality!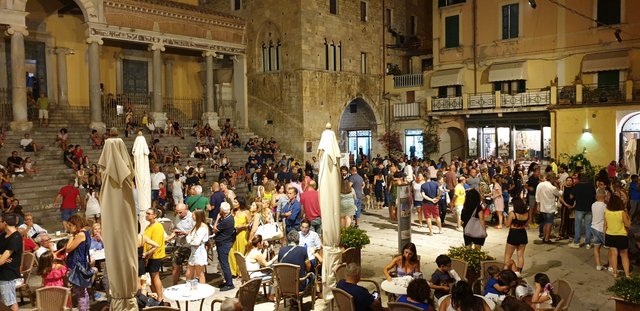 Who do I follow on Steem & why?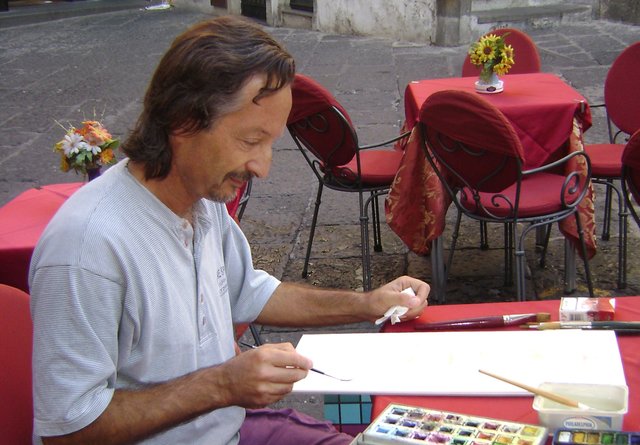 I am a teacher and artist and I have arrived on Steemit 22 months through a friend of mine, @claudiop63 a physicist from CERN in Geneva.
We met in a pub in Terracina during a vacation in my city.
He explained how the social Steemit and the Steem blockchain worked.
After a few days Claudio has not posted anything anymore, has dedicated himself to something else and is now the CEO of this company for environmental monitoring https://www.planetwatch.io/.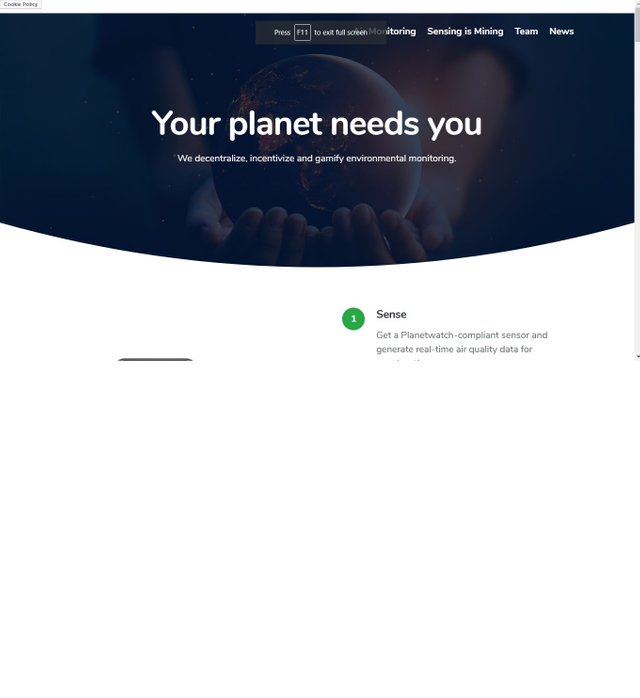 He left me in good company with other friends that I met on the discord of the Italian community: @phage93 -@gianluccio and @amico.
I have to say one important thing: I also met everyone in person, so Steemit also aggregates and unites in real life!

This is great!!!
With phage (Vittorio) we talked a lot about discord and I entered the first discovery project Art and History a year ago.
this is the banner of the first discovery project Art and History.

Phage taught me how to post technically correct content, and put me in touch with @jaguar.force.
Jaguar hearing @acidyo's favorable opinion, and in agreement with Utopian convinced me to write some articles against plagiarism and content abuse with copyrights that many donkeys continue to do on Steemit.
Here are my most significant articles.
https://beta.steemit.com/ntopaz/@armandosodano/ntopaz--armandosodano--458703286--ntopaz-utopian-io-antiabuse-ita-art--2019-04-25-15-11-36--artwork--none
We fought for honesty and fairness on the community and above all on the quality and originality of the contents of art.
https://beta.steemit.com/ntopaz/@armandosodano/ntopaz--armandosodano--1159069237--ntopaz-utopian-io-antiabuse-steemit-ita--2019-05-20-15-26-12--artwork--none
Often on Discord they asked me for advice on some content or suspicious cases, and we often defended ourselves from attacks by some users on our articles against plagiarism, published by myself and above all by jagur.force.
https://beta.steemit.com/ntopaz/@armandosodano/ntopaz--armandosodano--1847576061--ntopaz-utopian-io-antiabuse-art-ita--2019-05-08-15-13-11--artwork--none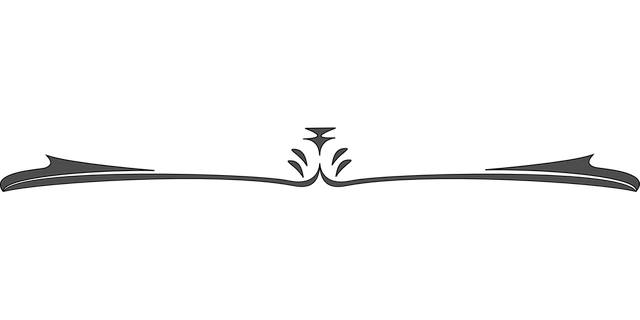 One day phage93 also invited me to create the official banner for @discovery-it and for @qurator.
Here it is.

With phage we also became friends in real life and we met in Rome.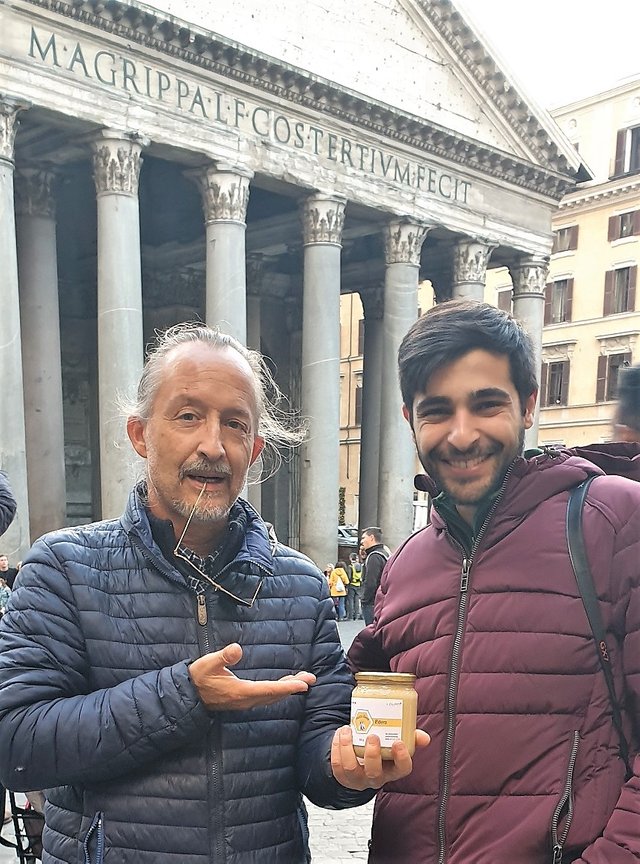 He is a beekeeper and made me understand the importance and value of bees in the world.
A hot topic, because bees are dying from insecticides.
If we do not stop this dramatic massacre, the world will find itself facing the greatest ecological catastrophe in history.
During one of our meetings Vittorio gave me a jar of excellent ivy honey produced by him.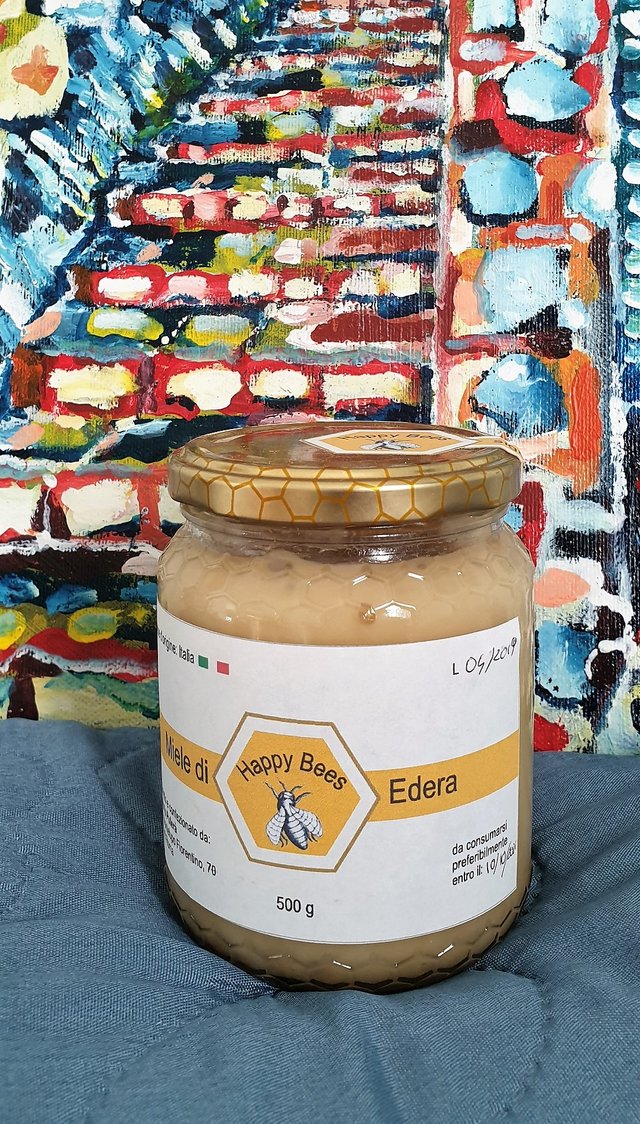 Happy Bees!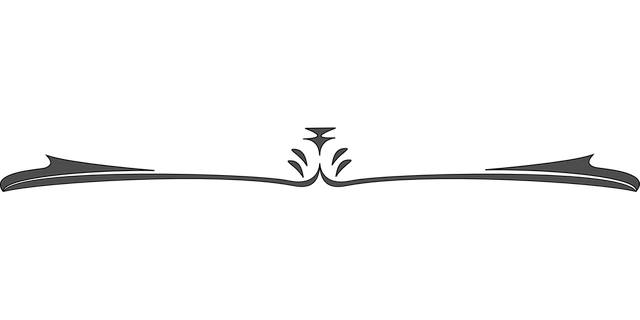 @gianluccio (Gianluca) is an engineer with a passion for writing, he has been writing fantasy stories for some time.
With his group of writers they asked me to create the banner of the Selenya here it is

We went on with the knowledge and we met, also with the great illustrator @pab.ink on August 3rd on the occasion of the Festival of the Performing Arts named Out of Control (Fuori Controllo), of which I am the artistic director.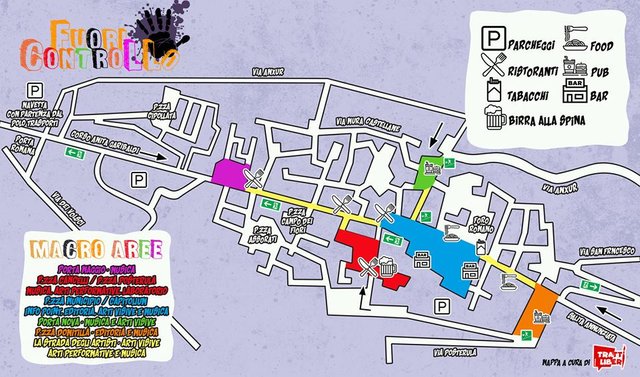 this is the plan of the festival.
Pab.ink is a brilliant user that I have always followed and he promised me that he will be present at this year's Festival and for us it would be an immense pleasure to host a great artist like him.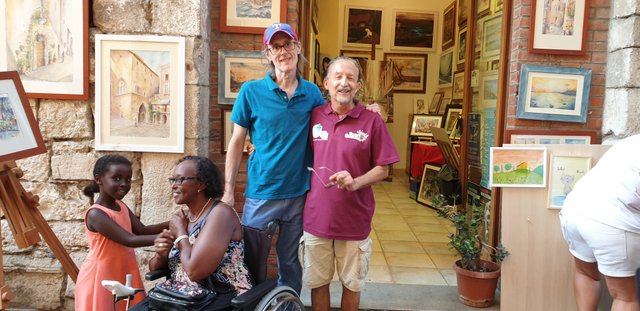 Here we are with his family in front of my study.
In that Festival we talked about Steemit to thousands of people also divulging flyers from our social network.
I also personally met my great friend @amico alias Matteo.
He came to visit me for three days in Terracina, together with his family.
I recognize that Matteo is an extraordinary person with a sunny personality and great intelligence.
We will definitely meet again this year, in Terracina, with his beautiful family.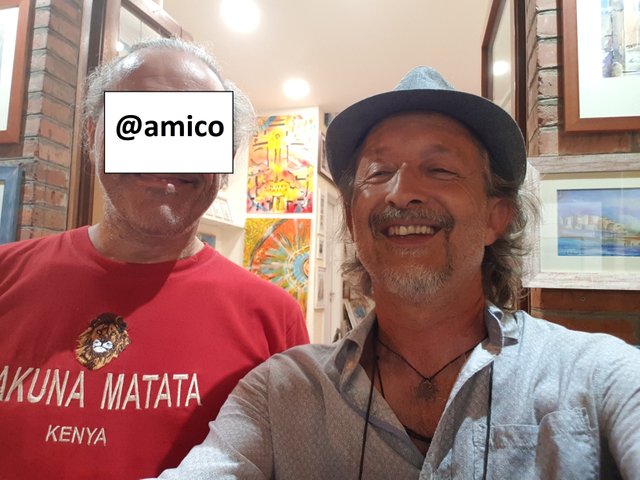 Here we are in front of my studio, Matteo doesn't want to be recognized ...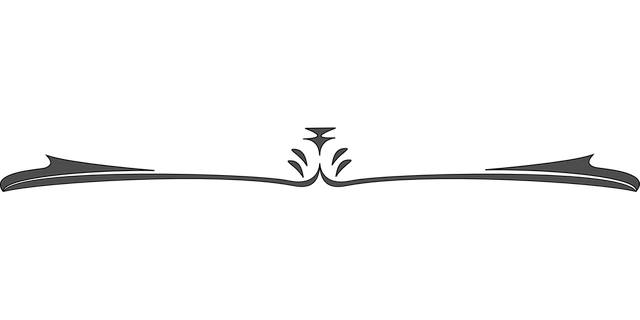 I want to write a special mention for my friend @mad-runner whom I have been following and reading for over a year and I take this opportunity to invite him publicly to Terracina.
In conclusion I want to highlight that Steemit leads to unique and long-lasting knowledge and human relationships as often happens in Steem Fest.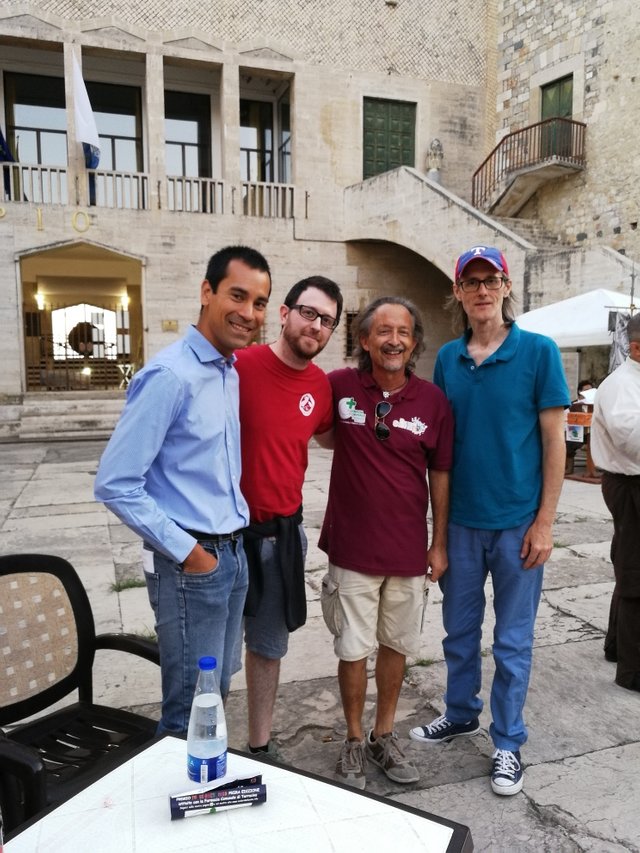 with @pab.ink @gianluccio and another Steemit user whose name I don't remember.
This happens because the contents and the posts that we follow are really original and that stimulate us to knowledge and deepening, something that does not happen in other social networks, much more superficial and false.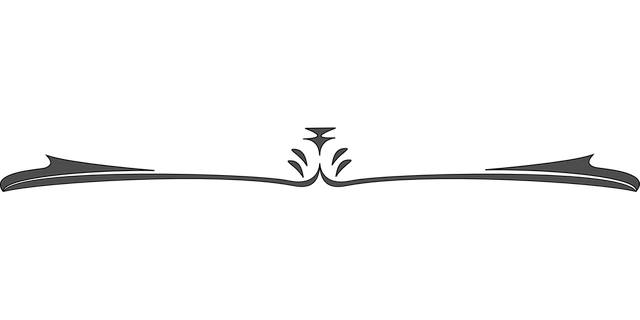 Steemit is True!
These friends of mine are real, and in the end I want to thank a beautiful girl who I have always followed, and who supports me with joy, my Australian friend @veryspider.
Lately he hasn't published much, but I always enjoy following his beautiful illustrations of fresh female figures.
Thanks to the idea of ​​@theycallmedan - @mindtrap and @acidyo for giving me the opportunity to write about our social network.
A hug.
Armando.
STEEM ON!!!