HUNT Token - New Exchanges Listing Announcement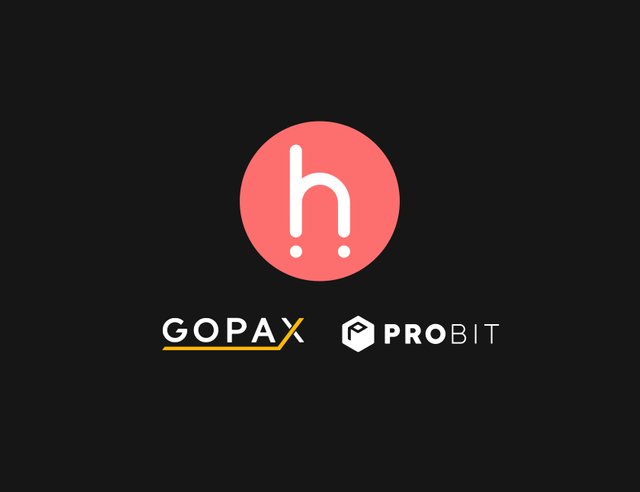 We're thrilled to announce that HUNT tokens will be listed in two more exchanges over the next two weeks - GOPAX and Probit exchange.
1. GOPAX Listing 👉 HUNT / KRW Market
HUNT Token will be listed on GOPAX exchange with the KRW market pair on Thursday, March 19th, 2020 at 15:00 KST.
GOPAX is one of the most renowned exchanges based in S.Korea. GOPAX has also supported the Steem community for a long time. While Reviewhunt has onboarded so many non-crypto users who are mostly using GOPAX exchange for their ETH transfer, we have communicated with the GOPAX team and decided to list HUNT token on the KRW market pair.
Please check out the important schedules in relation to this listing:
HUNT wallet open: March 18th, 2020, 15:00 KST
HUNT listing: March 19th, 2020, 15:00 KST
*For the first 5 Minutes only sell orders are available (15:00 - 15:05)
After 15:05: All trades are available.
The minimum deposit is 150 HUNT. Any deposit request less than that amount will be excluded. For more details about the listing, please see this official announcement - https://www.gopax.co.kr/notice/629.
GOPAX Quests on Reviewhunt - $25,000 Rewards
In order to connect Reviewhunt with this new listing, we are going to run the listing event via three Reviewhunt quests. Unfortunately, only S.Korean hunters will be able to join these particular quests as they are tied to this Korean exchange. We hope this new trial can show people the power of DApp.
_1. Deposit 100,000+ KRW on GOPAX
Rewards: $10
Number of hunters available: 1,000
_2. Trade 10+ times HUNT token on GOPAX
Rewards: $5
Number of hunters available: 2,000
_3. Promote the HUNT listing on the crypto communities
Rewards: $5
Number of hunters available: 1,000
GOPAX Trading Event - 2 million HUNT tokens
Trading competitions are also scheduled for the new listing from 15:00 on March 19th to 00:00 on March 25th. The top five people with the highest trade volume will earn the following prizes:
1st prize: 1,000,000 HUNT
2nd prize: 500,000 HUNT
3rd prize: 250,000 HUNT
4th prize: 150,000 HUNT
5th prize: 100,000 HUNT
For more detailed rules, please read the official announcement at GOPAX.
2. Probit Global Listing 👉 HUNT / USDT Market
In order to provide fiat-value-pegged trade environment for non-Korean users, HUNT Token will also be listed on Probit exchange with the USDT market pair at 15:00 KST on Thursday, March 26th, 2020.
Probit Global is a top 30 global exchange that provides a superb trading interface, exceptional customer service for global users, and abundant liquidity for essential market pairs. More details about the token listing will be announced soon after the GOPAX listing.
3. Changes in the Whitepaper
In version 2.0 of our whitepaper, we had planned to adopt the Luniverse main chain in the 4Q of 2019, but we have decided to abort the plan due to the following reasons:
The growth of Reviewhunt has far exceeded our projection, and the migration plan to Luniverse may cause a bottleneck problem.
The exchange adaptation for the Luniverse chain has been too slow and not effective, especially for global exchanges.
All the Luniverse-related token swap plans are cancelled at this moment, and we will build the HUNT Network with our own DApp strategy. Please read the latest updated whitepaper - https://token.hunt.town/HUNT-Whitepaper-v3.0.pdf. All previous versions of whitepapers are no longer effective or valid.
Also, see the new direction of HUNT - DApp Network Empowering Digital Nomads
👉 https://token.hunt.town/
4. Changes in HUNT Conversion/Operation Fee on Reviewhunt
As a launching promotion, we ran a zero conversion/operation rate for both HUNT payment and withdrawals. From today, the rate for HUNT on Reviewhunt will be changed as below:
HUNT payment and token withdrawal conversion/operation fee: 10%
Other payment (USD, KRW, BTC, ETH and STEEM) and withdrawal (ETH) options will be maintained at 20%. This change is effective from today.
---
Connect with HUNT:
Discord | Telegram | Twitter
Join Reviewhunt Now - https://review.hunt.town