GoPro hero4 (Black)
GoPro; An amazing camera for action packed moves
---
Screenshots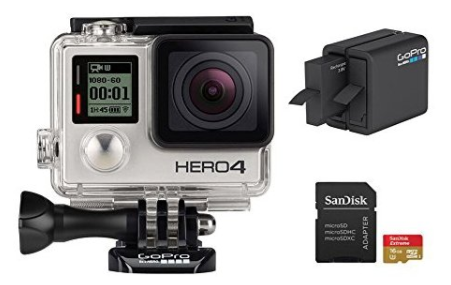 ---
Hunter's comment
This is my best kind of camera, because I am more of a sport person, and this GoPro does so well in filming any action moves like sports, dancing, staining, jet skiing etc.
Pro's;
Its water/sand proof: Go pro can be used under water but to some certain extent compared to other cameras that cannot be put in water and brought out in just a second without developing any fault... And it also has no problems with sand because it is well packaged in a way that it can resist and survive all sort of condition...

Small and rugged: It's very small and easy to use yet very rugged and convenient... The smallness makes it easy for you to travel with it without people knowing you have a camera...
Can be used when you don't want to be noticed. It can also be worn as a wristwatch to carry out your secret shooting... Like I said, it can survive many condition that most other cameras cannot.

Wide range/angle: As small as it is, it does mighty work, it can capture a very wide range and can be used to a video at a wide angle...
Very easy to use for non camera users
Night/super view: It can be used anywhere and anytime of the day and its best to be used outside because of the low light performance that gives it a very cool feel outdoor...

Connectivity: It's built in WiFi/Bluetooth and can be transferred to any device that supports this features... It also have a USB port and can also be charged with an iPhone cord.

Mounts: This is a very great advantage for GoPro users, because it can be mounted anywhere and anyhow you like it....
It has its own Gimbal, to control the movement, Gekko pod and many more things that can be attached to make GoPro easy and safe to use

Help: Its also has this user friendliness that makes you access the whole settings with ease, without a pro putting you through how to handle it...
In addition;
There's an app for GoPro where you can see more features and learn more or possibly all you need to know about go pro....
Cons
Less memory space: This can be a bit of a challenge because in the process of taking a wide range and quality video, it consumes more space on your GoPro and this tends to make it occupied real quick.

Misplace: Of course you'll will claim that your GoPro I s very safe with you.... I have no doubt about that... You may be a very careful person, but your GoPro is way to get stolen by pickpockets no matter how careful you may be.... It's very small and handy and you will not know if someone has dropped it in his pocket, if you're the careless and forgetful type then GoPro is not for you, because if you mistakenly drop it somewhere to pee or do something else in a very short period just like you do with your other big cameras it may get stolen by someone very desperate to have it because it's very small and easy to steal, just as much as it is easy to keep.

Battery life: Gopros don't really last so long, I've never seen a GoPro that last for a while day without recharging...
That's why it's very advisable to have multiple external battery of you're going to be using your GoPro for a long term especially in a place where you have limited power supply

Fixed lens: It is automated and superb though, but has its downsides... In as much as it can video/capture a wide range it cannot zoom in/zoom out, instead it'll crop your image...

Colour balance: Go pros colour balance is excellent but it has a low light performance just like I said earlier and it's specifically made for outdoor shoot so this gives it limited access to suit every scenery...

Distance: It has this limited wireless connectivity by distance...
---
Link
https://gist.github.com/KonradIT/55ec6cfa098d88c51a45?ref=steemhunt
---
Contributors
Hunter: @morahn
---



This is posted on Steemhunt - A place where you can dig products and earn STEEM.
View on Steemhunt.com