Steem Humans : 5 Questions With @surpassinggoogle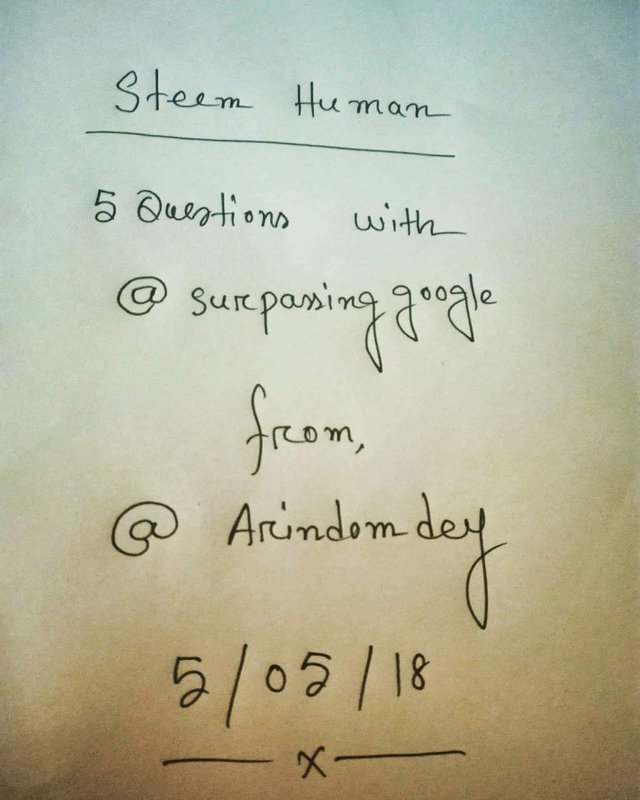 Hlw guys,😃
I hope u all r well. Today I promoted our beloved
sir @surpassingoogle. I think all of the members our community r know this name vry well.If u r new in this community u should know he is really a kind hearted person.. I just love his dignity, patience, perseverance, personality, morality.He is the most helpful persn i hv evr seen in this site & he always support those types of people who r ignore about this site..I cnt express his thoughtness in a few words..Few days ago in his post he started a human series & he wants to know from each of the following people... So i wanted to show up this series by answer his question about me.☺
Who Are You?
I am a boy who leads a vry simple & decent life... I love my parents & my beloved siblings most..Now im studing in BBA course.. But aint fit fr all types of things as much as i wish..But i will try hard & soul how to do well in all sectors..
I aint appreciates myself.. I cn honestly tell to evryone i just hate greedness, dishonesty, desire fr something.when i involve myself in this community i fell so much disappointed.... But day by day, i fell happy & familiar with this site.I want to show myself nt a higher status man just like a gd prsn.At the meantime i tell myself wht should i do now. Tht why i always consult such types prsn who r more wise than me..
Aftr involving myself in steemit my determination is to behave well with evrybody & always helps tht prsns who r really helpless..
What do you write about the most on steemit and why?
Im nt a prfect writer sir.. I just love to capture beautiful photos tht why i alwys post such types of things i like..I just love to share my feelings, my capability with others.. I always love travelling & whenevr i go any plce i cnt frget to capture the moments tht i pass.
I hv a anothr hobby.. I love to gossip varias types of prsns & wants to know the world. i will try my best to fullfill ment my work...
How did you find Steemit and it has become your bus- stop and why did it become ur bus stop?
A few days ago one of my friend @sushovon tell me about this site..On those days i fell so.much disapointed wht should i do in my free time..One day my most bosom friend @shushovon told me why r u wasting ur time in such types of boring social networking site... Tht day i find my bus stop..when i involve in this site i fell tht this is the site where all of the people show their skill & get paid.All of the members of this community r vry loyable...on tht time i started working in this site..
Is there one person on steemit that you can say, "as long as this person stays on steemit and keeps on active, i will be also stay active on steemit " and who is that person and why is it this person?
It is vry difficult to answer this question because there is a lot of people on this community whom i should active on this site..only a few months im too much familar with this communities people.I just love them 😍.
But it is nt an easy tell the perticular names but i tell some persons who r most important to me.
@r2cornell: I cant tell his kindness in a few words becoz his dignity, moderateness impressed all of the people in this community..
He helps not only me but also helps all of the people of this site how to subsist.. I say u r real hero sir...... 😍.
@surpassinggoogle: sir u teach all of people how to subsist & how to decorate things so appropiately... U r just awsome no one cnt tell ur efforts in a few words becoz u r the man who establish others..I really appreciates all of works. i always see all ur post tht u shared in this community..
@pegandance : i really impressed to see all of ur post sir becoz u shared not only a single topics but aslo varies topics.. ur bitcion post political issues post just awsome.. ☺.
@drewly : This person is absuluatly great...U shared such types of post tht types of posts r really important fr us .. u r a great musician sir.May god bless u.😃
@clayboyn : This persons post r just stunning becoz u shares musical post & philosophical post tht r really impressive.😃
@fred703: I like this persn most becoz he always gives us a new charimg thing tht r really wonderfull.😃
If you had just one shot at "breakthrough" and it was your " very next steemit post ", what would you write about?
I'm nt so gd at writing but i try hard & soul how to give a beautiful sketch to the people..
Thanks fr having patience... 😃