For investigating how to delegate SP, getting it done in Windows was a key ingredient. @clayop's guide to using cli_wallet with Docker for Windows was the best solution. Docker works, but it's a bit clunky, let's say. Same applies for a VM.
I knew that with Anniversary Update (1607) in mid-2016, Windows 10 introduced a Windows Subsystem for Linux (WSL). Basically, you have an Ubuntu subsystem within Windows 10. With Creators Update (1703), this has further been improved. (Shameless plug - check out my recent review for Creators Update) If Windows 10's WSL really worked as it was intended, there would be no reason why it wouldn't work with cli_wallet or steemd, right?
As it turns out, that's exactly right. cli_wallet works just fine on Windows 10!
Requirements
You need a 64-bit CPU running on 64-bit Windows 10. Minimum version required is Windows 10 1607, though I tested only on Windows 10 1703.
To be clear, I haven't yet tried building steemd or cli_wallet, but pre-compiled Linux executables work just fine. To get you started, you can download cli_wallet from here - http://wikisend.com/download/735872/cli_wallet.zip
Steps to enable WSL
Type in "features" into Search, open Windows Features.


One of the few old style setting interfaces still left in Windows 10. Look for "Windows Subsystem for Linux (Beta)" and enable it.


Type bash into Search and run.

This will install the Ubuntu subsystem. Follow the instructions - it's done within minutes.


That's all there is to it! Much easier than any VM or Docker setup, and a one time thing too. You can now use a Windows command prompt like you do Linux. Run "Bash on Ubuntu on Windows" or type in bash and run.


Type in cd /mnt - this gives it access to your PC's drives. The usual Linux commands like ls work just fine. Here, I've copied cli_wallet to C: and run it successfully.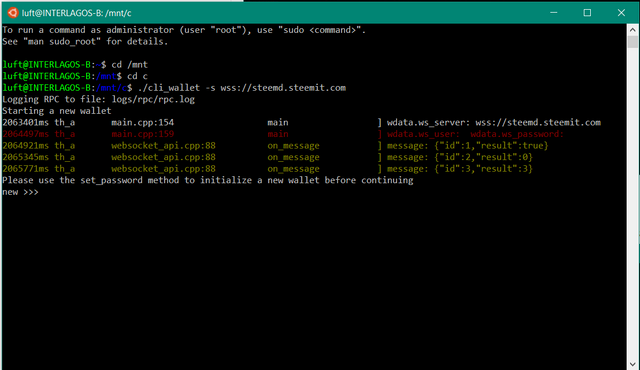 I've been playing around with it and it works just fine.
And here is steemd running, though I haven't synched the chain etc. yet.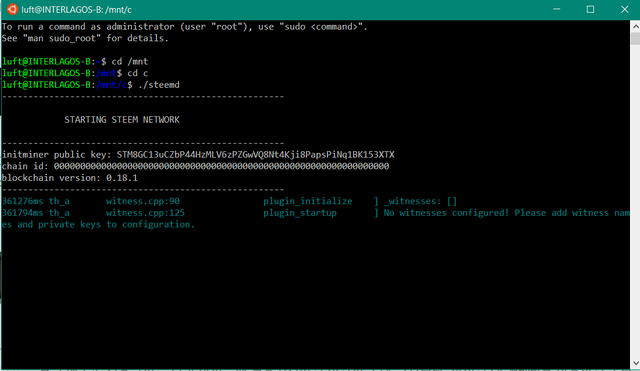 What's more, in running some benchmarks, performance is better than with Ubuntu on VM. Impressed by what Microsoft and Canonical has achieved here, though remember this is still beta. For more details, check out MSDN's sub-site on WSL - https://msdn.microsoft.com/en-us/commandline/wsl/about
PS: You might need to enable Developer Mode. I didn't do it, but seeing some reports online that is required. You can find this setting here -