LIST OF KNOWN STEEMITBOT UPVOTERS/UPDATES on my BOAT Project!🚢
Steemit bots Upvoters. . .
In case you need a push in your hard and time consuming content, here is a little help but need to invest. Try to choose which is which!

send a minimum of 1sbd to booster with memo url of your story to be upvoted. As simply as that. You need to wait at least 2 hours before your upvotes arrive. Check its blog site also for more info

commonly used bots i think. Just send 1 sbd to randowhale with memo of your post url, instantly your upvotes arrive. Checks its blog post for more

same as @booster that needs window. But send a minimum of 0.1 sbd to discordia with post url to be upvoted. Check its blogpost for more! Try it if you can

@bellyrub
also needs to wait at leat 2 hours before upvotes delivered. Send a minimum of 0.15 sbd to bellyrub with memo of your post url to be bids. Gud luck! Check its blog post

this is new to me. If you wanna try, check at his blog. Minimum sbd to send is 0.1 sbd

just send a minimum of 0.5 sbd to minnowbooster with memo of your post url. You will have a self upgoat. You can lease steem power at 1 steem for 65 sp in a week. Check its blog for more detail.
---
---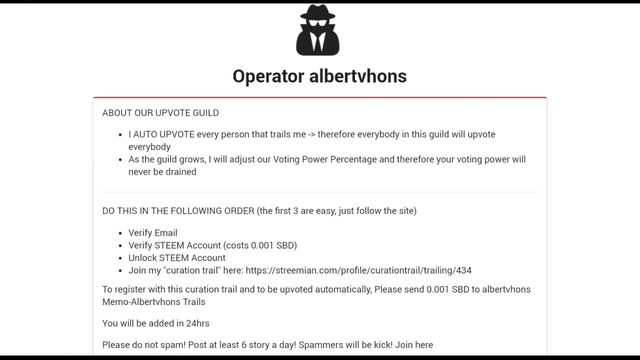 I want you also to invite you in my curation trail = https://streemian.com/profile/curationtrail/trailing/434, and hope you will support my BOAT project!Upvotes are set in order not to hurt your voting power
I will auto UPBOAT your post or upvote as I follow you also!
I will REBOAT your post, or I will resteem it! Just Send 0.1 to 0.6 sbd to albertvhons with memo of post url to be resteem. It is recommended that at least 3 hours to 4 days of age shall be resteem
Update on my boats; albertvhons: vp 52.20%; 584 votes today; 455 votes yesterday; 100% in 2 days

Follow @albertvhons
I want you to ride in my boat!🚣
To all my followers, i will send 0.001 sbd as thanks giving soon!