Repository
  SteemGigs: A Revolutionary Decentralized Freelance Marketplace With Its Own Knowledge-Bank.           
A revolutionary freelance marketplace built on the steem blockchain that removes all barriers to entry, by implementing an "untalented & community paradigm".   
Details
This task covers the following:
Help Us Add A Micro-tasks segment to our homepage (upon login) and a corresponding micro-task editor
We are keeping this task simple at this stage. Our aim within this task, is simply to give users and contributing developers insight into another aspect of steemgigs.org called 'the Microtasks segment'.
On steemgigs.org, we believe that 'everyone has something to offer', whether you consider yourself an expert or a non-expert. Even if you aren't very confident yet about your talents or about offering your service, you can participate in microtasks to hone your existing skills and grow in confidence. However minute, you contribution may appear, you will have played a role in historical history, by helping someone build their dream.
Besides, we want to use our microtasks segment to highlight a 'pay-with-vote' paradigm, exclusive to the steem ecosystem. It is essential to show these beautiful aspects of steem to the mainstream public and remind existing steemians of this too.
Microtasks in general may payout micro-payments. This may not impact the reward pool much and can be paid 'with votes'. In general, what has been rewarded on the steem blockchain is 'value' moreso than content and it essential to paint this using steemgigs.org, as one core paradigm of steemgigs.org is 'steem growth'.
Task Proper
On our homepage, you will notice that we have a 'create' button, leading to a bunch of editors as seen below:
We would like to add one more item to the list called 'Create Microtasks', which allows users to create microtasks. 
To build this editor, you will simple need to replicate the 'Create a gig' editor, with some tweaks.
The 'Create a gig' editor currently looks like this: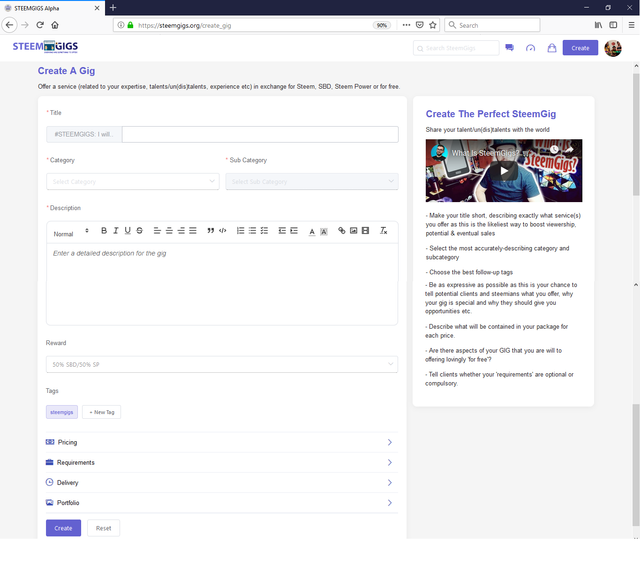 We will be following a similar template in building the Microtasks' editor, to create something like this: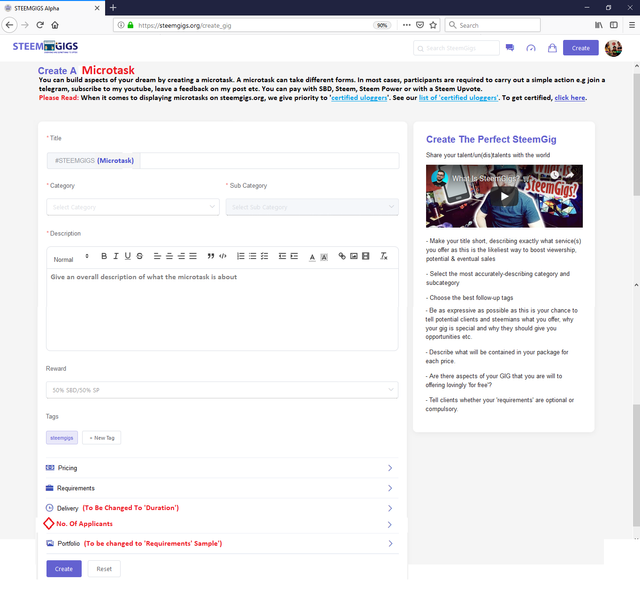 Notice that the new flow for the Microtasks' editor is:
description > pricing > requirements > duration > no. of applicants > no. of entries per applicant > requirements' sample
I will now explain below the various aspects of the Microtask editor, using the images below:
Description: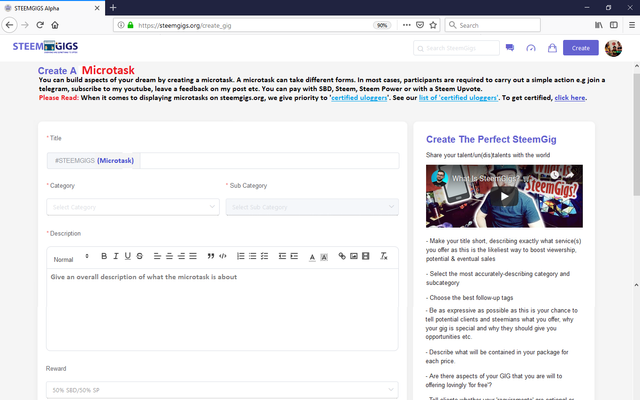 Here is the raw header text: [You can build aspects of your dream by creating a microtask. A microtask can take different forms. In most cases, participants are required to carry out a simple action e.g join a telegram, subscribe to my YouTube, leave a feedback on my post etc You can pay with SBD, Steem, Steem Power or with a Steem Upvote.
Please Read: When it comes to displaying microtasks on steemgigs.org, we give priority to 'certified uloggers'. See our list of 'certified uloggers'. To get certified, click here.]
Payment:

Please note: the 'payment' column should accept decimal entries e.g 0.01 to integrate the new 'steem upvote' option
Requirements:

Duration:

No. Of Applicants:

No. Of Entries Per Applicant:

Requirements' Sample:

This microtask editor just like the 'create a gig' editor, will determine the format of its resulting posts. 
Look at the post below, which was created using the 'create a gig' editor, to understand better:
Now, that we have created the microtasks' editor, we will need to add a new column to our homepage (upon sign-in) to display a catalog of microtasks. 
We will like you to create a new row for this, just under the 'Steemgigs Request' row, on our homepage.
The next part of the task is to tweak the resulting post-cards, for posts created via the microtasks editor. We now like such post-cards to look like this: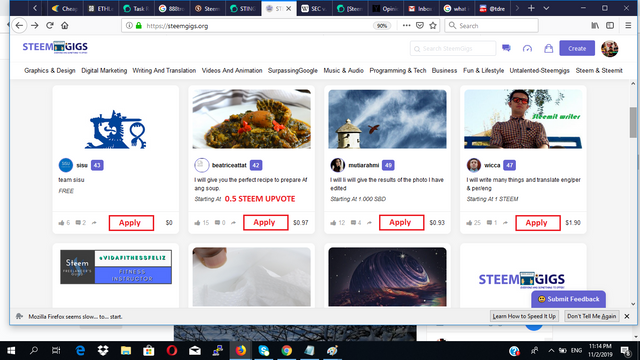 When users click on the 'Apply' button, it should expand the post.
Component
Analyzing the 'create a gig' editor is a good starting point. 
If you would like to take up the task, kindly indicate your intention in the comment section below. Where you get stuck, we can always discuss possible solutions, logic etc We just may find answers!
Overall, carry out the task according to your preference and  expertise, submitting a pull request and thereafter create a post highlighting your contribution, following Utopian's guidelines for Development (contributions) as this post is likely to be curated by utopian.io
Deadline
2 days
Communication
You can contact me on:       
Discord (username: surpassinggoogle#1660)
You can also indicate interest by leaving a comment underneath this post or on Github. 
It is recommended that we are able to discuss, for a better understanding of the task.
Github