WHAT IS AFRICAN SALAD?
African salad, traditionally(in igbo, Nigeria) called ABACHA or NSISA is made off from raw cassava.
HOW TO PROCESS RAW CASSAVA TO GET AFRICAN SALAD
Harvest the cassava and peel it

Wash it and cut for easy cooking

Cook for 20-30min

Allow to cool, then grate it to attractive slim shapes

Then sundry it to remove moisture/water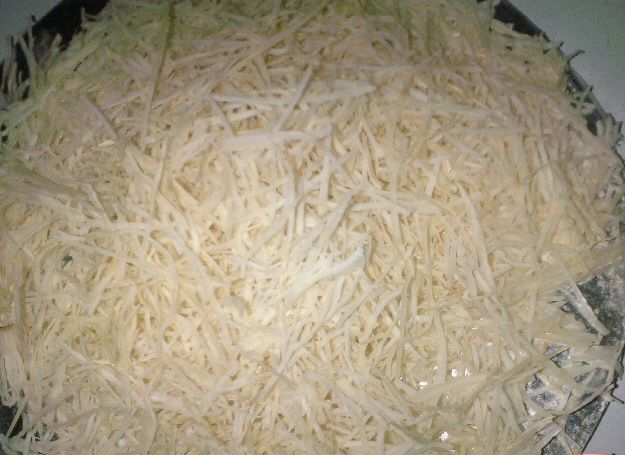 NOW, THE ABACHA IS READY,BUT NOT READY FOR EATING.
HOW TO MAKE ABACHA (AFRICAN SALAD) READY-TO-EAT IN TEN MINUTES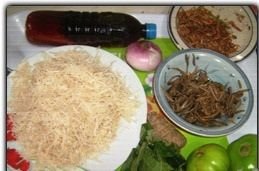 MATERIALS;
Abacha
Filtered potash
Red oil
Onion (sliced)
Salt and Maggi to taste
Ugba
Sliced Ukazi
Pepper
Garden egg(sliced)
livestock of any kind
PROCEDURE;
Get a mortar and a spoon,
Pour in the potash into the mortar, add oil to it , and stir,
Add salt, maggi and pepper to taste and stir,
Add Abacha and stir,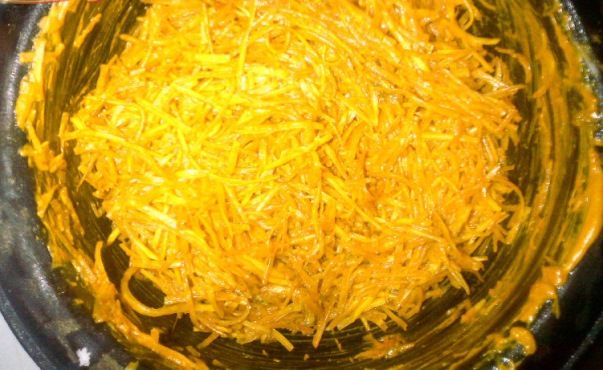 Dish out in a plate, then,
Place Onion, ugba, ukazi, garden egg, and livestock on the Abacha
FOOD IS READY ( just in 10min)
NOTE: quantity is based on choice