[STEEMGIG] Truly epic Web Design has come to Steemit!
Hello steemit friends!



As some of you may know, I'm a graphic designer and illustrator, so I've come to offer you my services for web devolepment, graphic design and many others.
I work in a Digital Agency that goes by the name of Perzoweb, and although we are starting with this entrepreneurship, we are a group of experienced people that decided to gather and create a lot of cool stuff with our combined abilities.
Web Development:



Custome Websites: We know that for you it is very important to differentiate yourself from the rest, that's why in our work methodology we include three proposals made to your measure so that you can choose the one you like most.
Self Managed Websites: Obviously we will never let you walk alone in technological terrains, however for us it is very important to give you a website where you can include and replace the content you want when you want.
Results-Oriented: We know that a website is the tool or path that can help you achieve success for good, so we are committed to making your investment have results, for this we offer post-project performance reports.
Graphic design:



Corporate Identity: Any company that wants to generate an impact on the market and be recognized must plan with a document that clearly indicates how its public image should look at all times.
Logo Design: A company without a logo is like a garden without flowers. It is important that you go beyond PowerPoint and professionalize the image of your brand or company. If you still do not have a logo, this is the moment.
Illustration: There are works that go far beyond what graphic design programs can achieve. Illustration is an art that can help you visually materialize exactly what you want.
Digital Marketing:



Strategy and Management of Social Networks: Although it may seem simple, this work has its secrets. To achieve the results you are looking for in social networks, we design strategies that adapt exactly to what you are looking for with your brand.
SEO: Are you happy with the web positioning of your page? Would you like to be among the first search results in Google? We have tools and techniques that can help your business grow exponentially.
Email marketing campaigns: Become a powerful person achieving direct contact with your customers. Email marketing is the 'Door to Door' sale of our time (only cheaper and effortless). Just ask us how and we make it possible.
Content writing: In the Digital world the text is of fundamental importance. In addition, writing correctly and assertively can take a lot of time. Leave it in our hands and you will get wonderful results in blogs, social networks and on your own website.
In the next infographic i will show you how we do a standard website project. It is an easy and fast process, that also involves you.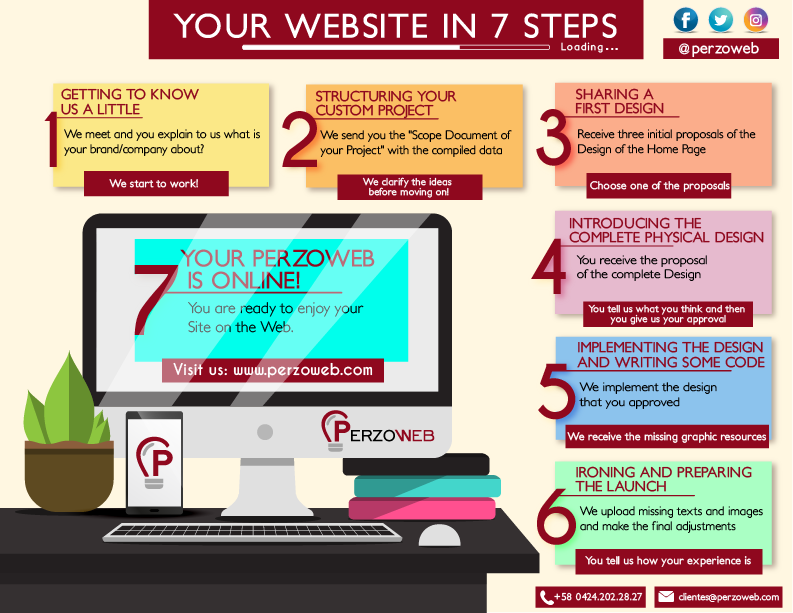 We accept different payment methods, of course it includes SBD and STEEM. First, contact me in any of my social networks or through the mail [email protected], and we will send you the budget of your project.



---
What are you waiting for? Be part of our happy customers with Perzoweb!

Follow me =)