Rice With Octopus
Hello friends steemit, today with a super special dish of delicious sea food, it is very common in the states of coasts and beaches of our country, in each home the recipe is adapted to the taste of each family giving way to a wide gastronomy, This combination is energetic and full of nutrients for our body, it is healthy and light as well as having a spectacular flavor, rice with octopus and prawns will be our wonder dish of this day ...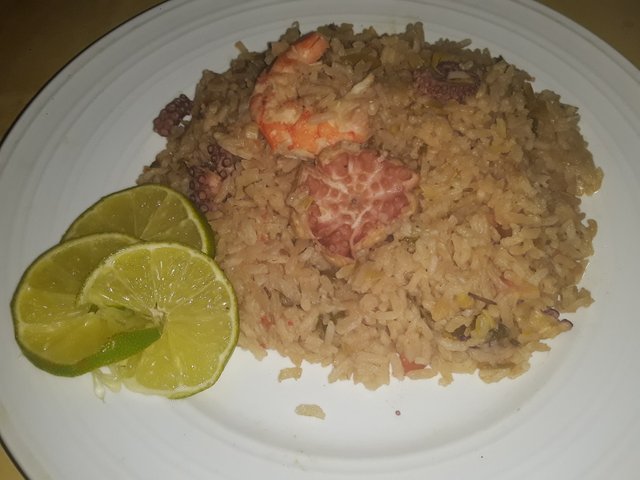 The octopuses and prawns must be clean, so we must apply a series of steps that will help us remove everything that we should not eat from these animals, first we will do it with the octopus ...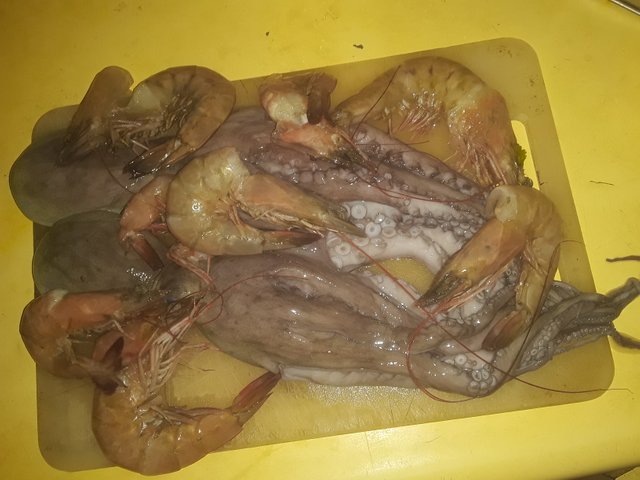 We have two small octopuses, their bodies are totally mollusks, their entire body is made up of muscles, their meat is dense and very fine, that is why for their preparation we must have great delicacy and hygiene in the procedure.
Placing the octopus under a jet of water we begin to clean it, we cut off its head and remove all the residues it may contain, also scrubbing its skin and remove the bag that contains the octopus ink, which we can save to add to our rice, giving it a darker look.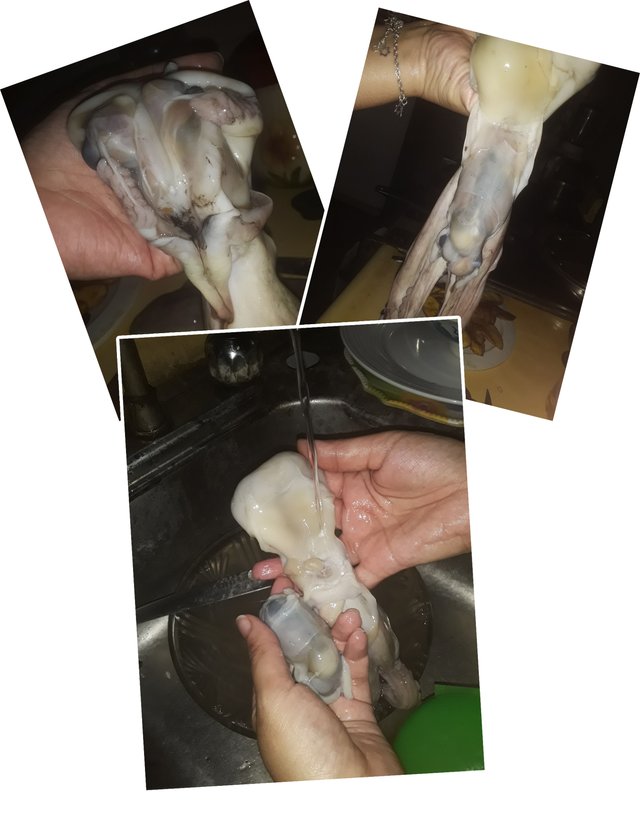 We continue with small opening cuts between each tentacle so that during cooking it rises, remember to extract the beak, which is a black point that we see under the octopus.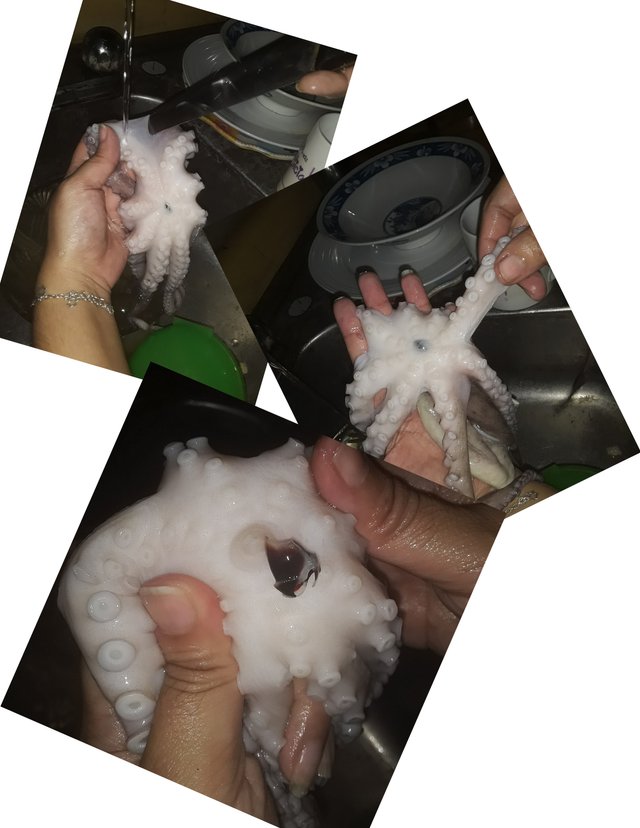 Now having our octopus clean we proceed to cook it, with a pot of boiled water we hope that it is very hot we are going to immerse our octopus, in my country we know it as "mopping" the octopus, before completely submerging it we must introduce it very quickly and remove it without go completely into the water as a few short "bleeds", they must do it several times about 5 times so that the legs of the octopus are fully rolled up and there if we must, the time will depend on the size of the octopus.
Having our octopus already boiled we can proceed to cut it for the preparation with the rice, also add the prawns already also clean.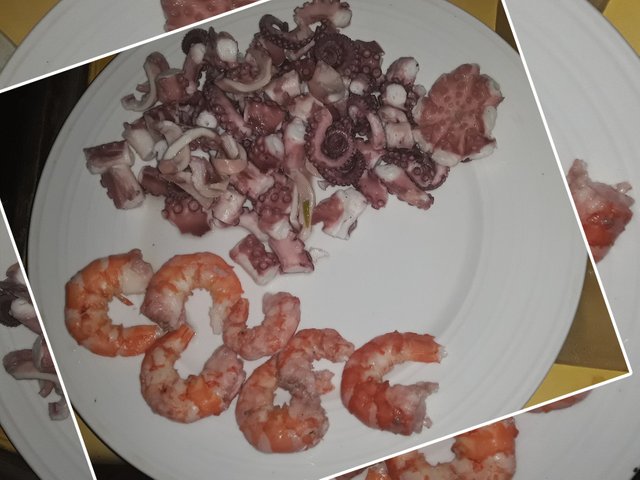 We go on to the second phase of our preparation, since we must cut vegetables such as onion, chives, tomatoes to add flavor to our rice with octopus, we fry them until golden brown and add the octopus with the prawns, let it cook for a few minutes and add the rice It is advisable to carry out this cooking with the water that we previously used for our octopus to make it tastier and even more tasteful.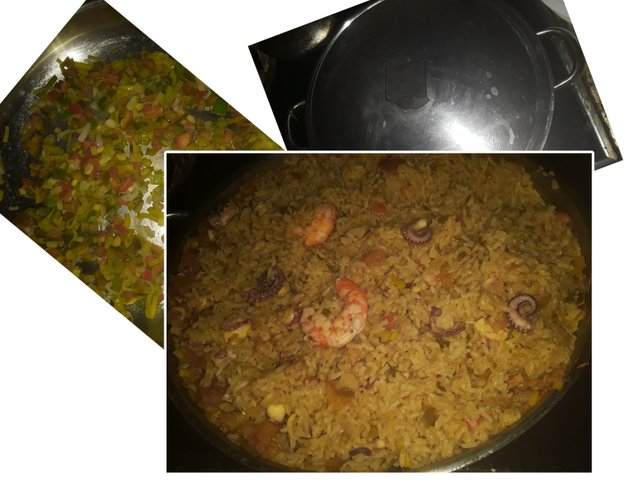 In this way friends we have prepared our delicious and wonderful rice dish with octopus and prawns, easy to make and with simple ingredients that you can have at home, if you want to add the ink during cooking it will also be great.
Serve and taste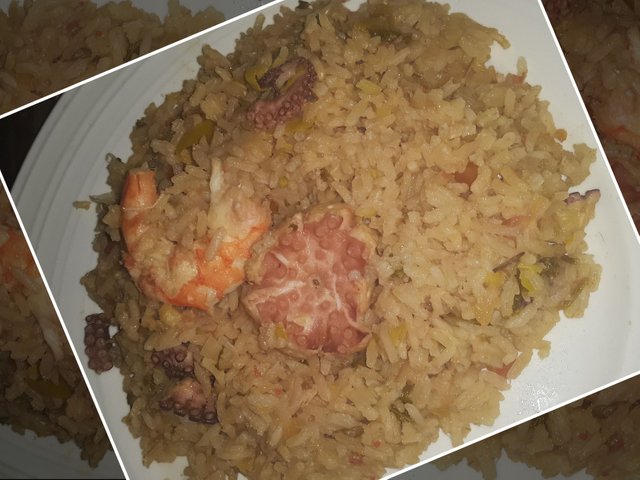 They can wait for it to sit, but not for long as it's their point when it's fresh and hot.