[EN] "SteemField" Steemit Website development. - Posting setting Update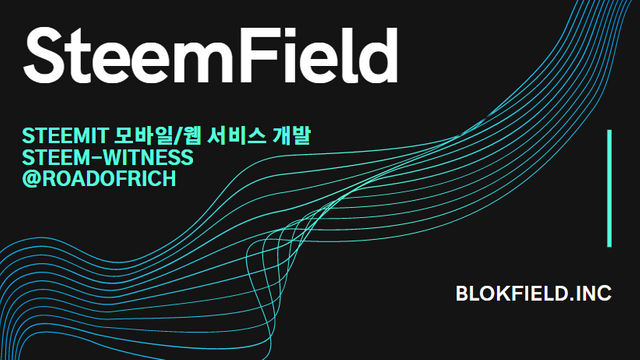 ---
Hello, This is Team ROR.
ROR team is developing Steemit Mobile App and Web at the same time to contribute to STEEM blockchain development.
---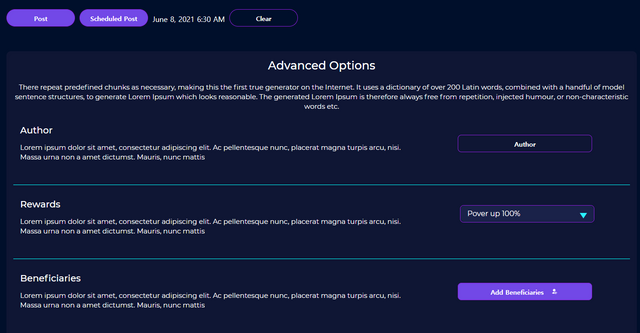 ---
SteamField Posting Advanced settings have been updated.
We're still in the process of adding a number of features to the Posting page, and we're still discovering a number of bugs.
Advanced settings allow you to set up Author, Rewards, and Beneficiaries, of which the Beneficiaries setting is complete.
Author settings are still in the test phase with the ability to set who the actual author is.
There are many functions that need to be modified to set up the Author, so we expect more time.
Rewards settings are available in three options: Powerup 100% / Decline Payout / 50% SBD, 50% SP.
The explanation of options is not implemented properly because only functional parts are still being developed intensively.
---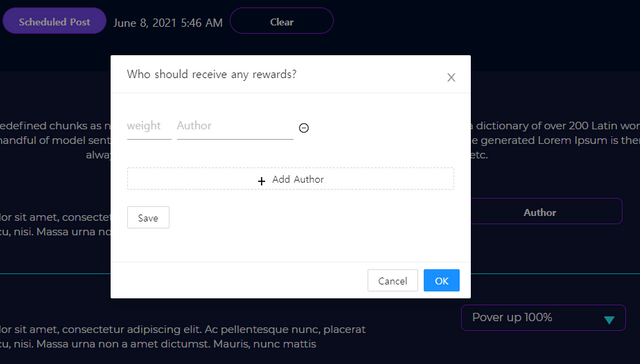 ---
The Beneficiaries settings were simply worked on with the screen above.
Since the design work for the detailed page has not been completed yet, we have made it temporarily and plan to improve the design further.
---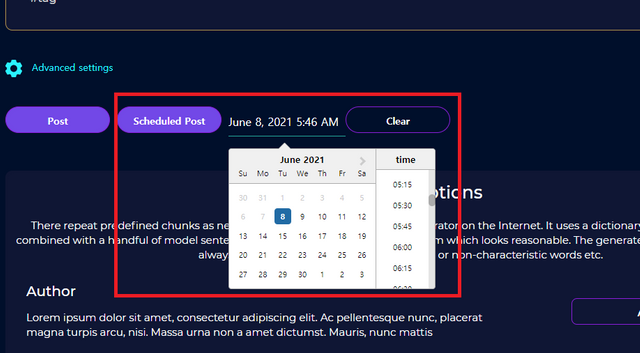 ---
Scheduled Post, a scheduled posting function, is also in the development phase of development.
The initial model is temporary in the form of a calendar where you can simply choose a date and time, and we plan to add options for posting after a certain time.
Ex) 1 hour later / 6 hours later / 24 hours later / 48 hours later
Many functions of SteemField have been developed and modified. We expect to start the service phase soon, but we still have a lot of features to update due to the lack of convenience features.
We are still in a hurry to develop it and if there is any function that we would like to add, please feel free to contact us.
---
Development Scheduled Convenience Features
Post scheduling capabilities
Follow Vote
Show Vote Power %
Promotional Features
Vote List Verification
Plagiarism Check System
Translation system
The project is run by STEEM Witness @roadofrich.
Website : https://www.steemfield.com/