[EN] "SteemField" Steemit Website development. - Bookmarks Update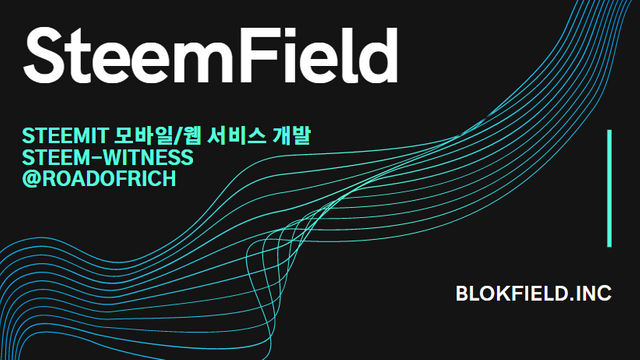 ---
Hello, This is Team ROR.
ROR team is developing Steemit Mobile App and Web at the same time to contribute to STEEM blockchain development.
---

---
Today, we updated the Bookmarks feature, one of SteemField's convenience features.
Steemit was often used to share good postings using the Resteem feature or to see later, but there was no Bookmarks feature.
We started developing the Bookmarks feature for more convenient use on the SteemField site and completed it today.
---

---
Once you have logged in to the SteemField site, you will see the My Friends / My Communities / My Bookmarks screen in the upper left corner and click the Bookmarks button to easily view your Bookmarks posting.
If you find a good posting while using the SteemField site, just click the Bookmarks icon button.
---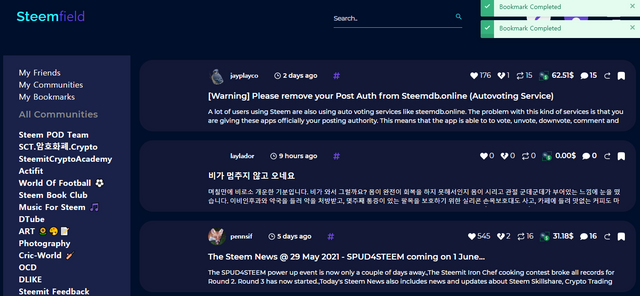 ---
Click the My Bookmarks button to view your Bookmarks posting immediately.
There are currently several bugs in the Bookarms feature. The bugs are currently being fixed.
The bookmark color will be changed from white to other colors.
---
Development Scheduled Convenience Features
Post scheduling capabilities
Follow Vote
Show Vote Power %
Promotional Features
Vote List Verification
Plagiarism Check System
Translation system
The project is run by STEEM Witness @roadofrich.
Website: https://www.steemfield.com/