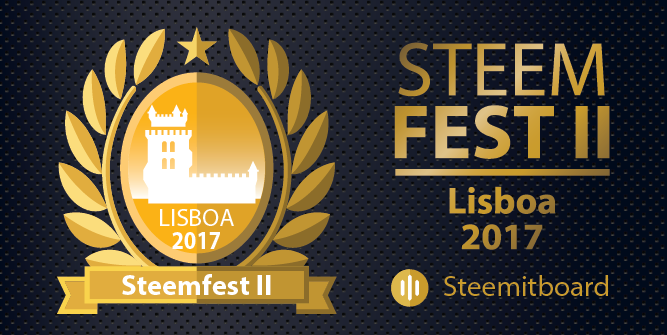 Attend Steemfest 2017 in Lisbon and get your commemorative award!
SteemFest … SteemFest … the word start to be on every lips and we all are really excited by the forthcoming event.
Few days ago, SteemitBoard released the award for SteemFest attendees in Amsterdam. Read the post here. Even if a bit late, as mentioned in the post, better late than never.
Ready for SteemFest 2
This year, the commemorative award for Lisboa is ready and waiting to appear on your board.

How to get it?
That's really easy! First you can upvote this post.
Then, when you will register at SteemFest in Lisbon, you will automatically receive your award a few minutes later. Et voilà ...
The award will be displayed in your personal tab on your board.
Are you Steemfest addicted?
Did you attend Steemfest in Amsterdam? For nothing in the world you would miss any Steemfest. Even better!
You are a Steemfest's Veteran and even deserve a very specific award

Your SteemFest 2017 award will pop-up with a 2 stars level, clearly indicating how many events you attended. Congratulation and be prepared for the 3 stars award next year!
Enjoy and Steem on!


Thanks @roelandp for creating such a wonderful event and helping to automate the award attribution, despite the fact he was really busy. Kudos my friend!


PS1: You will receive a notification with your new award. Since SteemitBoard has a lot of notifications to send, it can take a while.
PS2: Steemiboard sends thousands of notifications per day and therefore is often unable to reply to your comments. This does not mean that we do care about or do not appreciate them.
Thank you for your support!
---
Steemitboard revamped its website with a new look and new features. Read the post here
---
Support the SteemitBoard Project and all Steemit users by voting for its witness!


Learn more how and why here
Read SteemitBoard's latest witness report here
Steemitboard is a project created by @arcange