Waaaahhhhhh! Counting on two hands and feet now. Only 16 days until SteemFest 2 kicks off!
Headlines
In this post: A monster list of new names added to the SteemFest² site
SteemFest's HF Hotels are completely booked out except for some 'family rooms'. Book that room directly via HF Hotels . If you still need a place I recommend to search via Booking.com in the area near Marques de Pombal, Lisbon or use AirBnB and also search near Marques de Pombal, Lisbon.
Come 1 day early and join the SteemFest Blockchain Hackathon on Wednesday 1 November 9 AM, open to Designers, Conceptors, Developers, Creators, Thinkers and Humans!
In this post: Explaining how the @t-r-f account works: A travel reimbursement fund (by fellow community members) to relief some costs for your steemfest trip (if you want).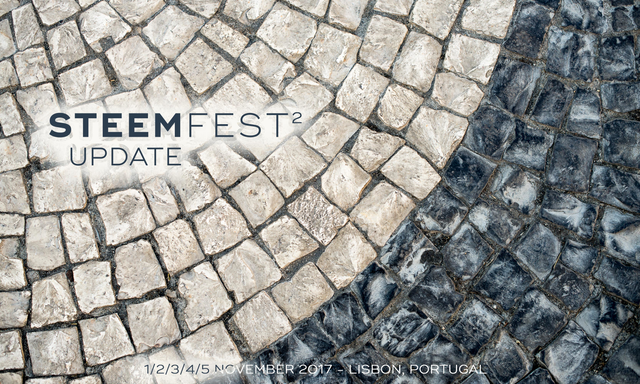 ​
A little list of new names talking / performing at SteemFest² announced:
martin smolka (CZ): Decent chain, ice hockey lover and dog owner
@terrybrock (USA): Speaker, Columnist, MC For SteemFest, Steemit Lover
@ginacarr (USA): Tribe Builder, Health Activist, Vegan Enthusiast
@starkerz (UK): Responsible Steem Holder "promo-steem", "promo-uk"
@saramiller (USA): Yogini, Dakini, & Reiki Master
​
Week updates
Tension is rising with merely a good 2 weeks to go until SteemFest. This week all printable stuff has been ordered (Hackathon badges, SteemFest badges, Citymaps), more shuffling with the schedule, prepaying venues / hospitality. Also some gifts for all attendees are ordered as well as decorations for the event stages. Then the mobile app will see a pretty upgrade with an included (offline) DIY audiotour of Lisbon, offline maps and the detailed program for all 5 days at SteemFest.
I was happy to see that right after my previous update last week (3.5 weeks before the event) we hit the 206 tickets registered marker (which is the amount of registrations of SteemFest 1). It means that this year a little more people are attending the event.
​
This week will be about contacting all speakers, ordering last to-be-deliveries and setting up logistics (script!) for the actual event so the @firepower crew knows whats happening when. Then it will be about time to pack our bags as me and the fam (My gf Heleen and our son Viggo) leave for Portugal coming friday 20 October.
​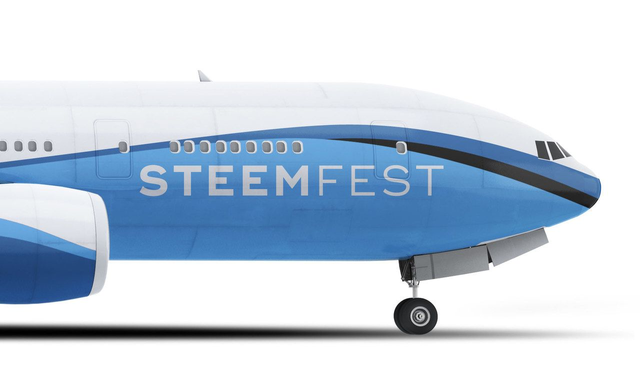 ​
The SteemFest @t-r-f Travel Reimbursement Fund - how it works
Following up on last year's success, the @t-r-f Travel Reimbursement Fund returns and is already quite well funded by fellow generous community members like @aggroed, @ausbitbank, @benjojo, @blueorgy, @edb, @ericvancewalton, @firepower, @good-karma, @gringalicious, @gtg, @hitmeasap, @kevinwong, @lichtblick, @mariandavp, @timcliff, @shenanigator, @skapaneas, @userperson321 and @walterjay with over 3000 STEEM and almost 3000 SBD.
​
The @t-r-f Travel Reimbursement Fund is initiated and can be used for anyone attending SteemFest to relief some of your travel expenses and works as follows:
​
In Lisbon on Conference Day 1 & 2 you can apply for the 'Travel Reimbursement Fund' during coffee breaks by registering the trip details on a terminal at the SteemFest Desk and by showing proof (a boarding card for example) and your ticket (can be on your phone).
Reimbursement will be based on miles travelled (as generally the further, the more expensive). Starting point will be the distance from the airport of departure to Lisbon's Marques de Pombal. The distance is based on line-of-sight straight point distance, not via via / stop-over distance.
The 'SBD per Mile'-rate will be the same for all.
At the end of Conference Day 2 (18:00 / 6 PM) the application entry closes and by doing a simple calculation the total amount of Miles travelled by all applicants is available. Also the total funds available right here on @t-r-f is available so the SBD/Mile rate can be established and the payouts will be automatically executed via a script soon after SteemFest. Applicants will both get Steem and SBD
​
Note: You can only apply in Lisbon for the @t-r-f at the SteemFest Desk during Conference Day 1 & Conference Day 2. You don't have to apply to @t-r-f. Anyone who is not applying is basically leaving her/his piece of the pie over for the others to enjoy, which is generous.
​
@t-r-f is still open for funding!
If you want to support fellow Steem users attending SteemFest to lower their travel expenses, please supply any amount of SBD or Steem you want to donate. Simply transfer any amount of SBD or Steem to @t-r-f (note the dashes between the letters!).
​
Have a great week, see you in the next update (from Portugese grounds!)
​
Liquid rewards from this post goes to @SteemFest