Couldn't sleep any longer... (5 AM) Today I am heading to Kraków! Still so many little things rumbling the mind. I am currently in Harlingen, city of SteemWhale.io, to "drop off" my girlfriend, our son and baby girl, as mainly she is too young (4 weeks) to make the trip.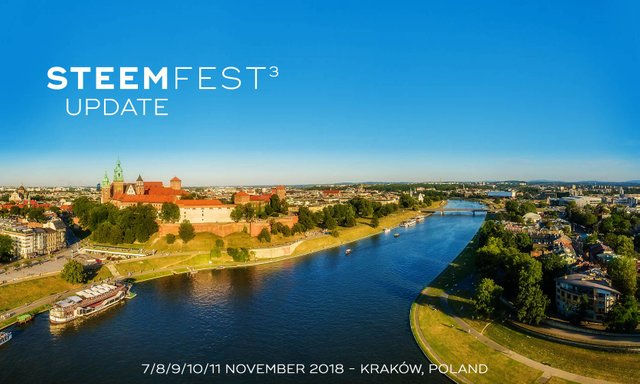 On a side note.. Unfortunately we had to go to the hospital with her, as she got fever and too young to get that. But all seems ok now, and I will visit in a couple of hours again (my GF stayed, as I went for our little boy at his grandparents). Gf and daughter will most probably be going home after a monitoring night in the hospital. Far from ideal, but when I left the hospital last night babygirl was already going very well and fever had dropped significantly and she was vivid enough again to feed herself directly from gf.
So, now Kraków! Flying out in the afternoon and meeting with @poezio, one of my best friends with whom I've gone to college (Hotelschool) and we worked together at the festival TodaysArt back in the days. He also joined us last year in Lisbon and calls himself "personal chef of the head honcho" :) We have to run some errants over the weekend and prep some of the decorations and do some last minute visits to some locations to talk things through.
SteemFest Side Events:
SteemFest's program is boasting with activities this year, the weekend is also quite filled with planned visits, but still some fellow attendees managed to squeeze in some so-called "side-events" which mainly happen on the saturday night 10 november. This is also a great change for those not having a ticket but in Kraków to meet fellow steemians at one of these events.
eSteem Meetup: 17:00 - HEVRE (Art at SteemFest venue)
#BeerSaturday: @detlev organises a tour across town dedicated to beer. Start: 21:00 at Alchemia in Kazimierz
SteemFest Karaoke: @coruscate, @anomadsoul and @steemcafe want you to sing. No not that BUIDL song, but some 90's hits! Starts 22:30 at Coyote Bar in Old Town
@CleanPlanet citywalk: Sunday morning 11:00, departure at Qubus Hotel.
Photowalk(s) with @jarvie - "Finding beauty everywhere" - TBA (see SteemFest mobile app)
Round Tables Overview
Call for Round Tables is now closed and quite some sessions will be hosted by an array of attendees. Round Table sessions enable you to submerge yourself and a select group of fellow attendees for about 50 minutes into a mini lecture or debate club with the host around a certain topic. Most of these will happen during SteemFest conference day 2 in the ICE Kraków during 4 dedicated slots in which a couple of sessions happen simultaneously.
The SteemFest mobile app will soon contain the details when which one happens, so keep an eye on that (times are already listed, but which session, when, not yet).
| Host | Type | Title |
| --- | --- | --- |
| @felander | Debate Club | Crypto Education |
| @crypto.talk | Mini Lecture | How to bridge the gap between blockchain and UX |
| @steemcafe | Mini Lecture | How to Bring Steem to the Masses |
| @oracle-d | Debate Club | Bringing business and investment into steem |
| @prc | Debate Club | Evolution of DSound and Music on Blockchain |
| @hilarski | Debate Club | Censorship on Social Media. |
| @derangedvisions | Mini Lecture | Introducing dStors |
| @gMuxx, @rhondak | Mini Lecture | Writing Evergreen Content, Blockchain-Style |
| @camuel | Mini Lecture | Audio in Content Creation |
| @captainbob | Mini Lecture | Story - Why It's the MOST Important Aspect of Your Video |
| @blocktrades | Mini Lecture | BEOS: a smart contract middle chain for BTS/STEEM |
| @edprivat | Debate Club | The Future of Art Curation |
| @starkerz | Debate Club | Sustainable promotion of Steem |
| @joeparys | Mini Lecture | Education and it's importance on Steemit |
| @buttcoins | Mini Lecture | Improv is Life |
| @jarvie | Photowalk | Photowalk with Jarvie - "Finding Beauty Everywhere" |
| @apshamilton | Guided Story Sharing | How did Crypto Ad Ban affect Your Project? |
| @amalinavia | Art workshop | Krakow with markers (art workshop) |
New names added
---
Get your SteemFest ticket at steemfest.com
Ticketshop closes on 10 November - Walk up rate 777.77 EUR!
Have a nice weekend!
Greetings from Amsterdam Harlingen,
Liquid rewards from this post will go to organising @steemfest
SteemFest is made possible by generous donations from: