SteemFest๔ Updates: DIY City Weekend Trip, Closing Dinner River Cruise.
As I started writing this it was 5 AM. I'm sharing a bedroom with my son in the Prince Palace hotel and he had some little nightmare, woke me up with that too, calmed him and then brain started thinking about the event :)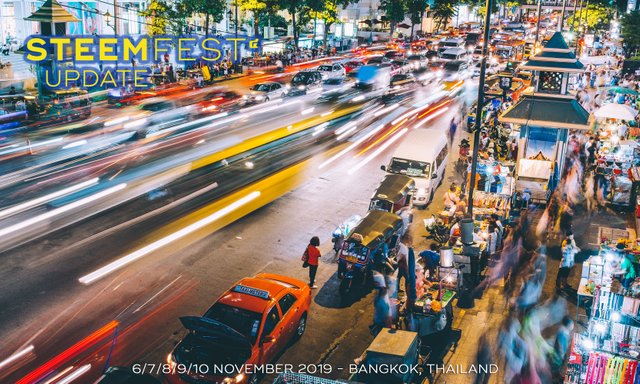 Bangkok by night - from Unsplash
So what's funny. We checked in Prince Palace Hotel 2 days ago. Receiving all packages and boxes here. "Ah mr. Roeland", and stacks of boxes. But what's funny... At 5 Am you here roosters cuckoo-ing, in the middle of frickin Bangkok. Imagine that in Manhattan.
SteemFest is like 100+ hours or so away. Past week was more fine-tuning, @poezio arrived, who will be helping out as speaker / tech related intermediary. We went on a tasting of the menu with Dee-catering, and prepped a lot of small things, for example visiting the printing factory for the Art at SteemFest paintings. Just today the cups for the winning team of the Bangkok Bowling Bonanza arrived and I went out for another visit at the Wat Pathum Wanaram.
With the event getting so close it's a 1000 small things but all seems to be working out just fine and I'm looking forward to next week!
Don't have a ticket yet?
Please reach out via PM or join SteemFest's Telegram (or Steem.chat
#steemfest
channel - which was linked onto eachother through a bot
@gandalf
setup), to share some secondary market tickets for the event, prior to obtaining one via the official site. Also note that during the event there is only a walk-up rate.
DIY Weekender Tips:
After a couple of days in Bangkok with the conference days behind you, it is time to explore the city with some fellow attendees. The city is huge and has many temples, shopping malls, nightlife and other things to do. It is up to you what you do, but this list contains a selection of tips & tricks. Very biased, so DYOR! Be sure to download the SteemFest mobile app for an interactive mapview and offline audioguide in Old City / Rattanakosin. And check out the Art at SteemFest pop-up gallery in the Yelo House, a quick boat ride away from the Prince Palace Hotel.
1. Rot Fai Night Market
When in Bangkok you have to visit a night market. The city cools off as much as it can. Visit this huge place with great food. Beautiful and strange collections in a huge array of stalls, both indoor and outdoor. Open 5PM - 1AM daily.
2. The Giant Swing
Standing at over 69ft (21 meters) tall, the Giant Swing is a Brahman religious structure, and was originally used as part of a ceremony during the Brahman Festival. Groups of daring men used the teak poles as a slingshot of sorts, swinging themselves as high as they could in hopes of reaching a bag of gold coins that would be hung at heights of around 50 feet. Those who succeeded could keep the treasure, though many of them did not.
3. Temple of the Emerald Buddha
Wat Phra Kaew is one of the most important Buddhist temples in Thailand. Located in the historic centre of the city and within the grounds of the Grand Palace, the temple enshrines the Emerald Buddha, the highly revered Buddha image meticulously carved from a single block of jade. Dress appropriately when visiting.
4. The Grand Palace
The Grand Palace is a complex of buildings in the historic centre. The palace has been the official residence of the Kings of Siam since 1782. The king, his court, and his royal government were based on the grounds of the palace until 1925. Dress appropriately when visiting.
5. Wat Arun Ratchavararam
Across the river, (use the Chao Praya Express boat, refreshingly cool!) this Wat is situated. It has a landmark spire and is worth visiting. Dress appropriately.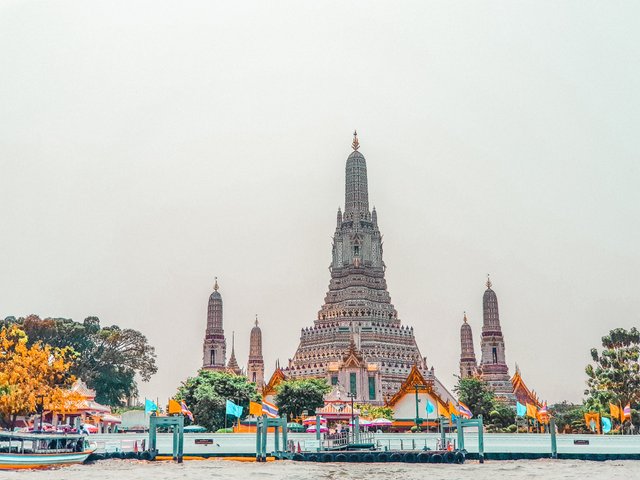 Wat Arun on the banks of the Chao Praya River
6. Yaowarat Road
Hustling and bustling china town! At night this road is one giant streetfood mekka. Checkout Sampang Lane or maybe the revolving restaurant at the top of the Grand China Princess Hotel.
7. Jim Thompson House Museum
A museum housing the art collection of American businessman and architect Jim Thompson, the museum designer and former owner laso known as the "Thai Silk King".
8. Lumphini Park
A breather in the highrising densely populated city. The park offers rare open public space, trees, and playgrounds. It contains an artificial lake where you can rent boats. Paths around the park totalling approximately 2.5 km in length are a popular area for morning and evening joggers.
9. Co van Kessel Bike Tours
Bangkok's original bicycle tour, operating for over 30 years. Discover the real Bangkok with 3-hour, half-day, and full-day bicycle and boat tours. - Book in advance via covankessel.com
10. Lebua State Tower
If you're looking for a unique view of Bangkok at night you should head to Lebua State Tower. You might recognize it's rooftop bar and restaurant, that is located on the 63rd floor, from the Hangover 2 Movie. The high view comes with high prices though.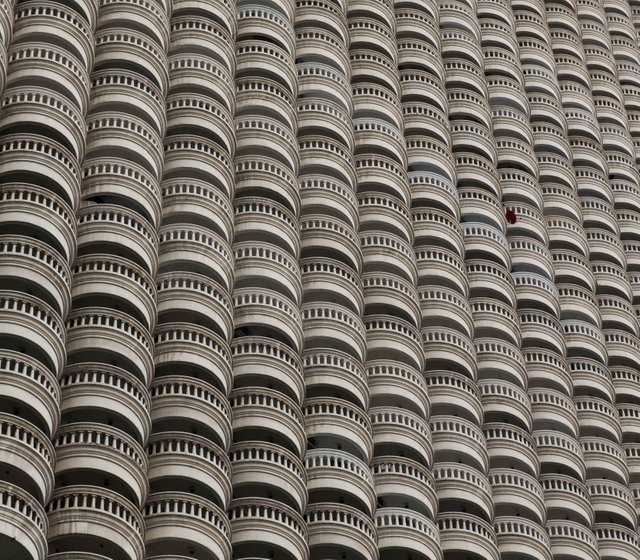 Close-up Lebua State Tower
11. Go! Thai Cooking School
Love the food? Learn cooking the Thai way yourself! This half day long diy guided by chefs experience contains: visit a huge fascinating food market, get the ingredients together with the chef and cook a 5-dish original Thai meal. Simplicity makes taste! - Book in advance via gothaicookingschool.com
12. ASIATIQUE The Riverfront
Asiatique successfully combines 2 of the most popular shopping experiences in the city: a night bazaar and a mall. This place offers a fun fair, ferris wheel, and a street food market. Come by boat over the Chao Praya river!
Closing Dinner: Bangkok River Cruise.
After being 5 days inside the city, I think it is a nice closing to go out on the water and do a classical Bangkok river cruise. At night all beautiful temples, Grand Palace and other buildings and bridges have decorative lighting which are just great. With a cool 30+ Celsius, it's pretty nice to sail out on the river for a last bite with (by then) friends, to discuss the past days and the future ahead.
Extra special: Because the Royal Barge procession, which is an extension of the King's coronation ceremonies which began early May, is due to happen in December 12th, all the river banks and buildings have already been decorated of this special event. More eye candy to enjoy!
After dinner we head back to the hotel for some closing drinks, please take off your shoes.
Reminders for attendees:
Thanks, thats it for now! Have a great weekend ahead,
Pack your bags: it's hot out here :)
Kind regards from Bangkok, see you next week!
Rewards from this post will go to organising @steemfest
(simply by setting the beneficiary)
SteemFest's ticket reductions are made possible by generous donations from: