12 days to go. That is what, 288 hours only, ... till SteemFest³!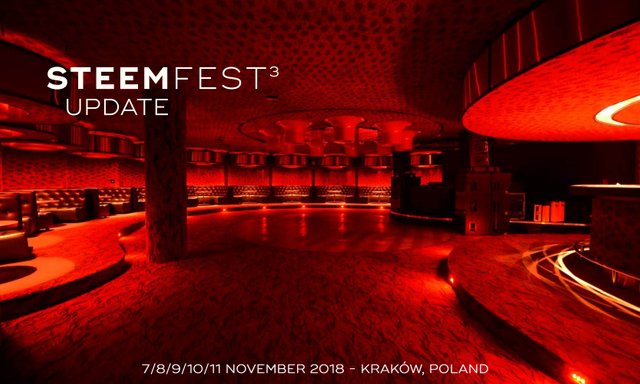 It was a busy week ordering all print materials - and shipping as there are some holidays coming week -, missing some deadlines (although carefully planned, stupid me - resolved), ordering all rollup banners for the "Wall of Dapps"-expo (25!), working on the program (soon available via the SteemFest Mobile App), reaching out to all attendees about the "RoundTable Sessions" on day 2 (if you are coming to SF and want to host one,... check a recent email from me to you about that), updating the mobile app to support lower iOS versions, calling with a lot of Kraków suppliers, making final deals back & forth and hearing about the Steemit Inc winners, being an impromptu amateur travel agent and..... finalising the "Night of Steem" program!
Next week by this time Ill be in Kraków preparing the final bits & pieces together with help from @poezio and then later on the @firepower crew also joins in.
Here is some of the stuff I want to introduce you this week:
Night of Steem, program complete!
The Night of Steem is the party after Conference Day 2, on friday night, to kickstart the weekend at a remarkable location (see the opening picture of this post): Klub 89. This place inside the former, now defunct, soviet era glory days Hotel Forum, used to be called and shined in the 80-90's as the "Crazy Dragon" club in the basement of the hotel, reopened for a bit as Klub 89 and is nowadays only open for reserved bookings. It is as if history stopped and locked the door away. A star-trek'esque bar, dark rouge, I loved it and I think the mix of artists will certainly make it to a great night!
The "Night of Steem" will be cohosted by @Enginewitty.
Camera rolling, action! Documenting SteemFest 2018
This year, official photography will be taken care of Steem traveller, blogger and certainly a gifted photographer:
@TimSaid
. The livestreams, which will be broadcasted on Youtube, will be arranged by
@shourai
just like previous years. A couple of days, (weeks), thereafter all individual sessions will be cut up and posted for online viewing. The after movie will be created by
@mynewlife
, so you will see him walking around with his fancy camera's too. Obviously SteemFest is a gathering of bloggers, so I don't doubt there will be (many) more of you documenting the event :)
Additionally during the Thursday & Friday night events there will be a so-called Foto Budka, a photo booth with instant prints, just like SteemFest 1.
Other new names added this week
---
Get your SteemFest ticket at steemfest.com
Ticketshop closes on 10 November - Walk up rate 777.77 EUR!
Have a nice weekend!
Greetings from Amsterdam,
Liquid rewards from this post will go to organising @steemfest
SteemFest is made possible by generous donations from: