I think that it is of paramount importance for Steem Fest to have an exposure cryptocurrency related media.
I have noticed that there has been not much of coverage of Steem Fest. If they don't write about it, this event may just pass unnoticed by those in crypto community who are not involved with Steemit platform.
Few hours ago, I decided to take an initiative and contacted few cryptocurrency news websites including two large newspapers.
I explained how unique event was about and asked if they would be interested in writing an article about it.
I contacted CoinDesk, CryptoCoinsNews, NewsBTC, Cointelegrah.
As well as Fortune and Wall Street Journal (they have their cryptocurrency sections).
So far, I have received a response from CoinDesk saying that they will write an article about it.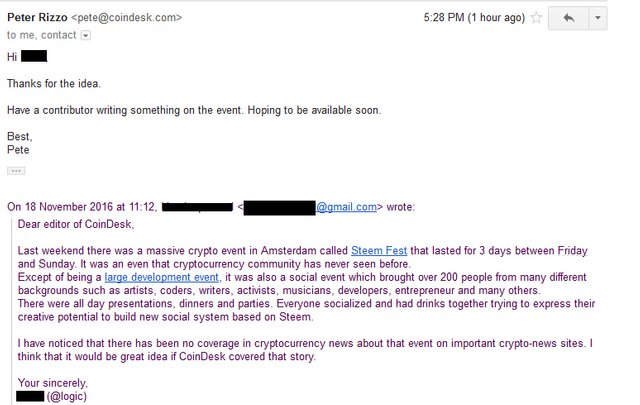 I'm probably not the best in writing formal and interesting emails but I tried my best (EDIT: I have just noticed the typo in "even", I'm sorry about it).
Lets see how it goes. I hope that other news sites will also be interested.
I wrote "social system" as that it is how I understand the direction of this technology and community. Especially, considering what Dan recently posted about.
---
-logic