Hello Steemians,
We are happy to announce SteemFest mobile application release for iOS Apple (iPhone and iPad) and Android Google (Smartphone and Tablet). SteemFest app helps event attendees to stay up to date with schedule of the program and explore neighborhood of Amsterdam with offline map and navigation.
Amazing design work is done by @cass, thanks to him to bring beautiful mood of SteemFest and Amsterdam to our mobile app.
@roelandp was extremely cheerful and supportive throughout development and helped with program listing and some fixes on app, his mobile development skills and experience is indeed valuable and visible in app.
Feature set
Program pages has 3 top tab navigation where you can see program for each day.
Interactive Timetable auto scrolls to current time and you can also scroll through list horizontally. Each entry has descriptions and additional info about where that event is held at what times, speaker, description. You can tap on Location to view it on map.
Offline Map, which has SteemFest flags on locations which I believe you will see throughout Amsterdam when you visit. Location has descriptions when you tap on flags. Offline map is only covered Amsterdam area to keep app size reasonable. Although you can see other countries if you have internet connection. App also detects you current location so that you can orient yourself when exploring!
About pages has info about event and sponsors of the SteemFest.
Screenshots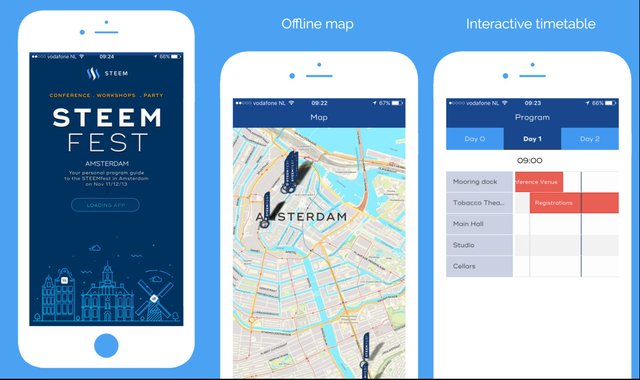 iOS AppStore

Android Google Play

It was pleasure to work with @roelandp ( to support him, consider voting @roelandp witness#7 ) and @cass ( follow him and his design works ) on this app and hope we continue working together to bring amazing projects to the community. App is managed by @roelandp on both AppStores.
Let us know your feedback and we hope that it will help you, during SteemFest and your stay, don't forget to download app before your visit to Amsterdam for SteemFest!!!
---
All earnings from this post goes to @steemfest
---
To support contributions vote my witness good-karma#31, your voice/vote matters!