[Steemfest] Follow up - Poster designs! SBD rewards will donated to the project!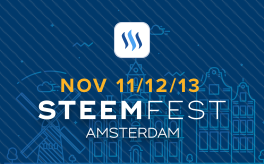 ---
I want to follow up on @roelandp announcement post about the steemfest.com at November 11/12/13.
Some of u have noticed i'm assisting him on the preparation for the Steemfest Event in November.
I did meet @roelandp in Amsterdam last week and was directly impressed by his passion and energy.
So i decided to FULL support him towards the Nov11.
All gotten SBD rewards will contributed towards @steemfest project
So u will have a better possibility to get a preview on how the posters will look later on "LIVE".
Here we go, i was trying to make a nice small mockup collection to this cause.
ENJOY