We had a BLAST at SteemFest 2017! Check out our highlights (includes VIDEO) :)
SteemFest 2017 was incredible.
Some would call it "creamy and delicious" ( @roelandp ). Others might call it a disruptive revolution ( @basilmarples, @jexblackmore ). Everyone would say they "had a ball", were entertained, met many new friends, and potentially even learned a thing or two!
On day 1 I had the honor of presenting on how the event ticketing industry is broken (and how we're using the STEEM blockchain to fix it). Thanks a TON to all of the awesome people who came to listen and all of those since who have expressed their support! You rock. And for anyone who missed it, here's the full video.
Below are a few highlights from the @passagex team's visit (myself @alexlinebrink, @transientheart, @thegreenone, @mgodrou, and @joshpeterson who couldn't make it). We could only stay for the first two days and missed quite a bit, but we still made memories that we'll never forget. Thank you STEEMIANS!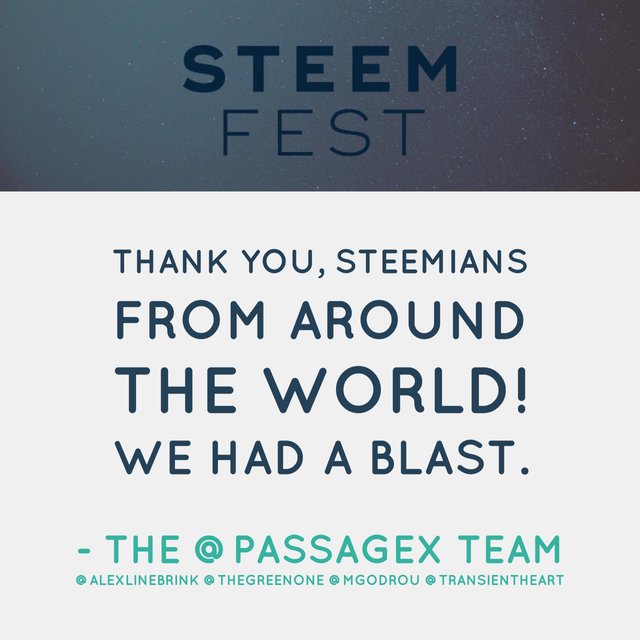 Special shoutouts to:
@roelandp, @robrigo, @lovejoy, @getonthetrain, @eroche, @basilmarples, @jexblackmore, @xanoxt, @terrybrock, @ned, @wandereronwheels, @wolfcat, @jeffjagoe, @exploretraveler, @aaronkoenig, and a bunch of people I probably missed. Can't wait to see you all at the next one!