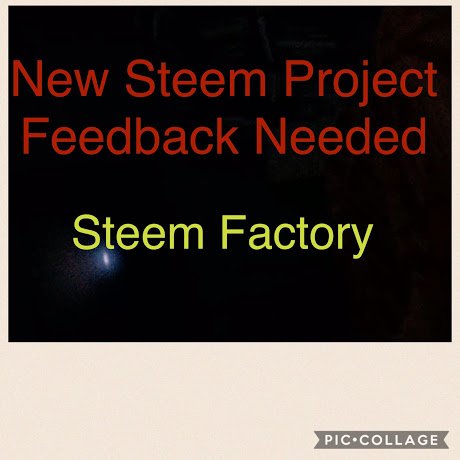 STEEM FACTORY
Do you want to mine crypto currencies?  Do  you want to invest in crypto currency?
If you answered yes to either of these questions, the Steem Factory (SF) has been created to provide a solution for you.

Mining crypto currencies is not easy task for most people.  It requires an investment in software and physical hardware, in addition to having a understanding of the cryptographic mining process.  Another option is to buy a cloud mining contract in exchange for a specific hashrate.

Mining might not be of interest to you, but the possibility of earning crypto currency is.  Sure you can write articles and publish them on Steemit.com as well as vote for content.  Both of these are viable solutions and are a means to earning Steem.  Steem Factory wants to provide another option. 
What exactly is Steem Factory?  Steem Factory is a project backed by a mining operation consisting of an KNC Titan ASIC Scrypt Miner and a Single GPU Raedon R7 server.  The Titan ASIC mines Litecoin, Dogecoin and Viacoin.  The GPU Miner mines Foldingcoin, Curecoin, and FolderPepe.  Steem Factory wants to share these proceeds with others in the Steem  Community.

Steem Factory will create a User Issued Asset or Token called STEEMFACTORY to distribute to the members and voters who support this project. 
Let's say the Steem Factory weekly mining operation profited $100.00 for the month, the STEEMFACTORY Token will be issued to voters and members.  The rationale for issuing a token is to link a virtual currency to an income producing business.  Thus holders of STEEMFACTORY token could trade in a secondary market on the BitsharesDex.
Future Ideas
In the future, the Steem Factory project could add value by the following activities:
Buyback STEEMFACTORY UIA to potentially increase the value for existing holders 
Donate to various worthwhile Steem Community projects and causes.  For example, contribute funds to Steemprentice Initiative.
Donate funds on a quarterly basis to Steem newbies and Minnows.
Sponsor Steem Community Developers on projects that enhance the Steem Network
Donate funds to various Steem contest
Long Term Goal - Use funds to buy into ICOs of Blockchain Related Projects.  Think the of fund as a Crypto currency Venture Fund.
Possibly Hire Steem Community Members for Steem Factory tasks
So there you have it.  Now I need your feedback:
I will publish a mining report on Steem to list the income and expenses of the mining operation.  I'm thinking about publishing this weekly or monthly.  What would be better?
I'm thinking about offering 3 membership types for this project.   What do you think about this?

Lifetime memberships - reward multiple of 5
Annual memberships - reward multiple of 3
Monthly membership - reward multiple of 1
The reward multiple represents the amount of the payout for members.  

In the Future ideas section, I listed 7 potential value propositions.  What do you think about these?  Would you like for Steem Factory to support these or not?