SE Tools Finally Gets An Update! - Claim Rewards and View in Table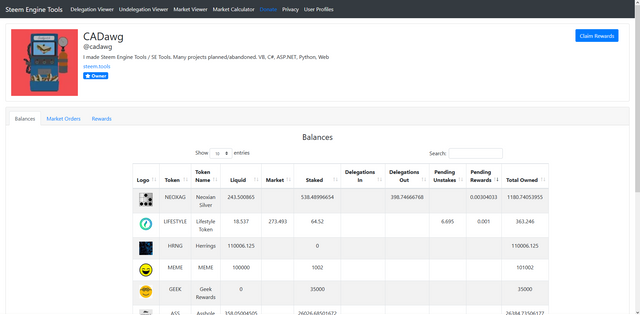 Hello Everyone,
I'm here to tell you that I've made a slight update to SE Tools.
Link: https://steem.tools/steemengine/user/@cadawg
You can now:
Claim Reward Balances - Claim all your reward balances at once. I know many services do it already, but I thought it would be a useful thing to have on the page. You could also bookmark it if you have multiple accounts, could be useful?
View Pending Reward Balances - Sometimes rewards take a while to claim, so why not show them in your balances because you're definitely got them, unlike reward shares, which can be downvoted until payout. I feel this makes a more complete picture of your tokens. It took a bit to code, as I had to add precision data from another query, as it shows rewards in integers.
Pending Rewards included in total - Since you've already earned them, add it to your total balance.
I hope you enjoy and find these features useful. If you have any suggestions, leave them down below.